Schirripa still a wanted man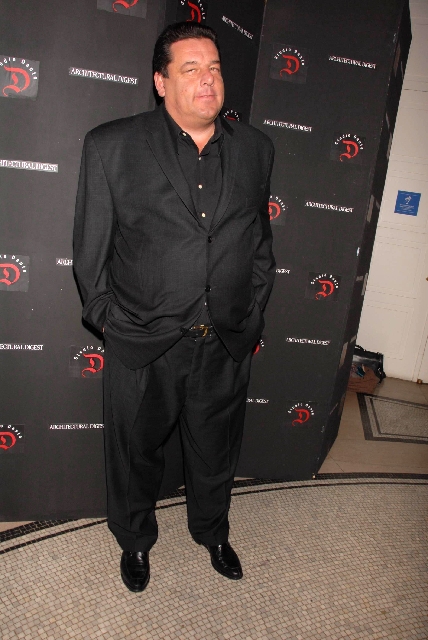 Steve Schirripa, the former Riviera entertainment director who hit it big on "The Sopranos," is still churning out new projects.
Schirripa was in town this weekend for Larry Ruvo's Keep Memory Alive/Power of Love gala at the MGM Grand Garden.
His latest TV show, "Karma Is a Bitch," airs May 2 on Investigation Discovery. It's a crime series, naturally, about revenge.
His latest book, titled "Big Daddy's Rules: Raising Daughters is Tougher Than I Look," comes out May 7.
His earlier work, "Nicky Deuce," has been turned into a movie, and "it's the closest thing you're going to see to a 'Sopranos' reunion," he said.
Most of the "Sopranos" cast is in it, including James Gandolfini and Michael Imperioli. Oscar winner Rita Moreno "plays my mother," the 55-year-old Schirripa said.
Back in January he sold his family home, where he and wife Laura and daughters Bria, 21, and Ciara, 17, lived until the move back East when "The Sopranos" took off.
"Bought the land in 1979 and built it from scratch in 1987," he said.
He stopped in some of his favorite haunts, the Tuscany Grill in Henderson, Cili at Bali Hai Golf Club and The Sicilian on East Tropicana Avenue.
RECALLING JONATHAN WINTERS
Comedian John Padon's definition of comedy heaven?
He posted it on his Facebook page: "Got to spend a week with (Jonathan Winters) on a cruise ship in the Med, smoked cigars and watched him improv all day in the Roman ruins of Ephesus, huge life experience!"
That was the late 1990s, said Padon, owner and producer of Sin City Comedy at Planet Hollywood Resort.
"He just improvved all day long, doing Roman characters," Padon said by telephone. "Never laughed so hard. He's cuckoo. He never had a script."
One night on the cruise ship, "they had a captain's dinner, and (Winters) started improvving. He cleared the room, he was so dirty. It was a black-tie crowd, drinking expensive whiskey with their pinkies out. His wife yanked him out of there. 'Time for bed, Jonny.' "
Winters, who died Thursday at the age of 87, was Robin Williams' mentor.
"I saw the two of them onstage together at the Comedy Store in La Jolla (Calif.)," Padon said. "It was rapid fire. An amazing evening."
THE SCENE AND HEARD
The plugged-in website DeadlineHollywood.com is predicting a certain death for the CBS drama "Vegas." The show based on Sheriff Ralph Lamb hit a new ratings low Friday, but "despite its respectable viewership, there is no scenario where the period mob drama comes back." …
La Toya Jackson's reality show, "Life with La Toya," premiered last night on OWN, and "what it lacks in action, it makes up for in personality," according to Gawker.com. Jackson had a 27th-floor condo in the Regency Towers at Las Vegas Country Club for years before moving out of the foreclosed unit in 2009. In the debut of the 10-episode series, La Toya breaks down when family friend Kathy Hilton asks whether she's a virgin. In another emotional scene, she tells her father, Joe, "I wish that my heart could speak to your heart." …
Arlo Guthrie fan James Patton was on hand Thursday for Guthrie's well-attended performance at Reynolds Hall at The Smith Center for the Performing Arts. Patton saw a "skinny" Guthrie for the first time at Woodstock in 1969. Guthrie told showgoers his last performance in Las Vegas was at the Sands 30 years ago.
SIGHTINGS
Is stunning Katherine Webb, the former Miss Alabama USA and current "Splash" contestant, ready to take the plunge in Las Vegas? We mean off a diving board. She was spotted at "Le Reve" at Wynn Las Vegas on Friday with a girlfriend. "Le Reve" features an 80-foot diving board. Webb became an overnight sensation when Brent Musburger went gaga over her looks during the Alabama-Notre Dame BCS national championship showdown. … Wayne Newton and his wife, Kathleen, backstage after Faith Hill and Tim McGraw's show Friday at The Venetian. … Former UFC heavyweight champ Frank Mir, getting a tattoo on Friday at Club Tattoo (Miracle Mile Shops at Planet Hollywood Resort).
THE PUNCH LINE
"A long list of celebrities and musicians have signed a letter to President (Barack) Obama asking him to ease the nation's drug enforcement policy. Hollywood celebrities and musicians want the president to ease our drug laws — it's always the people you least expect." — Jay Leno
Norm Clarke's column appears Sunday, Wednesday and Friday. He can be reached at 702-383-0244 or email him at norm@reviewjournal.com. Find more online at www.normclarke.com. Follow Norm on Twitter @Norm_Clarke. "Norm Clarke's Vegas," airs Thursdays on the "Morning Blend" on KTNV-TV, Channel 13.