School district adds spice to cafeteria menu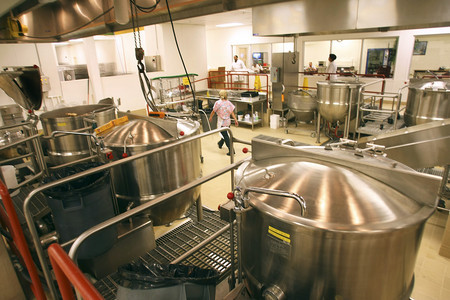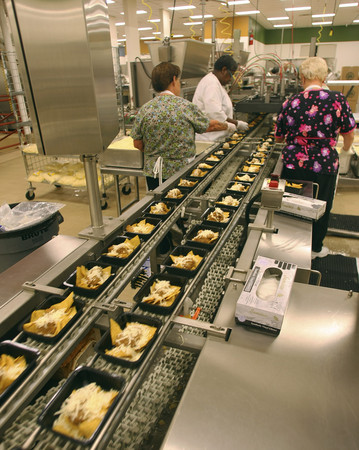 Chicken pot pies, sloppy joes and grilled cheese sandwiches might be as synonymous with school cafeterias as the hair nets and rubber gloves worn by the servers.
Students returning to school on Aug. 24 will be welcomed back with nachos, the reigning lunchtime favorite in the Clark County School District.
Its nacho cheese is not to be confused with the gooey, bright orange sauce that's smothered on chips at ballparks and movie theaters.
"It's not that dull, yucky type cheese," said Virginia Beck, dietitian for the school district. "We actually put real cheese on (the nachos). We're sticklers for high-quality, real ingredients."
A taco meat spiced up by a chef from the Wolfgang Puck Fine Dining Group also goes into the nacho mix.
For 21/2 years, Dustin Lewandowski, the executive chef for the Wolfgang Puck Bar & Grill at the MGM Grand, has been an unpaid consultant to the school district's food service.
The district's cafeteria food isn't exactly going crazy with gourmetlike ingredients such as asiago cheese and arugula, but students bored with the same old fare might be interested to know the school district is adding lunch meals this year like stuffed baked potatoes and turkey sandwiches seasoned with Jamaican jerk spices.
Lewandowski, whose grandmother retired as a cafeteria cook from the public school system in Grand Island, Neb., is sympathetic to the complex challenges faced by the school district's food service.
"We can serve 600 to 1,000 people a day," Lewandowski said. "They serve 150,000 to 200,000 people a day."
His boss, Wolfgang Puck, is passionate about getting children to eat more healthy food, said Stephanie Davis, a spokeswoman for Puck.
"He has four boys," Davis said. "He likes to take them to the farmers market."
Lewandowski has helped ease a transition as the school district cooks more of its own meals and relies less on buying prepared food from vendors.
Beck estimates that half of the district's meals are now "homemade," including chicken teriyaki and spaghetti with meat sauce. The district still relies on vendors for some cafeteria staples like pizza and "bagel dogs," or hot dogs baked in bagel dough. Buying pizza-making equipment is too expensive, officials said.
The nation's fifth largest school district is in its second year of preparing and cooking food at a centralized kitchen, part of a food services operation that has a 2008-09 operating budget of $102.6 million. Meals are frozen and reheated later at its 341 public schools.
This "cook chill" system is similar to the way many chain-style restaurants prepare their meals, said food service Director Charles Anderson.
"A lot of people tell us that our food has gotten a lot better in the past year," he said.
Anderson said students, staff and parents are constantly surveyed for feedback.
He won't buy any food from vendors until it has been "kid tested and kid approved." Because of the district's purchasing power, vendors will make specific changes at the food service's request, he said.
To get an idea of student likes and dislikes, the food service hosts parties where students try samples of vendors' food. The response usually is either "awesome or yucky, nothing in between," Anderson said.
Students are most sensitive to the food's presentation. For example, Anderson thought a Cuban-style rice dish was delicious, but students were turned off by the dark color of the beans.
Despite district efforts to improve taste and nutrition, its customers are tough critics.
Chynna Rodriguez, 17, a senior at Las Vegas Academy, said the pizza often looks "like somebody dug it out of the garbage."
Rodriguez does not like that the district does not provide alternatives to milk for people like herself who are lactose intolerant.
Beck said the U.S. Department of Agriculture does not consider lactose intolerance to be "life threatening" and does not reimburse school districts for milk.
Jazman Dickerson, 17, a senior at Palo Verde High School, said the menu selections can be "pretty repetitive." She said the food doesn't taste fresh.
"You can tell it's been frozen," Dickerson said.
She also thought it was hypocritical that the district makes its own version of fast foods like "chicken nuggets" but won't allow soda to be served at lunch because it's too fattening.
"If you're serving pizza and McNuggets every day, what's a Sprite going to do?" Dickerson wondered.
Beck, the food service dietitian, said all lunches and breakfasts adhere to nutritional guidelines. The fat content of a meal cannot exceed 30 percent. Sodium is restricted to 600 milligrams.
Breakfast must provide a fourth of a student's recommended calories and nutrients for a day. Lunch must provide a third of the recommended calories and nutrients.
Beck did not think the food was repetitive, since the elementary school menu only repeats two meals during a four-week cycle. The most popular meals are nachos and chicken nuggets.
The food gets more repetitive at the secondary school level, but the students are always given two meal options. There is a meat alternative for vegetarians, Beck said.
To increase variety and convenience, the food service will be piloting a mall-like "food court" program this year at Durango, Del Sol, Palo Verde, Las Vegas and Legacy high schools and at Saville, Lawrence and Mannion middle schools.
The food court will feature a made-to-order station, such as a deli or a baked stuffed potato bar, a "grab-and-go" station where students can get prepared meals, and another station offering the two main meals of the day.
Students also complain they're not getting a good value.
"They charge $3 for a piece of pizza, but you can pay $5 for an individual pizza at Pizza Hut," said Saesha Herrell, 16, a junior at Rancho High.
Chelsea Tiberio, 17, a senior at Canyon Springs High School, has gotten in the habit of bringing a lunch from home or buying food from the vending machines.
"I used to eat, but I kind of stopped. You can go to McDonald's and get a bigger salad."
Because the food service has lost money in three of the last four years and food and labor costs are increasing, the School Board has agreed to allow the breakfast and lunch prices to rise by 25 cents in all categories except for middle and high school lunch, which is remaining at $3.
So elementary breakfast will increase from $1 to $1.25, and elementary lunch will go from $1.50 to $1.75. Middle and high school breakfast will increase from $1.25 to $1.50.
Even with price increases, officials say lunch prices remain comparable to that of other school districts.
Washoe County charges $2.75 for high school lunch and $2.50 for elementary lunch. The Miami-Dade School District in Florida also charges $2.50 per lunch for elementary and high school students.
Clark County students receiving free and reduced-price lunch will not be affected by the price increases.
The percentage of students receiving free and reduced-price lunch will increase by 1 percentage point to 45 percent this year, or roughly 5,000 more students receiving free lunch in a district with more than 300,000 students, Anderson said.
Contact reporter James Haug at jhaug @reviewjournal.com or 702-374-7917.
Menus can be found here