Nuclear reactor being tested in Nevada could power Mars mission
January 18, 2018 - 5:35 pm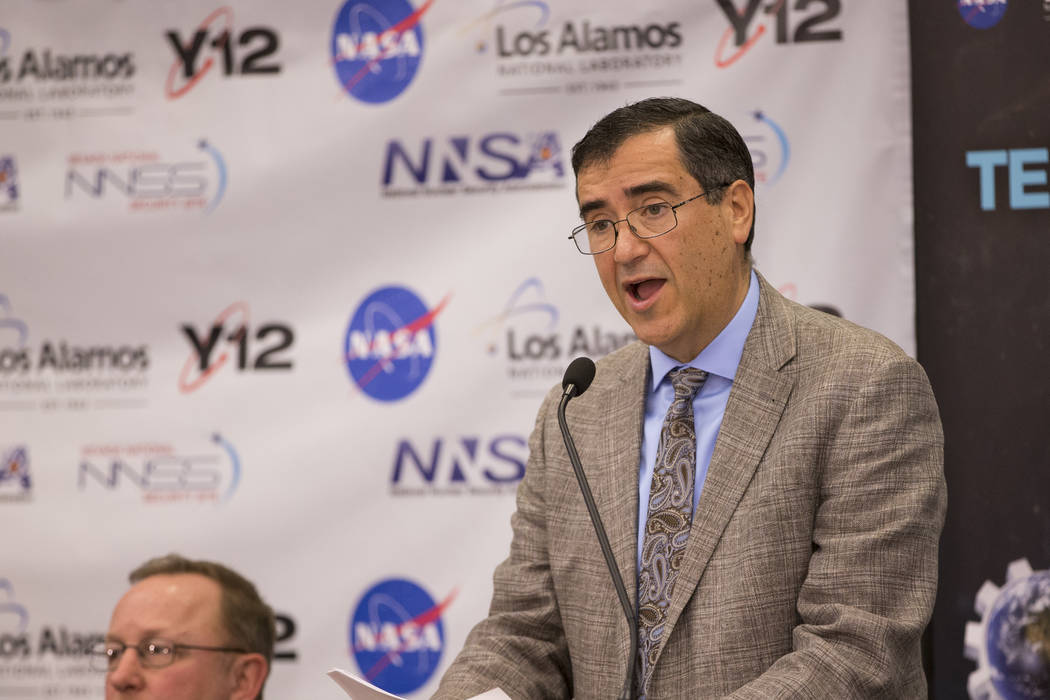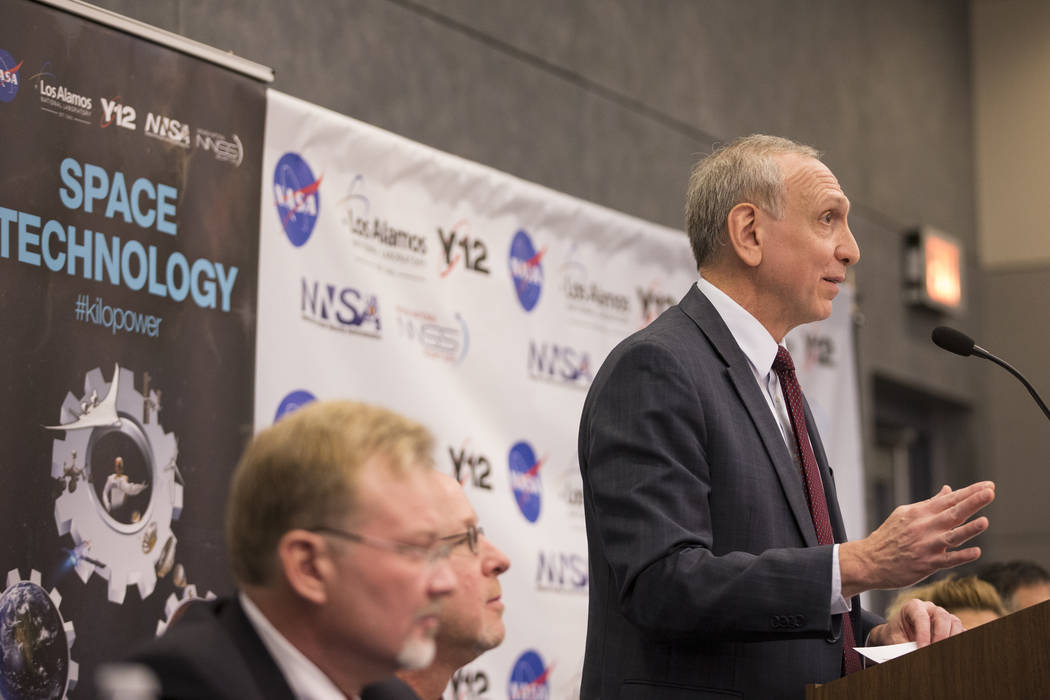 A future manned mission to Mars could be powered by a new type of nuclear reactor now being tested at the Nevada National Security Site.
The Kilopower project aims to develop a small, safe and reliable source of electricity for extended stays on the surface of the red planet or unmanned scientific missions in deep space.
Engineers from NASA and the U.S. Department of Energy fired up their prototype of a "space-qualified nuclear reactor" for the first time in November in a secure facility about 85 miles northwest of Las Vegas.
The team is gradually ramping up for a full-power test in mid- or late March.
"We're really excited about this project and the progress that's been made," said Steve Jurczyk, associate administrator for NASA's Space Technology Mission Directorate, at a press conference Thursday at the National Atomic Testing Museum in Las Vegas.
Jurczyk said the first humans to visit Mars will likely have to "live off the land" by harvesting water from the planet and using carbon dioxide from the atmosphere to make oxygen and liquid fuel for their return trip home.
"To be able to do all that, we're going to need tens of kilowatts of power on the surface, and this technology can enable that," he said.
The nuclear option
The Kilopower prototype can generate up to 1 kilowatt of electricity, but its design can be scaled up to a capacity of about 10 kW, enough to light 100 100-watt bulbs. A crew on Mars might use four or five of the 10 kW reactors to power their habitat, charge their vehicles and supply themselves with drinkable water and breathable air.
The nuclear option makes sense on Mars, Jurczyk said, because solar power could prove unreliable on a planet that gets very cold, receives less sunlight than Earth and is prone to dust storms that can envelop the globe and last for weeks.
The Los Alamos National Laboratory in New Mexico and NASA's Glenn Research Center in Cleveland are leading the development effort.
Pat McClure, Kilopower project lead at Los Alamos, said the finished reactor could generate electricity 24 hours a day for decades, though the operational life of the unit would probably be more like seven years or so, depending on the mission parameters.
Janet Kavandi flew on three space shuttle missions and now serves as director of the Glenn Research Center. "As a former astronaut, I can assure you that having reliable power sources is critical for venturing away from low Earth orbit," she said. "This type of power system will be especially important as we travel deeper into our solar system and eventually to the surface of other worlds."
'Simplicity above all'
The idea of using nuclear reactors for space flight is nothing new.
The U.S. began experimenting with the technology in the 1950s, leading to the nation's first — and so far only — launch of a reactor in 1965. The nuclear-powered satellite was shut down after 43 days due to an electrical failure not related to its power source.
In the decades since, tens of millions of dollars have been spent on efforts to build safe, reliable reactors for space, but those projects were canceled before reaching the flight-test stage.
This time around, engineers focused on building something small, dependable and relatively cheap using existing technology and readily available nuclear fuel.
"We desired simplicity above all," McClure said.
Work began on the prototype after a successful "proof-of-concept test" in 2012, also at the test site in Nevada.
The result is a fission reactor fueled by a solid block of highly enriched uranium alloy and cooled using pipes clamped to the core that transfer heat to Stirling generators to be converted to electricity.
"The core itself is the size of a paper towel roll. The overall system is about the height of a man or a woman," said Lee Mason, NASA's principal technologist for power and energy storage.
Flight test years away
The basic, solid-state design makes the reactor relatively safe during both operation and deployment.
If the rocket carrying the reactor exploded on the launch pad, McClure said, radiation levels within a kilometer of the accident would remain "far less than you would even get on a commercial flight."
"The risk to the public is very minimal," he said.
Mason said there are a number of possible applications for the technology beyond a manned mission to Mars. Such reactors could be used to power orbiting space stations, asteroid mining operations or the engines and scientific equipment on unmanned missions to the outer planets and beyond.
The testing now underway is being conducted at the National Critical Experiments Research Center, about 25 miles north of the test site's Mercury entrance gate on U.S. Highway 95.
Mason said the first flight test of a Kilopower reactor is still probably six to eight years away.
If the technology proves safe and effective, he said, it should be ready in time to power mankind's return to the moon in the mid 2020s and a possible mission to Mars in the early 2030s.
Contact Henry Brean at hbrean@reviewjournal.com or 702-383-0350. Follow @RefriedBrean on Twitter.