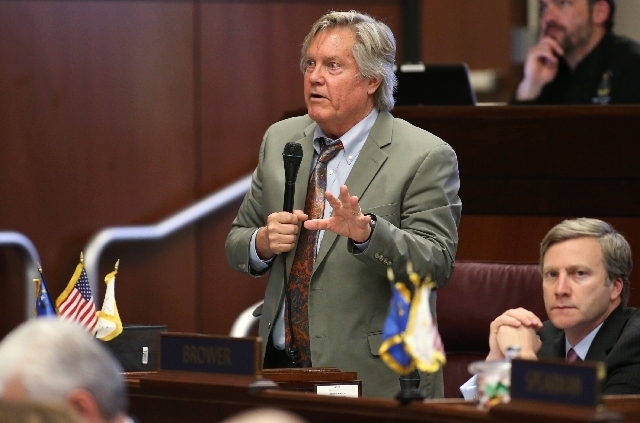 If you want to know where the medicinal marijuana issue is going in Nevada, don't sweat the future location of the pot shop nearest you.
Instead, just drop by Richard "Tick" Segerblom's downtown law office.
There you'll find him dressed casually and working several cases at once, none of which is related to the state's ongoing marijuana evolution. Although the issue has taken up much of his time for more than a decade, he is one of the few Southern Nevada insiders not in direct line to make a score once the dispensaries are up and running.
As an attorney and state legislator, he's been an unabashed supporter of legalizing pot in Nevada. During years other politicians blushed and got tongue-tied when the subject was broached, Segerblom displayed that rarest of character traits known to officialdom: He was candid.
And although he's a clear-eyed proponent of legalized medicinal marijuana, unlike some of the investors in the budding local industry, Segerblom doesn't pretend his goal is anything less than legalization and acceptance of its recreational use.
"It's already going on," Segerblom says. "It's not like all of a sudden people want to be able to smoke marijuana."
In addition to the medical issues, it's also a matter of access. Ask many teenagers and any cop: It's not hard to find pot for sale.
"You can go outside and in five minutes you can find someone who'll sell you marijuana," he says. "… Some people have been smoking it. Others are doing it again. The real market is going to be the baby boomers."
And, no, not just baby boomers with glaucoma or cancer or one of the other maladies marijuana has proved an effective drug or pain reliever. Like just about anyone who has been studying the rapid evolution of this issue, Segerblom believes the medical marijuana narrative will gradually give way to the rhetoric of accepting recreational use.
Nevada's slow movement is more a matter of the politics of control than any social stigma.
The state has been dancing around this issue a long time. The state passed the language for its medical marijuana statute in 2000. California legalized its pot dispensaries years ago. Washington and Colorado voters have endorsed full recreational use despite its illegal status under federal law. Nevada for one of the few times in its colorful history is behind the curve in turning a forbidden vice into a taxable revenue source.
That's only part of what makes the state Gaming Control Board's recent warning to major casino companies — you know, the ones whose nightclubs and concert arenas have no shortage of marijuana use — to stay away from the medicinal pot gold rush so ironic. Where would the sin of gambling be without its legal Sin City?
"I think from an economic standpoint it's a bonanza," Segerblom says. "It's the next evolution in our state's history."
From quick divorce and even quicker marriage to legalized brothels in some counties, it's not like we lack precedent in this area.
"That's how we've advertised ourselves," he says. "That's how we came out of the Depression. It seems like a natural. And odds are it's going to be on the ballot (in 2016.)"
Recreational use might be at least three years away. Doesn't that put anything-goes Nevada and especially Las Vegas even further behind the national curve?
Nah, Segerblom says. If there's one thing Las Vegas knows how to do, it's market itself to the world.
"I think we will quickly be viewed as the place that started it even if it didn't start here," he says. "Anybody who comes here is going to want to buy a joint and a T-shirt."
Disagree with him on the issue if you'd like, but you must admit Segerblom is a breath of fresh air on an issue clouded by high-dollar hypocrisy and insider politics.
John L. Smith's column appears Sunday, Tuesday, Wednesday, Thursday and Friday. Email him at Smith@reviewjournal.com or call 702-383-0295. Follow him on Twitter @jlnevadasmith.