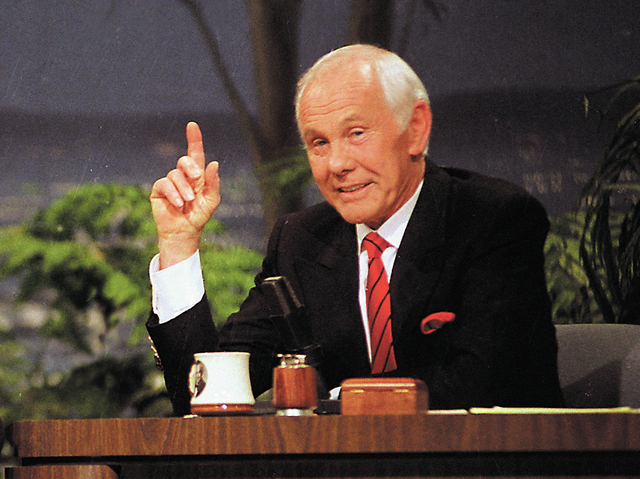 I never met Henry Bushkin, author of the upcoming surefire best-seller, "Johnny Carson," but he called me once.
That's one of the joys of journalism; every day is a bit like Christmas.
You never know who or what the next phone call is about.
You don't pick up the phone and expect to hear Carol Channing of "Hello Dolly" fame or Sally Rand, the scandalous fan dancer. They called while I was working for The Associated Press in Cincinnati.
Years later, in the San Diego AP office, it was tough-guy actor Victor Mature, who played the iconic "Samson" role. Another time: Lloyd Bucher, the skipper of the Navy ship USS Pueblo when it was captured by North Korea in 1968.
On Jan. 4, 2004, an anonymous call to my Las Vegas condo got my attention: Some guy with a Nebraska area code said Britney Spears got married at a Las Vegas chapel.
When Bushkin called the AP office in San Diego in early 1981, I immediately recognized the name. Who didn't back in the 1970s and '80s? Carson often made monologue jokes about "Bombastic Bushkin," his lawyer and best friend.
It was a quick call. Bushkin was all business. He wanted to confirm that I was the AP writer who covered a Wayne Newton news conference at the Aladdin months earlier.
When confirming it, Bushkin said he would likely be getting back in touch for a deposition related to the news conference.
The deposition summons never came.
At that October 1980 news conference, Newton announced a multimillion-dollar lawsuit against Carson over their fight for ownership of the Aladdin.
The legal fight started in January 1980, when an agreement was reached for Carson, Ed Nigro and National Kinney Corp., to purchase the Aladdin for $105 million.
When that deal collapsed, Newton was part of a partnership with Valley Bank that bought the Aladdin for $85 million.
Carson responded with a drumbeat of gay jokes during "The Tonight Show."
When NBC aired an investigative report alleging Newton had ties to organized crime, Newton sued the network for defamation.
Newton, in a 2007 interview with CNN's Larry King, said, "Ultimately, the whole thing that evolved later on, about 1980, where I was accused of fronting for the Mafia and being a member of the Mafia and then being extorted by the Mafia and all of that, all of that emanated from Johnny Carson's influence."
The court battle ended up in a draw.
Carson's bid to become a casino owner in Las Vegas fell apart but he did OK for himself on the first business deal Bushkin put together for him.
Carson and several other investors purchased an independent TV station in Las Vegas — now Fox affiliate KVVU, Channel 5 — for $1 million in the mid-1970s.
Ten years later, that deal was worth $25 million, according to Bushkin.
THE SCENE AND HEARD
A likely court battle is looming between a well-known athlete and his agent. …
The sky's the limit for some upcoming rooftop pool party venues. Gansevoort, formerly the Barbary Coast and more recently Bill's Gamblin' Hall and Saloon, is anticipating an extraordinary 7,000 to 12,000 customers a night at Drai's restaurant and pool venue when it opens in April. The Downtown Grand will rival anything in town, I'm told. Venues at The Cosmopolitan and Tao Beach have been wildly popular. …
SIGHTINGS
Rapper 50 Cent, Mike Tyson and singing legend Steve Lawrence at the Timothy Bradley-Juan Manuel Marquez fight on Saturday night at the Thomas &Mack Center. … Darius Rucker of Hootie &the Blowfish fame, surprising fans by joining members of the "Nashville Unplugged" show for three songs following his Friday concert at Red Rock Resort. … Actress Susan Lucci, celebrating the 70th birthday of husband Helmut Huber at "Le Reve" (Wynn) on Friday. They dined with friends on Friday at Eiffel Tower Restaurant (Paris).
THE PUNCH LINE
"They passed out the Nobel Prize for medicine. … The Nobel Prize for lack of chemistry went to Bruce and Kris Jenner." — David Letterman
Norm Clarke's column appears Sunday, Wednesday and Friday. He can be reached at 702-383-0244 or email him at norm@reviewjournal.com. Find more online at www.normclarke.com. Follow Norm on Twitter @Norm_Clarke. "Norm Clarke's Vegas," airs Thursdays on the "Morning Blend" on KTNV-TV, Channel 13.