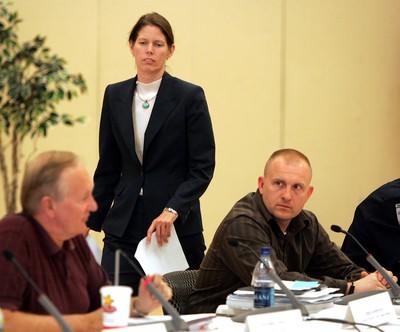 Lied Animal Shelter's new executive director faced more of the same tough questions Wednesday that she's been dealing with since she was hired in April to sort out the shelter's myriad management and animal care problems.
Advocates for animals and members of various animal care and rescue groups challenged director Chris Robinson about the budget, oversight and commitment to change at the long-troubled shelter.
"I'm frustrated," Robinson said after the last in a series of six public meetings held to discuss the shelter and animal care issues in general. "There's such a focus on the past."
Robinson repeatedly has said conditions at the North Mojave Road shelter have improved dramatically since a Humane Society of the United States visit in February that revealed a disease outbreak and forced the euthanizing of 1,000 animals. Humane Society officials, too, have said the shelter has been working to address the issues.
But several people at the meeting referenced a Humane Society report released in May that gave more disturbing details about the shelter's past conditions.
They also said many of the people responsible for the conditions, which included severe crowding and animals left to die in their cages, still were involved with the shelter and have not been held accountable.
"The same people who were in charge continue to serve on the board," said Judith Ruiz, president of the Las Vegas Valley Humane Society. "You still have that same influential leadership."
Members of the board of directors for the Animal Foundation, which operates the shelter, include Dianne Orgill, the shelter's former director who resigned after the national Humane Society's visit, and other members who preceded the visit.
Activists long have complained about a lack of responsiveness to their concerns by the foundation, which contracts with Las Vegas, North Las Vegas and Clark County to provide shelter services. An October 2001 city of Las Vegas audit found Animal Foundation management controls were inadequate, poorly trained employees had illegal access to controlled substances, and thousands of dollars had been stolen.
Lax accounting and improper practices also led to animals being lost, stolen or unnecessarily euthanized, the audit states.
Robinson has tried to focus on the present and future.
"We provided them (the activists) this opportunity to talk about solutions and move forward," she said. "I think anyone who steps into the shelter can see that nothing is the same."
But many don't trust that improved conditions will last.
"It's been bad for a long time," said Tina Trenner, an activist for animals.
Trenner said the public has no proof of improvements at the shelter except for what Robinson tells everyone.