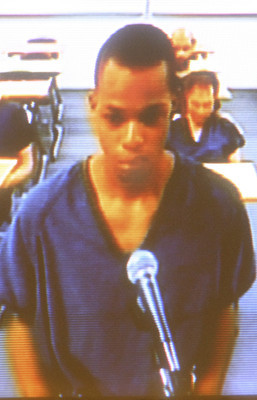 A man who told police he was drunk when he shot a mother of two at a traffic stop continued to claim the shooting was an accident, his lawyer said Thursday.
"He's as shocked now as when the gun went off," deputy public defender Joe Abood said.
His client, Calvin Kirklin, is being held at the county jail on murder with a deadly weapon and other charges in the Friday night shooting of 39-year-old Blanca Gonzalez.
Abood characterized the shooting as a "terrible, tragic accident" and said Kirklin, 20, had no relationship with the victim.
Kirklin, arrested Monday, appeared in court Thursday morning via teleconference. He was denied bail by Justice of the Peace Tony Abbatangelo during his first court appearance.
He told Abbatangelo that he understood the charges against him but remained mostly silent during the brief hearing. Abbatangelo set an evidence hearing for April 16.
Kirklin was driving Friday night with three adult passengers and his infant son when he came to the intersection of Charleston and Nellis boulevards. He admitted to police that he was heavily intoxicated and that he was handling a pistol inside the gold Buick Regal when it discharged.
The bullet narrowly missed one of his passengers but struck Gonzalez, who was in a nearby vehicle, in the head, according to a Las Vegas police report.
A passenger in Kirklin's car, Jabriel Fernandez, told police that Kirklin held the pistol in his hand and had his arm fully extended "as if aiming the pistol at Gonzalez' vehicle," the report states.
After the shooting, Gonzalez' 15-year-old son, who was in the passenger seat of their Suzuki SUV cradled his mother as she lay unconscious and bleeding. He told police that he heard someone in Kirklin's car shout: "You shot her! Run! Go! Go!" before they drove away.
Police searched Kirklin's home near Sandhill Road and Tropicana Avenue and found a .380 caliber handgun behind a shed. Kirklin told police where to find the gun.
The passengers in Kirklin's car haven't been charged with any crimes. Clark County prosecutor Marc DiGiacomo wouldn't comment Thursday about whether anyone else will face charges and police said they don't have evidence showing the passengers were involved with the shooting or knew what was going on.
Contact reporter David Kihara at dkihara@reviewjournal.com or (702) 380-1039.