Siegfried & Roy may yet reappear
December 1, 2007 - 10:00 pm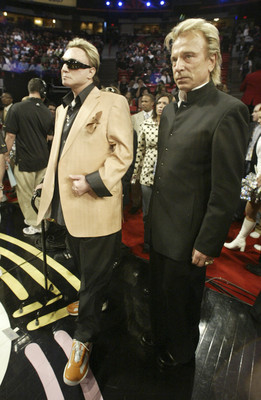 Restless after four years of retirement, illusionists Siegfried and Roy are hinting they still have something up their sleeves.
Asked about their rumored return to show business, Roy coyly responded: "A good magician never lets the cat out of the bag. Act surprised when you hear about it."
Added Siegfried: "It's all in the experimental stage, conceptual," he said Friday in a rare interview.
Their long-running glitzy big-cat show ended in 2003 when Roy nearly died after being bitten by one of his white tigers during a performance at The Mirage.
The pair are honorary team captains for today's 1-K fundraiser for Opportunity Village. The 10 a.m. event is being billed as "Walk a Mile in Roy's Shoes."
It's part of the Las Vegas Great Santa Run, a 5-K warmup event at the Fremont Street Experience for Sunday's Las Vegas Marathon.
Retirement has had its hurdles, Siegfried said.
"The stage is my life. It took some adjustment. I was really not ready for it," he said.
At the moment, his priority is the new home he's having built for Roy.
"I'm a baumeister now," he said, using the German word for construction site manager.
He continues to marvel at Roy's dedication to making a full recovery. Roy's regimen includes rehab every day and three days a week at an athletic club, including spirited games of racquetball.
"It cheers me up," Siegfried said. "All the doctors say what he's doing now is impossible. I've always said, 'I am the magician and Roy is the magic.' And Roy shows me every day the magic — the magic of life."
Roy gets a boost from visits to his family of animals at Siegfried and Roy's Secret Garden at The Mirage.
"My animals are vitamin shots in the arm," Roy said.
"I hang out with my lifesaver," he said, referring to Montecore, the white tiger that bit him and dragged him off the stage. Siegfried and Roy remain convinced that Montecore sensed Roy was having a mini-stroke and was dragging him to safety, rather than attacking him.
Both feel a deep sense of gratitude for the support they've received from Las Vegas during their 40-year stay.
"Now we bang the drums for somebody else who needs it," Siegfried said.
THE SCENE AND HEARD
Aces Bar & Grill at El Capitan & Warm Springs is celebrating its grand opening today with an Italian-style pig roast from 5 to 9 p.m. It's a fundraiser for Child Haven, a center for abused or neglected children ages 3 to 18. The feast costs $5 for adults and $3 for children. Chef Tony Russo is preparing a 300-pound stuffed pig. … Julian Myers, a legendary Hollywood publicist, is going after his third consecutive age-group win in the New Las Vegas Marathon on Sunday. Myers, who is running his 25th marathon, turns 90 in February. Myers competes in the 85-and-over age group. … "Pets in Vegas" premieres at 1 p.m. today on Las Vegas One (Cox Cable, Channel 19).
SIGHTINGS
Shauvon Torres of MTV's "Real World: Sydney," at Tryst (Wynn) on Thursday. … U.S. Olympic softball star Jennie Finch, Luxor headliner Criss Angel and choreographer Chris Judd, checking out LAX nightclub Wednesday at the Luxor.
THE PUNCH LINE
"No more five-week vacations to his ranch in Islamabad." — From David Letterman's Top Ten Ways Osama bin Laden Can Improve His Popularity.
Norm Clarke can be reached at (702) 383-0244 or norm@reviewjournal.com. Find additional sightings and more online at www.normclarke.com..
NORM CLARKEMORE COLUMNS