Six injured when man drives through restaurant
November 6, 2007 - 10:00 pm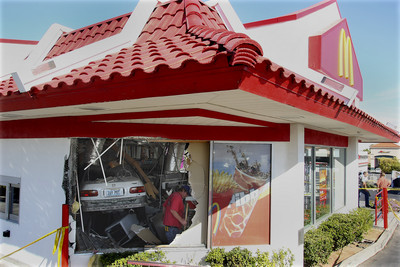 A man literally drove through a McDonald's restaurant on Monday morning, with his car coming to a crashing stop at the pickup counter.
Las Vegas police said fast driving, not fast food, was the culprit.
The driver was traveling north on Eastern Avenue about 8:30 a.m. when he lost control of his white Honda just before Windmill Lane.
The compact car flew over another vehicle, scaled a guard rail in front of the building and smashed through the restaurant's window and kitchen, said officer Martin Wright, spokesman for Metropolitan Police Department.
The McDonald's, which sits across the street from a Smith's market, remained closed throughout the day.
At least six people suffered non-life-threatening injuries from the crash, Wright said.
The driver and five others were treated at St. Rose Dominican Hospital Sienna campus and Sunrise Hospital and Medical Center.
The driver was cited, but Wright could not say for what.
"Speed was a factor," he said.
Police did not release the name of the driver or of those injured.
The accident remained under investigation.