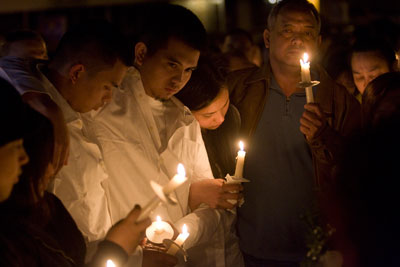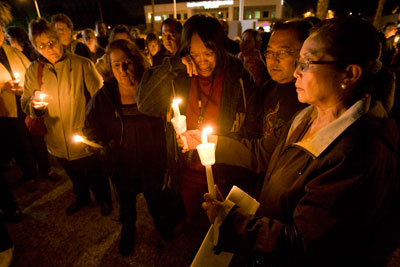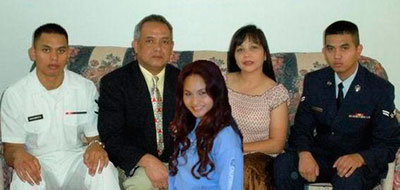 Paul Makabenta was in the Philippines when he received the phone call telling him that his physician wife of 24 years was slain by a patient at her Las Vegas office Monday.
He immediately broke down in tears, wondering how anyone could take the life of his beloved wife, Dr. Edna Makabenta, the mother of his three children who "didn't have a bad bone in her body."
He felt crushed. For himself. For his children.
"I feel bad they got cheated out of not having their mother around longer," he said. "I'm 50 years old, and I still have my mother."
On Wednesday, Paul Makabenta, still jet-lagged from a 15-hour flight from his native country back to Las Vegas, resolved to remain strong for his children, who range in age from 20 to 23.
"When I walked out of the terminal, I just hugged and kissed them," he said at his home near Vegas Drive and Jones Boulevard. "I had to comfort them and let them know I'm still here as a parent."
Las Vegas police said 80-year-old Eliseo Santos shot Dr. Edna Makabenta, 49, at least twice in the head with a .45-caliber handgun. He then turned the gun on himself. Santos later died at the University Medical Center.
Police did not release any new information Wednesday about a possible motive. On Tuesday, police said that Santos had filed a complaint against Edna Makabenta and eight other doctors with the Nevada Board of Medical Examiners.
Louis Ling, executive director of the medical board, confirmed the board received a complaint Jan. 2 from Santos against Makabenta and eight other doctors. Ling would not disclose all the details of the complaint but did say that no malpractice was alleged by Santos against the nine doctors and there was no threat in the complaint against Makabenta.
A friend of the Makabentas said that Santos was in pain from prostate cancer. The friend said Edna Makabenta was Santos' primary physician and that Santos might have used Makabenta as a scapegoat for his health ailments.
But the Makabenta family isn't dwelling on a possible motive for the shooting. They said the matriarch of their family wouldn't want that.
"She always thought about other people first," said the victim's daughter, 21-year-old Frannie Makabenta. "She would tell us to think about his pain. She would tell us to pray for his soul and family."
The three Makabenta siblings chose to speak about the positive memories of their mother Wednesday. They had hundreds of family photographs spread over the floor while they chose snapshots for a slide show they were making to honor their mother.
Paul Michael Makabenta, the couple's 23-year-old son who goes by "Mikey," recalled how often his mother bought new DVDs. She was obsessed with World War II movies and would read two books a week, he said.
Mikey Makabenta said his mom would open her home to some of her patients. He said that made her a better doctor.
"It didn't matter who you were, once you were in the house, you were family," he said. "She invited them over so she could find out about their lives so she could treat them better medically."
Gil Joshua Makabenta, who goes by "Josh," is in the Navy stationed in South Carolina. He said his mom was proud of him and his siblings. He couldn't have gotten through his naval training without her.
"Even through boot camp, my motivation was these guys and my mom," Josh said of his family. "She pushed me through everything."
Frannie Makabenta said her mother put her children before everything. She said in her 3 1/2 years at the University of California, Berkeley, where she is studying business, she would often call her mom at odd hours and talk to her about anything.
She said her mom was always willing to listen no matter the circumstances.
"Even if she was tired out of her mind, she would stay on the phone with me."
Frannie Makabenta said her mother was often overprotective and made the 11-hour drive to visit her often. She would make these drives on a whim when her daughter had the slightest problems, such as a common cold.
"It seems extreme, but that was just her," Frannie Makabenta said.
Paul Makabenta said he has been overwhelmed by the response to the tragedy from his wife's patients. He was an administrator at her office and knew a lot of the patients personally.
"Having all these accolades and adjectives used to describe her has made me feel honored," he said. "I'm honored by the love and respect they have shown her."
Paul Makabenta, who was 18 when he first met his wife when she was a second-year pre-med student in the central Philippines, said he now must adjust to life without her. She was with him for more than half his life.
His wife was planning to retire. The couple considered spending half the year in the Philippines where they were going to manage a coffee shop equipped for Internet use, he said.
The Makabentas plan to bury her in the Philippines.
Paul Makabenta said he can still feel his wife's presence wherever he goes.
"I'm just going to miss her," he said. "I loved that woman so much."
A viewing for Dr. Edna Makabenta will be from 1:30 to 7 p.m. Friday at Palm Mortuary, 1600 S. Jones Blvd. There will be an additional viewing from 1 to 5 p.m. Saturday at the same location. Both viewings are open to the public.
Hundreds of former patients, friends and family gathered in front of Makabenta's clinic Wednesday evening for a candlelight vigil.
"Dr. Makabenta's prowess as a doctor could only be superseded by her prowess as a humanitarian," said 57-year-old Kim Kasegian, whose girlfriend had been seeing the doctor for 10 years. "She was so caring."
Lesley Morris, 59, an occupational therapist, moved to the valley 10 years ago and received several recommendations to see Makabenta.
"It's a terrible loss not just for the family but for the community," Morris said. "She was just so loving. I still can't accept it."
Las Vegas Review-Journal writer Lawrence Mower contributed to this report. Contact reporter Antonio Planas at aplanas@reviewjournal.com or 702-383-4638.