February 15, 2008 - 10:00 pm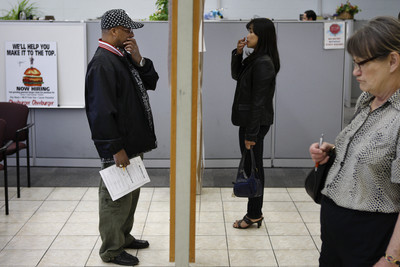 The economic slowdown that has affected other job sectors throughout the past year has found its way to the gaming industry.
Large Strip companies and local gaming operators throughout Clark County have begun taking steps to trim hours and payrolls wherever possible because of a slowdown in business, company officials acknowledged Thursday.
"The notion that Las Vegas is immune from these downturns in the economy is completely false," MGM Mirage Senior Vice President Alan Feldman said. "We may be better able to withstand it than other marketplaces. Through the years we've proven that we are, but we're not immune from it."
The gaming companies will not say exactly how many people have been affected by layoffs and cuts in hours, although they have acknowledged some of the cutbacks.
Some 150 people at MGM Mirage's Circus Circus property have "been affected," according to the company.
A source familiar with the property, however, said there have been other layoffs in housekeeping, and among casino dealers, cashiers and other support-type positions.
"Hopefully, this is going to prove to be short-lived," Feldman said. "As a community, we may have some staff adjustments."
Culinary Local 226, which represents nearly 60,000 Strip and downtown hotel and restaurant service employees, such as bartenders, cocktail servers, waiters, housekeepers and maids, is downplaying the layoffs and reductions as part of a seasonal industry cycle, at least so far.
"It's the time when there are certainly a lot of people that are going on layoff status right now," union spokeswoman Pilar Weiss said. "Ask us in two weeks and we might have a very different opinion."
She added it's hard to gauge the long-term effects "when you're right in the middle of the layoff period. If things don't pick up the way they are supposed to and if jobs don't get brought back on as permanent, then we may have a very different conversation."
Many casino and hotel workers, however, believe there is more to it than seasonal layoffs.
A bellman at Station Casinos' Green Valley Ranch Resort said managers at the hotel-casino have had a series of department meetings over the past week informing staff about layoffs and reductions in hours. More meetings are scheduled for today
"They said things have been slow, and that the moves are companywide," said the bellman, who requested that his name be withheld because he still works for the company.
In his department alone, five of the 18 full-time positions were moved to on-call status, he said. Another five bell workers who were already working on an on-call basis were told "we're not letting you go, but you won't be scheduled until further notice," the bellman said.
"Obviously, the local economy has softened, and the gaming industry isn't immune to the economic conditions," Station Casinos spokeswoman Lori Nelson said. "It's incumbent upon us to run our business the most efficient way possible. It is also our responsibility to right-size our operations to the current economic conditions. Unfortunately, that includes some layoffs."
There have also been layoffs and hour reductions in other departments at Green Valley Ranch Resort including internal maintenance, banquet service, food and beverage, and security, the bellman said.
Workers at other Station Casinos properties including Texas Station, Boulder Station and Sunset Station, have similar stories of layoffs and cuts.
"I have been in the industry for more than a decade. I have never been party to a layoff until now," said a competing locals casino department manager with experience at various companies.
The full impact of the slowing economy on the gaming industry will be more evident as state employment numbers are released during the next few months.
Also, first-quarter occupancy and revenue numbers for the hotel-casinos will be reported in May and June and will offer more details.
Keith Schwer, director of the Center for Business and Economic Research at the University of Nevada, Las Vegas, believes the industry is currently treading water.
"We're just hitting a lot of headwinds trying to maintain the same elevation," Schwer said.
Overall unemployment numbers for Clark County climbed to 5.6 percent in December from 4.2 percent the same month in 2006.
However, casino, hotel and gaming employment remained static. Gaming industry jobs increased 0.6 percent in December to 178,000 from 177,000 for the same month in 2006, according to the Nevada Department of Employment, Training and Rehabilitation.
However, Las Vegas Sands Corp. added some 4,000 jobs with the opening of the Palazzo at the end of the month.
Even companies that aren't laying off might freeze hiring.
Continued unemployment statewide in the food, beverage and accommodation industry increased 17.4 percent in January from the same month in 2007.
That suggests some of the jobs coming open in the industry aren't being filled.
"We are not going to add positions," MGM Mirage Chairman and Chief Executive Officer Terry Lanni said during a December interview. "We have departments with 'x' number of people. We are going to leave them at that."
Lanni suspects the residential real estate slump, tumultuous global credit markets and rising oil prices will sap enthusiasm — and disposable cash — for visits to Las Vegas.
Harrah's Entertainment and other individual properties, where rumors of belt-tightening also are prevalent, did not return calls seeking comment.
However, the long-term outlook for the economy still seems positive with Station Casinos, MGM Mirage, Wynn Resorts and Boyd Gaming Corp. all having large projects in the pipeline for the next three years.
"The long-term is that Las Vegas has a bright future," Nelson said. "We're all looking at the tremendous growth in the industry with the current projects under development."
Contact reporter Arnold M. Knightly at aknightly@reviewjournal.com or (702) 477-3893.