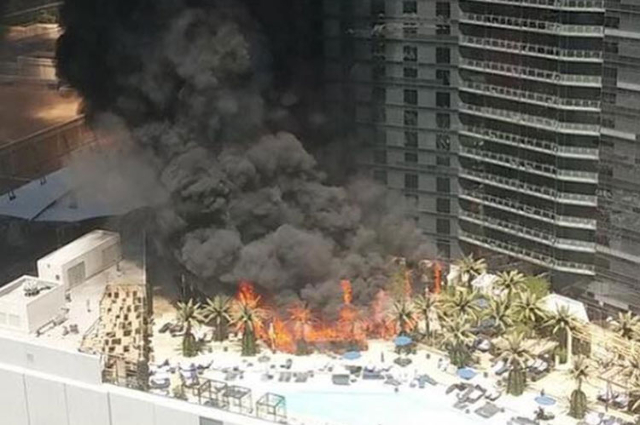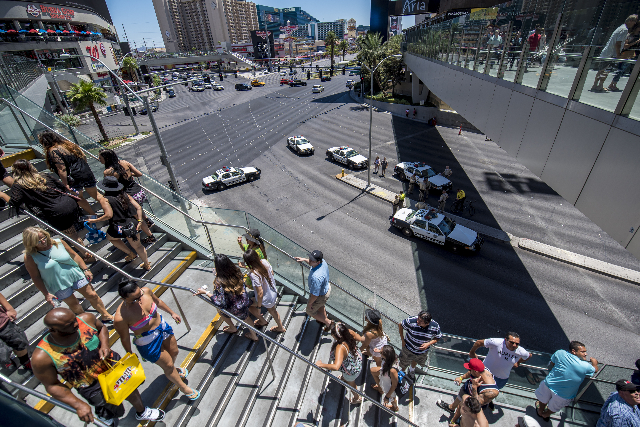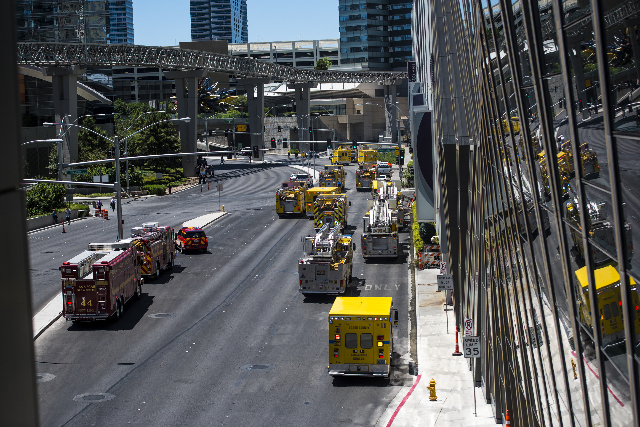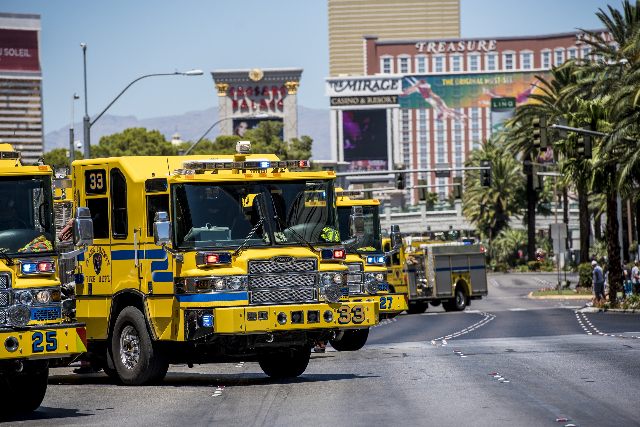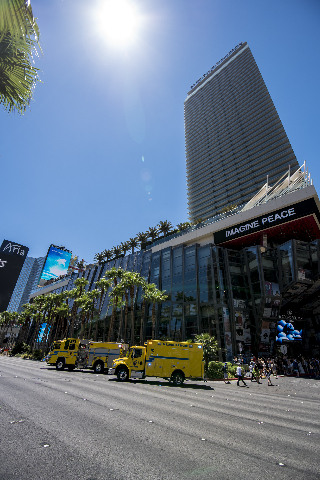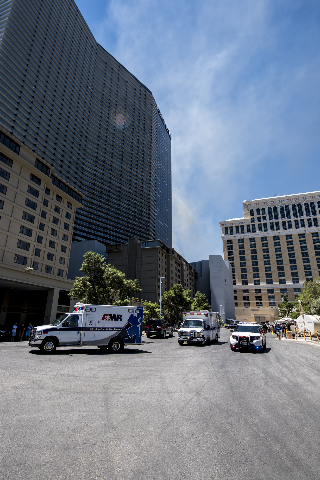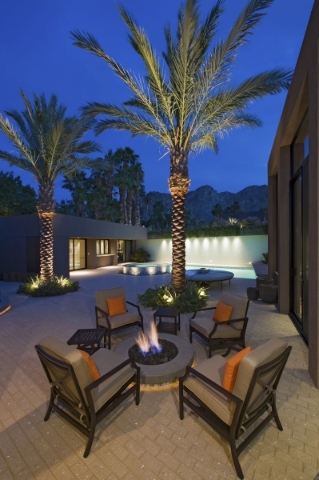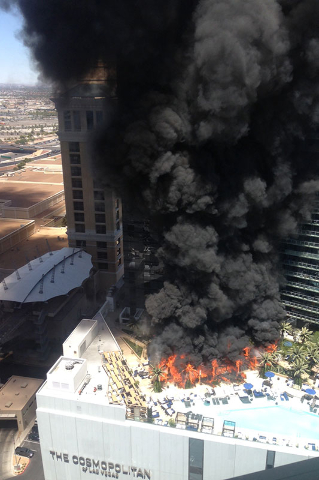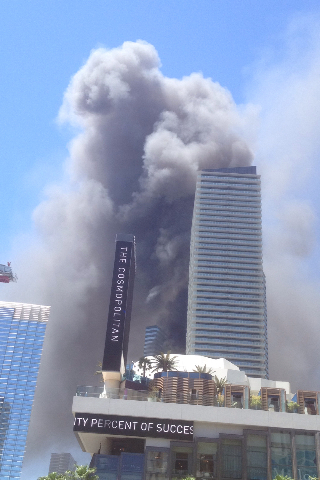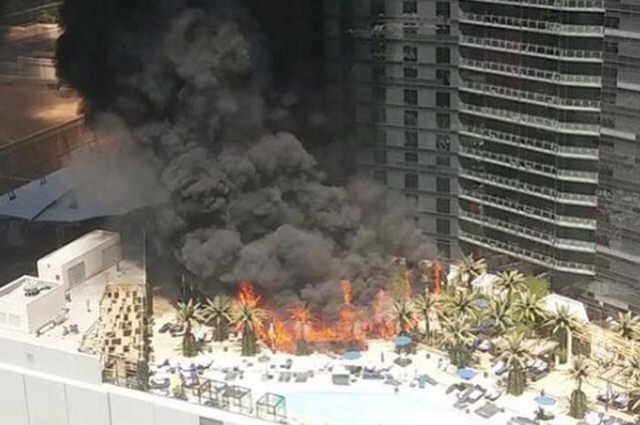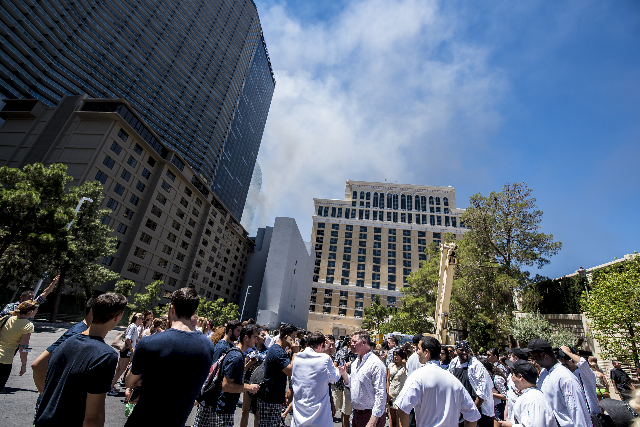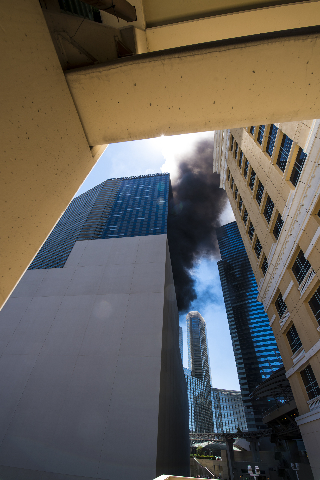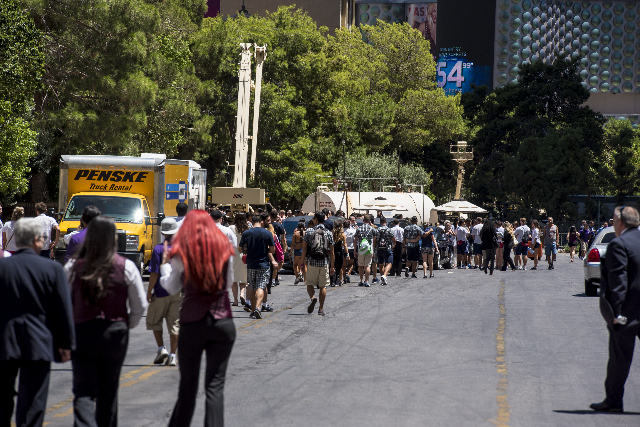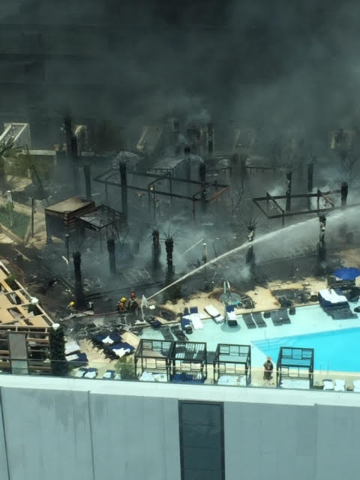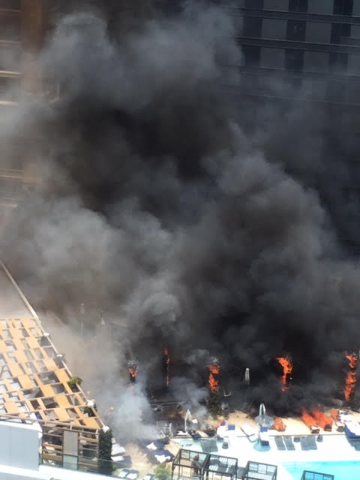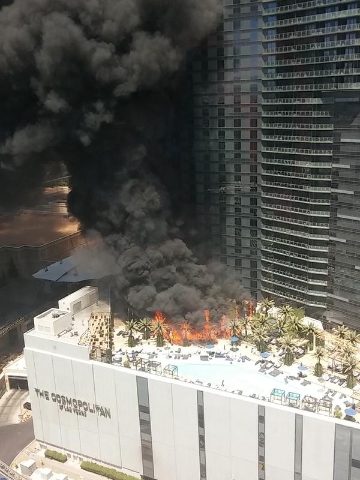 Social media, for all of its goofiness and self-indulgence, could play a key role in helping experts figure out why the fire at The Cosmopolitan's Bamboo Pool venue blew up so quickly.
Eyewitnesses posted several images of the fire in its infancy.
The faux palm trees quickly erupted into a wall of flames that produced a potentially deadly column of black smoke.
Quick work Saturday by the local fire crews probably saved lives.
Keep it in mind that smoke was the overwhelming factor for the high death toll — 85 — in the Nov. 21, 1980, fire at MGM Grand, now Bally's.
If you have images of the fire in its early stages, send them to me at norm@reviewjournal.com, and I will pass them along to fire officials.
Willie Nelson's concert Sunday at The Chelsea, on the third floor, will go ahead as planned, with doors opening at 7, according to Amy Rossetti, vice president of public relations.
Media notes
Jerry McKenna, senior vice president and market manager for CBS Radio's Las Vegas cluster since late 2010, is out. His replacement is vice president and director of sales Tony Perlongo, who combines the two titles. It was among a half-dozen market manager changes made around the country by CBS Radio. …
Sen. Harry Reid and his wife, Landra, and Bob Fisher, former president and CEO of the Nevada Broadcasters Association, will be among the honorees at the NVBA Hall of Fame gala Aug. 15. The event will be held at the Four Seasons hotel. Harry Reid will receive the Pinnacle Award, and Fisher will be honored for guiding the association for more than two decades. They are among 62 honorees. See nvbagala.com. …
Westgate headliner Suzanne Somers will be the next guest on "Conversations With Norm" Sept. 27 at The Smith Center for the Performing Arts. Tickets go on sale today for the 2 p.m. event at Cabaret Jazz. They cost $25 and $35 and can be bought by calling 702-749-2000 or at thesmithcenter.com. Proceeds benefit The Smith Center's education and programming. KTNV, Channel 13, chief meteorologist Bryan Scofield will serve as the announcer. …
Casey Smith, a former TV morning anchor at KLAS, Channel 8, and, more recently, KTNV, Channel 13, has moved into real estate sales.
Olivia's missing Grammy
Flamingo headliner Olivia Newton-John has won four Grammys, but she can't find one of them.
"One of them got lost," she told me during an interview last week.
She's not sure which one it was, which means she is not big on keeping them front and center in her life.
She won her first in 1973, for best female country vocal performance for "Let Me Be There."
In 1974, she won two: "I Honestly Love You" won record of the year and best female pop vocal performance.
She won the Grammys' inaugural video of the year award in 1982 for "Physical."
She asked the Grammy Awards governing body, the National Academy of Recording Arts and Sciences, if she could get a replica but was turned down, she said.
"I guess they didn't believe me," she said, with a laugh.
One year, she said, Grammy presenter John Lennon introduced her as "Olivia John-Newton."
Her best Beatles moment?
"I met the Beatles at Abbey Road (recording studio) when I was a very young girl when I was recording," she said.
Sightings
At N9ne Steakhouse (Palms) on Friday: boxing legend "Sugar" Ray Leonard, with friends, and former Los Angeles Dodgers star Steve Garvey. … Kourtney Kardashian's estranged beau, Scott Disick, greeted at 1 OAK nightclub in The Mirage with a oversized replica of his head topped by a large crown, a nod to his self-bestowed nickname, Lord Disick.
The punch line
"A former Iowa lottery official was found guilty (last week) of rigging a computerized Hot Lotto game so he could win a $14 million jackpot. He now faces up to five, 12, 14, 20 or 25 years in prison." — Seth Meyers
Norm Clarke's column appears Sunday, Monday, Wednesday and Friday. He can be reached at 702-383-0244 or email him at norm@reviewjournal.com. Find more online at www.normclarke.com. Follow Norm on Twitter: @Norm_Clarke