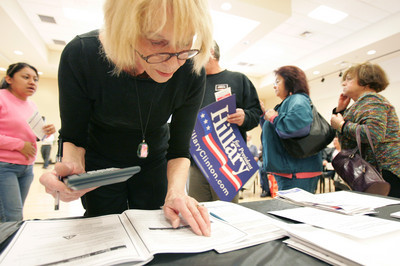 For about every 10 people who showed up at regular Democratic caucuses in Clark County on Saturday, one delegate was awarded.
At the special precincts for workers on the Strip, however, it was one delegate to every five caucus-goers.
That means voters at the casinos had, on average, twice as much influence as if they had voted near where they lived in the biggest and most influential presidential nominating contest in state history.
An analysis of the Democratic turnout shows concerns that Strip caucus sites would have disproportionate influence proved well-founded, even though those complaining about it ahead of time benefitted from the disparity.
A week before the caucus, a lawsuit challenged the special Strip precincts, alleging it was unfair that Strip workers got special consideration when workers elsewhere did not. It also claimed that the delegate ratios for the Strip caucuses, which were based on attendance, gave voters there more clout than those elsewhere.
The Hillary Clinton campaign, while not officially tied to the lawsuit, had supported its premise, complaining the sites were unfair because they were bound to be flooded with members of the Culinary union, which endorsed Barack Obama.
A judge annulled the suit, saying political parties have wide latitude in how they select their nominees. The contention about the Strip caucus-goers turned out to be correct.
Clinton won seven of the nine controversial Strip precincts. In those nine caucuses, she won 44 delegates more than Obama out of nearly 500 at stake, a difference of 9 percentage points.
Strip voters weren't the only voters who had greater individual influence on the caucus results based on where they were. For example, in Carson City, the ratio of voters per delegate was almost 19, but in Esmeralda County, it was just 1.5.
An analysis of the Democratic turnout across the state reveals many such disparities in the caucus, wherein delegates to regular geographical precincts are apportioned based on decades-old formulas that take into account parties' voter registration in each county.
Because the Strip caucuses weren't based on where voters lived, the Democratic Party created special formulas for them based on how many people attended. Everywhere else, attendance didn't change the number of delegates, so the more people who showed up, the less influence any one of them had.
The countywide formulas were intended to give more voice to the sparsely populated rural areas that otherwise might be ignored. They give more delegates per capita to those areas so that they have enough representation at the state level to be meaningful.
They do not, however, give disproportionate voice to individual rural voters. In practice, the turnout figures show, voters in different areas had vastly different amounts of clout in the caucus whether they were rural or urban.
Each caucus-goer in Lyon, Elko and Nye counties had less influence in electing delegates than the average Nevadan, while those in Eureka and Lander counties had far more.
Caucuses aren't a one-person, one-vote process like primaries. They are precinct meetings in which delegates are elected to county political conventions based on which candidate they support.
In Saturday's Democratic caucuses, 117,599 total participants elected 10,649 total delegates, according to data released by the Democratic party on Thursday. Fifty-one percent of the delegates supported Clinton for president, while 45 percent supported Obama.
Obama, who had the most campaign offices across the state of any candidate, won Washoe and the majority of the rural counties. In fact, even though three-quarters of the state's Democrats live in Clark County, Obama picked up nearly one-third of his total delegates outside Clark.
Had the rural areas not been weighted with more delegates, he might not have come as close as he did.
In Esmeralda County, where just 51 caucus-goers elected 35 delegates, Obama picked up 22 to Clinton's nine. Compare that to a single precinct in Clark County, No. 1039, where 100 caucus-goers elected five delegates, three for Clinton and two for Obama.
Clinton won Clark County by more than 10 percentage points but earned more delegates than Obama in just five of the other 16 counties.
Nevada's 17 counties will have Democratic conventions on Feb. 23, where the precinct delegates will elect a smaller number of delegates to go on to the state convention in April.
Obama's strength in rural and Northern Nevada could be a factor if the two candidates are still vying for the nomination in April. Based on the way national convention delegates are awarded, he would get one more than Clinton if the state convention delegates vote in proportion to the precinct delegates, which they are not required to do.
Party officials said the delegate ratios serve their intended purpose because the rural counties get more delegates and thus more sway at the state Democratic convention.
"The purpose of the ratios is to ensure that the counties have a significant number of delegates to encourage candidates and campaigns to pay attention to them," said Kirsten Searer, deputy executive director of the Nevada Democratic Party. "Otherwise, they might be left out of the excitement."
Candidates might not bother to campaign in low-population areas if they couldn't pick up many delegates there, leaving rural voters and their concerns overlooked, she said.
"The purpose isn't focused on the number of people it takes on caucus day to elect one delegate," Searer said. "That's dependent on how many people show up on caucus day," which can't be determined in advance.
On average, rural caucus-goers had slightly less individual clout than those in Clark and Washoe. The ratio of rural caucus-goers to delegates was 10.2, versus 11.2 in the two urban counties.
The statewide average of caucus-goers to delegates was 11.0, but it took slightly fewer Clark County voters and more Washoe County voters to get a delegate. In Clark County, the average was 10.4; in Washoe, 14.8.
Although caucuses were held in previous presidential races, they were lightly attended because they came at a point in the political calendar when enough other states had already voted to more or less determine the party's nominee.
This year, the Democratic Party moved Nevada's caucuses earlier, making them the third contest in the nation and thus an important early indicator of candidates' appeal to voters.
Saturday's turnout was nearly a quarter of the number of registered Democrats in the state. However, the Democratic Party allowed people to register to vote as a Democrat at the caucuses. Roughly 30,000 new registrations were collected at the caucuses, according to the party.
But the heightened interest in the caucus process has led to more scrutiny of how it works, and complaints that it isn't fair.
Complaints also have come from caucus attendees dismayed by the confusion of the event and its demands on their time, as well as from those prevented from having a say because they couldn't be there on caucus day. And the Obama and Clinton campaigns continue to trade accusations of caucus mischief, each saying its supporters were disenfranchised or intimidated by the other's.
"We're taking all the input we received, good and bad, and looking at the lessons learned," Searer said. "We're still getting a lot of feedback and we haven't come to any specific findings yet."
Contact reporter Molly Ball at mball@reviewjournal.com or (702) 387-2919.