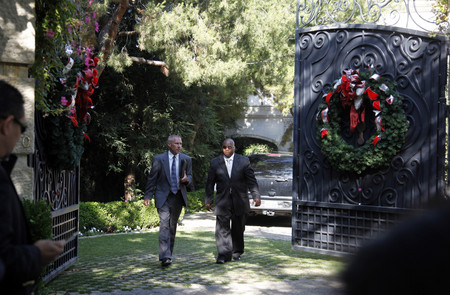 LOS ANGELES — Michael Jackson's personal doctor administered a powerful anesthetic to help him sleep, and authorities believe the drug killed the pop singer, a law enforcement official said Monday.
The official, who spoke on condition of anonymity because the investigation is ongoing, also provided a glimpse inside Jackson's rented mansion, describing the room he slept in as outfitted with oxygen tanks and an IV drip.
Another of his bedrooms was a shambles, with clothes and other items strewn about and handwritten notes stuck on the walls. One read: "children are sweet and innocent."
The official said Jackson regularly received propofol to sleep, relying on the drug like an alarm clock. A doctor would administer it when Jackson went to sleep, then stop the intravenous drip when he wanted to wake up.
On June 25, the day Jackson died, Dr. Conrad Murray gave him the drug through an IV sometime after midnight, the official said.
Though toxicology reports are pending, investigators are working under the theory that propofol caused Jackson's heart to stop, the official said. Jackson is thought to have been using the drug for about two years, and investigators are trying to determine how many other doctors administered it, the official said.
Murray — who is in his 50s, lives in Las Vegas and has medical practices in Las Vegas and Houston — has been identified in court papers as the subject of a manslaughter investigation, and authorities last week raided his office and a storage unit in Houston. Police say Murray is cooperating, and they have not labeled him a suspect.
Murray has left a trail of legal and financial troubles during his 10 years in Las Vegas.
Judgments or liens totaling about $450,000 were rendered against him from finance and leasing firms and for failure to pay child support and student loans.
Two pending lawsuits against him, brought by Digirad Imaging Solutions and Siemens Financial Services, are seeking judgments totaling more than $366,000.
Friend and business associate John Thomas has told the Review-Journal that he spoke with Murray three days before reports surfaced that the Las Vegas cardiologist's CPR attempts were unsuccessful in keeping Jackson alive.
"He couldn't have been happier then," Thomas said earlier this month.
In his last phone call with Murray, Thomas said, it was evident how much Murray "liked being in the limelight, meeting all the celebrities."
And it was clear to Thomas that the $150,000 a month Murray said he was getting from Jackson was helping him through "some of the financial troubles he talked about."
Using propofol to sleep is a practice far outside the drug's intended purpose. One doctor said administering it in a home to help a person sleep would constitute malpractice.
Murray's lawyer, Edward Chernoff, has said the doctor "didn't prescribe or administer anything that should have killed Michael Jackson."
When asked Monday about the law enforcement official's statements, Chernoff said: "We will not be commenting on rumors, innuendo or unnamed sources."
In a more detailed statement posted online Monday, Chernoff added that "things tend to shake out when all the facts are made known, and I'm sure that will happen here as well."
Murray became Jackson's personal physician in May and was to accompany him to London for a series of concerts starting in July.
He was staying with Jackson in the Los Angeles mansion and, according to Chernoff, "happened to find" an unconscious Jackson in the pop star's bedroom the morning of June 25. Murray tried to revive him by compressing his chest with one hand while supporting Jackson's back with the other.
It is unclear how long it took for someone at the house to summon paramedics, though Murray's lawyers have said it was up to a half-hour. Paramedics arrived about three minutes after they were called and tried to revive Jackson for 42 minutes before sliding him into the ambulance and rushing to UCLA Medical Center, where he was pronounced dead.
Police found propofol and other drugs in the house. An IV line and three tanks of oxygen were in the room where Jackson slept, and 15 more oxygen tanks were in a security guard's shack, the official said.
Propofol can depress breathing and lower heart rates and blood pressure. Because of the risks, propofol is supposed to be administered only in medical settings by trained personnel. Instructions on the drug's package warn that patients must be continuously monitored and that equipment to maintain breathing, to provide artificial ventilation and to administer oxygen if needed "must be immediately available."
Dr. Zeev Kain, who heads the anesthesiology department at the University of California, Irvine Medical Center, said he has never encountered a situation in which propofol was given in a home to help someone sleep. Such a situation would constitute malpractice, he said.
Cherilyn Lee, a registered nurse who gave Jackson nutritional counseling and vitamins this year, said he complained of insomnia and asked her repeatedly for Diprivan, the brand-name version of propofol. Lee said she warned him of the drug's dangers and rejected his requests.
Los Angeles police interviewed Murray twice soon after Jackson's death. Last week, detectives flew to Houston and, along with federal drug agents, searched a medical clinic he ran and a storage unit he rented. They seized a long list of items, including the contents of three computer hard drives, two e-mails from his administrative assistant at his Las Vegas practice and other documents.
A sealed search warrant approved by a Houston judge and later made public allowed authorities to seek "property or items constituting evidence of the offense of manslaughter that tend to show that Dr. Conrad Murray committed the said criminal offense."