State senator quitting PUC job
December 19, 2011 - 5:58 pm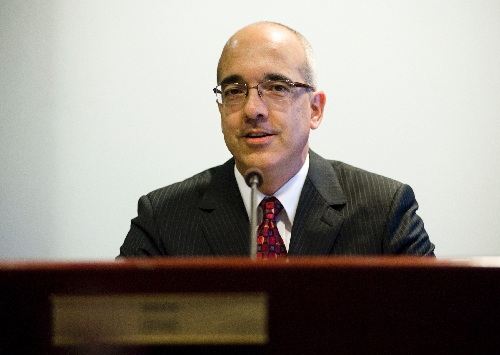 CARSON CITY — State Sen. Mo Denis, D-Las Vegas, said Monday he is quitting his job as a computer technician for the Public Utilities Commission, a step that probably will end the Nevada Policy Research Institute's lawsuit challenging his right to serve as a state employee and a legislator.
The institute, a private conservative think tank in Las Vegas, earlier this month filed a lawsuit in Carson City District Court that argued Denis could not hold a state job while he was a state legislator without violating the separation of powers clause of the state constitution.
Denis said Monday he has been looking for several months for a more flexible job in private industry because of the increasing number of hours he must devote to legislative business. He said he will leave the Public Utilities Commission of Nevada on Dec. 28 after 17 years and start working as head of Internet technology for a construction company. He declined to identify that company.
He denied his decision to leave state employment has anything to do with the lawsuit, but he acknowledged he was served with the lawsuit on Monday.
NPRI lawyer Joseph Becker would not concede that Denis' departure from his full-time state job effectively ends the lawsuit. He issued a statement saying the group was considering legal options.
Courts generally throw out lawsuits when there is no longer a conflict, and the research institute's goal had been to require Denis to step down from his state job. If the lawsuit ends, however, then NPRI still would not have a response to its assertion that state employees cannot also serve in the Legislature.
NPRI spokesman Victor Joecks added that they "have legal options," and that other legislators with state jobs should quit them now.
Denis, however, was the only legislator the think tank sued. He also is the only legislator who clearly does have a state government job. NPRI identified nine other legislators that it thinks also are affected by the separation of powers doctrine. But they work as teachers, county employees and university employees.
In these jobs, they may receive funds from state government but are not directly under control of the executive branch of government.
Critics questioned whether Denis' state job violated the constitution because as a computer technician, he has had no say in the Public Utilities Commission's mission of setting utility rates.
"To me it is a step up, career-wise," said Denis about his resignation. "I am doing what I wanted to do. It is not fair to the PUC for me to stay with all the legislative work I have to do."
He noted that the utilities commission recently moved into new offices in Las Vegas that are 22 miles from where he lives, increasing his commute. His new job is much closer to home, he said.
Denis is likely to become the Democratic leader of the Senate after the election next November.
In Nevada, legislators work a full-time legislative session for four months every other year but also serve on interim committees. Legislative leaders such as Denis must raise funds and recruit candidates.
Before winning his first legislative seat in 2004, Denis said he consulted the Legislative Counsel Bureau and a private lawyer and was told he could be a state employee and still serve in the Legislature.
"I would not have run if I couldn't have continued in my job," Denis said.
Clark County Democratic Party Chairman Chris Miller said he was "disheartened" by Denis' decision to resign from the PUC instead of "fighting for himself and his legislative colleagues whom NPRI will target next."
"This was clearly an attempt by NPRI and their right-wing allies to undo in the courts what they could not do at the ballot box — disenfranchise the voters of their elected choice" Miller added.
Contact Capital Bureau Chief Ed Vogel at evogel@reviewjournal.com or 775-687-3900.