February 7, 1999 - 12:01 am
Updated September 12, 1999 - 12:01 am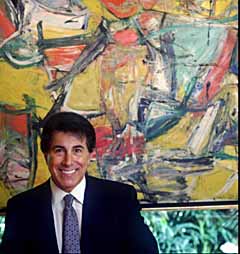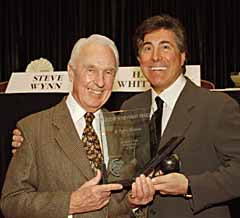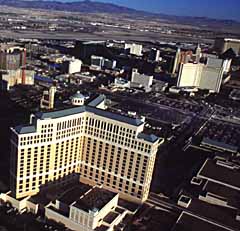 The Yuppies take a morning stroll in Bellagio's botanical garden, splendid with blooms. They marvel at original paintings they studied from color slides in school. They dine in French restaurants and buy gowns they'll wear proudly to a black-tie fund-raiser in Charlotte or Dallas or Boston.
Before the 1990s, the word "elegance" was not used in the same sentence as "Vegas." The reality of an earlier Vegas was excess, not elegance. It was about ogling long-legged cocktail waitresses in Daisy-Duke tights. Food was thick steaks, drinks were Scotch, and the fashions were furs on the mistress and jackass slacks on the Dunes golf course.
It took a man who understood both worlds to bring about change. Steve Wynn, whose father ran bingo games back East and squandered his profits on the gambling tables of old-time Vegas, has become a tycoon in the business of marketing snob appeal.
He's also shown Las Vegas better ways to please the laid-back millions who aren't snobs. He created a new era not only in Nevada resorts but in Nevada politics; although Nevadans have long worried casino interests might dominate state politics, Wynn is one of the few to aggressively pursue political agendas. The intervention has not been entirely unwelcome; Wynn's agendas have included better state colleges, better Clark County schools, and a more sensible growth rate for Las Vegas.
Wynn started coming to Las Vegas when most Americans hadn't been here yet. It was 1952, he was 10 years old, and his dad "used to go to bed with me and then sneak out at night and shoot the dice at the Flamingo and the Sands," Wynn told an interviewer in 1983. Some 30 years earlier, he remembered, Vegas had been a place one rode horses through the desert and hitched them on rails at a casino's back door. "It was like stepping back into the frontier," Wynn said. "Casino owners were king; they owned the town. They were glamorous; they had beautiful women and lots of money."
All the observations Wynn made about casino owners in 1952 would be made about Wynn himself in the fullness of time.
Wynn's father opened a bingo parlor here but was unable to obtain a gaming license and was forced to close. He returned to Utica, N.Y., and reared Steve and his brother, Kenneth, who is 10 years younger, in an atmosphere of affluence. Wynn attended a military prep school and the University of Pennsylvania, and took classes at Wharton Business School. He spent weekends breaking into his father's bingo business.
He met Elaine Paschal, daughter of one of his father's gambling buddies, a hotel promoter in Miami. Elaine was a blonde beauty who had been selected Miss Miami Beach. She was a good scholar, who attended UCLA but transferred to George Washington University to be closer to her new beau. They were married in 1963, a couple of months after his father died in open-heart surgery, and a couple of months before his graduation from the University of Pennsylvania.
The Wynns moved to Las Vegas in 1967 and Wynn invested in the Frontier Hotel, perhaps the most controversial deal he would ever make. Though Wynn was never accused of wrongdoing, several of his associates in the hotel were mob-connected. And they were not merely people who had formerly been in illegal gambling — which has always been winked at in Nevada because illegal gambling was once the only way to get experience — but involved in a hidden ownership and skimming scheme. Wynn had been there less than a year when image-sensitive state authorities persuaded billionaire Howard Hughes to buy the Frontier, hoping his corporate security people could clean up the problems. Wynn has said he made no money on the deal. Hughes brought in his own people, so Wynn was also out of his job as keno and slot manager.
He had, however, made the most valuable contact one could make in Las Vegas: banker E. Parry Thomas. Thomas was known as the only banker in the country who would loan money to build casinos. He hit it off with the ambitious young Wynn, and mentored his business career.
Wynn became involved briefly in promoting lounge shows, then obtained a valuable liquor distributorship. He made headlines in 1971 when he learned that Caesars Palace, while nominally located on the busy corner of Las Vegas Boulevard at Flamingo Road, did not actually own a narrow strip of land on the corner along Flamingo. Howard Hughes did, and refused to sell it to Caesars. But nobody knew more about the Hughes real estate holdings than did Wynn's new mentor, Parry Thomas, who had helped assemble them.
Wynn located another land parcel which Hughes needed, obtained an option on it, and then arranged a swap with Hughes, snatching the Flamingo Road parcel from under Caesars' nose. Then Wynn announced plans to build the world's narrowest casino thereon, forcing the hotel to buy it for $2.25 million. Wynn and a partner had invested only $1.2 million in the deal, borrowing the funds from Thomas, so they split a profit of more than $1 million.
This gave him enough money to participate with Thomas in the most famous bloodless coup in Las Vegas casino management. Thomas said The Golden Nugget had one of the most desirable locations on Fremont Street, but was managed by a group of old-timers who were content to coast. The stock was undervalued and the managers didn't own much of it. Wynn and a group of new investors bought enough to get elected to the board of directors, then documented mismanagement including employee thefts from the casino. Next, Wynn called on Golden Nugget President Buck Blaine and threatened to sue if Blaine didn't resign.
"We can do it easy or we can do it hard," Wynn recalled telling Blaine. And he related, "Bucky, sitting in that office of his, just caved in." Blaine bailed out with a $30,000-a-year tin parachute labeled a "consulting fee." By August 1973 Wynn ran the company, and in one year he increased the pre-tax profits from $1.1 million to $4.2 million. To a downtown that had become content to live on local business and spillover from the Strip, Wynn in 1977 added 579 rooms, some of them the finest Las Vegas then had to offer, and the Nugget was soon making $12 million a year.
He used Golden Nugget profits to buy an aging hotel in Atlantic City, where gambling had just become legal, tore it down, and by 1980 had built another Golden Nugget with 506 rooms. He lavished money on the resort, paying $10 million for three years' worth of Frank Sinatra's silver voice and priceless image, used both in the showroom and Nugget commercials. He bought jets, helicopters and limousines to bring high-rollers there.
He also raided competing casinos for proven casino employees, and lavished money to keep them. By 1984 his net worth was estimated at $100 million.
In 1986 he bought a large tract on the Las Vegas Strip at its intersection with Spring Mountain Road across from the Desert Inn and next to Caesars Palace. The choice property had remained undeveloped mainly because it was owned by the retentive recluse, Howard Hughes. But after Hughes death in 1976, those running his empire began divesting parts of it.
Wynn then sold the Nugget's Atlantic City property for $440 million, plowing part of the money into upgrading the Golden Nugget downtown and part into a new resort at the Strip location. The published price tag of the new Mirage was $630 million, and $565 million of that was raised by the sale of junk bonds — bonds rated risky by investment analysts and, therefore, paying a high interest rate. It was an enormous gamble; the new hotel would have to make $1 million a day to service the debt. While it had 3,000 rooms to do it, nobody really knew if there was enough business to fill that many new rooms, particularly rooms that had to rent for more than the city average to pay the nut.
Nobody had built a major new hotel on the Strip since 1973, when Kirk Kerkorian had opened the MGM Grand. Some thought the market was saturated.
William Thompson, a UNLV public administration professor and gaming industry analyst, points out that Nevada casino revenues had actually fallen in the early 1980s, with competition from Atlantic City. Other states were flirting with casino gambling, so corporations were nervous about investing further in Nevada.
The city was in the doldrums, and Thompson credits Wynn with towing it out. "A new psychology of pride and growth took over the town," Thompson wrote in "Maverick Spirit: Building the New Nevada."
Even before he opened The Mirage in November 1989, the industry began following Wynn's lead. Caesars Palace cut a deal to construct the Forum Shops, a mall of quality stores unprecedented in Las Vegas, linking its own resort with The Mirage. Caesars also enlarged its casino to accommodate the new business it expected to stroll in from shops or The Mirage. Circus Circus started building a new resort, the 4,000-room Excalibur. Kerkorian, who had sold the original MGM Grand to the company that renamed it Bally's, started another, new MGM Grand with 5,000 rooms.
All four projects proved remarkably successful.
Each had unique attractions. The MGM Grand had an attached amusement park. The others relied heavily on escapist, imaginative themes. Caesars stuck with its Roman motif in the Forum Shops. Excalibur, built to look like a castle, revived the romance of the Arthurian legend. The Mirage used lush indoor plantings, waterfalls and a man-made volcano to create the illusion of a lush South Pacific paradise in the Mojave Desert. On the same parcel of property Wynn later constructed an additional hotel, Treasure Island, which evokes pirate movies set in the Caribbean.
The Wynns have two daughters: Kevin, born in 1966, and Gillian, born in 1969. In 1993 Wynn's conspicuous success drew the attention of predators to Kevin, who had matured into a beautiful young woman employed at The Mirage. One hot July night she was kidnapped as she drove into her condo garage. Wynn paid a $1.45 million ransom about two hours later, and was told her car would be found parked at McCarran International Airport. Wynn insisted on approaching the car alone. "Whatever I was going to find in the car, it was going to be me doing it," he later testified in a federal court. "But after three steps, I couldn't do it … I called her name. `Kevin.' "
From the back seat he heard her reply: "Dad, is that really you?"
The young woman was still tied, but physically unharmed.
A week later, the ringleader, Ray Cuddy, was arrested in Newport Beach when he tried to pay cash for a Ferrari. He was sentenced to 24 1/2 years in prison, while an accomplice, Jacob Sherwood, was sentenced to 19 years. A third participant who testified against them was sentenced to six.
The Wynns moved to a place where they could control more closely those who approached them, building a mansion on the grounds of Mirage's exclusive Shadow Creek golf course in North Las Vegas. Invitations to the home are rare.
Wynn may project a new, cleaner image of Las Vegas, but has in fact used some of the old-time personalities who continue to tarnish Nevada's image. In 1992 and 1993 casino host Charles Meyerson fought to regain his right to work in the industry after Sheriff John Moran yanked his work card for hosting organized crime figures. He regained the card and subsequently was licensed by the state of Nevada. Meyerson, a former bookmaker from New York City, claimed he did not know the men had mob ties. Both Julie Weintraub and Ash Resnick, casino hosts with unsavory reputations, worked in Wynn-controlled casinos.
In 1995 Review-Journal columnist John L. Smith published a biography of Wynn called "Running Scared." Wynn sued the author and the publisher, Lyle Stuart. He won a $3.1 million libel judgment against Stuart, not for the book's contents, but for statements made in an ad promoting the book, which Wynn said implied he was connected to organized crime. That verdict is on appeal to the Nevada Supreme Court, but Stuart was forced into bankruptcy. Wynn subsequently dropped his suit over the book itself.
The 1998 opening of the 3,000-room Bellagio was anti-climactic. Never mind that its $1.6 billion price tag made it the most expensive resort ever built. Never mind that it was striving for a new market, the cultured rich who have generally preferred to vacation in spots with a less gaudy image. After so long a string of winning, most people expected no less from the Bellagio. Reviews in the travel press have been mixed. but the tables look busy.
Since then Mirage Inc. has opened a similarly European-themed hotel on the Gulf Coast in Biloxi, Miss. With 1,780 hotel rooms, the Beau Rivage is the largest hotel-casino in the United States outside Nevada. And the company has purchased a site in Atlantic City, planning a return to the New Jersey gaming venue.
Despite the increased revenue brought into the company by the new properties, earnings per share dropped in the second quarter of 1999, and the stock price, which stood above $18 in November 1998, fell below 14 by August of 1999. Wynn noted in July, however, that the company has traditionally opened hotels with extra staff and other expenses to assure a favorable first impression on the public, and that "In the past our new hotels have generally had higher profits in their second years than in their first."
Wynn has spread Mirage money widely as political contributions. In 1998 Review-Journal political reporter Jane Ann Morrison analyzed campaign donation records and discovered that Wynn was the second-most active gaming executive in donating to politicians. Sheldon Addleson, chairman of the Las Vegas Sands and builder of the new Venetian Resort, gave about twice as much as Wynn to state and local campaigns, and nearly as much at the national level. Wynn's donations did not seem to particularly favor either the Democratic or the Republican party, though he is registered as a Democrat.
Neither man was the first casino operator to be a major contributor to political campaigns, noted Michael Green, a history professor at Community College of Southern Nevada. Traditionally, many casinos have given to both sides to assure good relations with whoever won. "But … Moe Dalitz and a lot of those guys wanted nothing from the politicians except to be left alone. Wynn is proactive, and that is his political importance. Also, he has taken an interest in national politics. Howard Hughes quietly gave money to presidential candidates, but Wynn plays golf with them."
Wynn carries it a giant step beyond that, points out Jon Ralston, publisher of The Ralston Report and a free-lance political columnist. "He recognized a few years back it's not enough to do polling, as some had done before, and let candidates know where they stand. He decided to have a whole structure that allows him to participate in the care and feeding of candidates. He will provide mailing lists. He will let candidates know where they are weak and strong in the geographic area they are running in.
"In other words, he provides the same services a political party does." Most successful legislative candidates, most incumbent county commissioners, have taken advantage of Wynn's help, said Ralston.
Some today compare Wynn to the late George Wingfield, the hotel-and-mine magnate who ruled Nevada in the 1920s. Green suggested, "He doesn't yet have the power of a Wingfield, but he may be on his way."
Part III: A City In Full