Stiles guilty on all 22 counts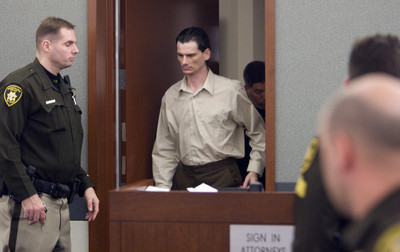 A stone-faced Chester Stiles sat in a courtroom and met his fate quietly Tuesday afternoon.
With his gray-flecked brown hair slicked back, Stiles stared straight ahead and barely blinked as a court clerk read the verdicts that sealed his future:
Guilty of sexually assaulting a 2-year-old girl in Las Vegas.
Guilty of sexually assaulting a 6-year-old girl in Las Vegas.
In all, the jury convicted Stiles of 22 counts of sexually assaulting a minor, lewdness with a minor and attempted sexual assault of a minor. The jury deliberated about four hours.
Twenty-one of the convictions carry a life sentence. District Judge Jennifer Togliatti is scheduled to sentence Stiles on May 8.
One of his attorneys, Deputy Public Defender Amy Coffee, said Stiles' defense team plans to appeal the verdicts.
Stiles' other attorney said the team wasn't happy with the outcome.
"We're always disappointed with a guilty verdict," said Deputy Public Defender Stacey Roundtree.
The trial lasted more than a week and included a videotape showing the sexual assault of a 2-year-old by a suspect police identified as Stiles.
The jury also listened as a girl, now 11, described how Stiles sexually assaulted and molested her when she was 6.
Jury foreman Dan Clayton said it was an "emotional trial for everybody" because of the appalling nature of the case.
He said the 15-minute videotape showing the sexual assault was just one piece of evidence jurors used to make their decision.
"The tape was not the whole case," said Clayton, 62. "That was a portion of it, but there was a lot of other fine evidence brought forward that made our decision."
During the trial, county prosecutors Jim Sweetin and Mary Kay Holthus described letters Stiles had written to ex-girlfriends in which he admitted to being a pedophile. In the letters, Stiles also apologized to the victim in the video.
Prosecutors also played a jailhouse recording of Stiles telling a woman that he "can't deny" what's on the videotape.
Both Holthus and Sweetin said they were pleased with the verdicts.
One juror urged anyone like Stiles to get help immediately.
"This guy is sick," said juror Jeffrey Taube, 34. "There's other sick people out there right now. Get yourself help."
Stiles became the focus of a nationwide manhunt in 2007 after the videotape showing a child being molested was found in the desert near Pahrump.
The victim, now 8, was eventually found safe in Las Vegas. She has no memory of the assault.
Henderson police arrested Stiles during a routine traffic stop at the corner of Green Valley Parkway and Sunset Road in October 2007. Once he was stopped, Stiles admitted that he was a wanted man.
The trial centered on two separate incidents. Authorities said Stiles, a former animal trainer for Siegfried & Roy, sexually assaulted a 6-year-old girl in December 2003 while visiting her home.
That victim testified that Stiles had groped her and kissed her on the lips. The kiss, she said, made her sick to her stomach.
Stiles also was accused of videotaping himself sexually assaulting a 2-year-old girl. Prosecutors played the taped assault for jurors on Friday.
Authorities said Stiles gained access to the girls through his friendship with Tina Allen, who was acquainted with the victims' families. Police said Allen took Stiles to the victims' homes.
Stiles and Allen dated for about two years and remained friends for more than a decade.
Contacted Tuesday, Allen said she never knew Stiles was attracted to young girls. She said she never wanted to speak with Stiles again.
"I don't condemn him. I can't condemn him," she said. "He put himself there. Not me."
Contact reporter David Kihara at dkihara@reviewjournal.com or 702-380-1039.
Audio slideshow of verdict being read