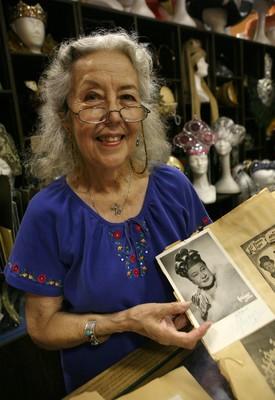 A Las Vegas version of "Star Wars" has quietly started, with entertainment bookers scrambling for talent to fill a new wave of large venues.
"You're going to see a lot of movement" in the next year, says a longtime entertainment executive. "You're going to see stars people never dreamed of playing Las Vegas 25 weeks a year."
Within four years, six to eight new theaters will be part of an unprecedented building boom that includes MGM Mirage's $7.4 billion CityCenter and Boyd Gaming's $4 billion Echelon, along with replicas of the Plaza Hotel of New York and the Fountainebleau of Miami.
There will be intense competition to get the biggest names signed in advance, the entertainment booker said.
THE SCENE AND HEARD
Jason Feinberg, morning news anchor at KVVU-TV, Channel 5, confirmed on Saturday that he has been suspended. He would not go into details, saying further comment would have to come from news director Adam Bradshaw. Feinberg acknowledged that his suspension came after he made the comment in an interview Thursday about Metropolitan Police Department recruiting problems that "a lot of guys, especially in the drug unit, are past drug addicts." …
Jordan, the loyal lab retriever often featured on telecasts with KVBC-TV, Channel 3 weekday weather anchor John Fredericks, died Saturday. In a posting on the KVBC Web site, Fredericks said Jordan "went to sleep in my arms" at the Sahara Pines Animal Hospital. Fredericks thanked the community for welcoming Jordan "into your hearts and homes these past 11 years." He said donations in Jordan's memory can be sent to the Nevada Society for the Prevention of Cruelty to Animals at 873-7722. …
My mention two weeks ago of the PBS Sophie Tucker special hosted by Bette Midler got Nancy Williams Baker's attention. Baker, longtime owner of the Williams Costume Co., was an 18-year-old chorus girl dancing in Tucker's show at the El Rancho Vegas Hotel in 1949. She has Tucker's autographed photo to prove it. "She was a blues shouter; they didn't call them singers. In those days, the hotels were so small, there was only one dressing room. We all dressed with her. She was so charming. Between shows she'd sign her books and send the money to Israel."
SIGHTINGS
Filmmaker Steven Spielberg, having lunch Saturday at the Country Club (Wynn) with friends. … Maroon 5 frontman Adam Levine, celebrating with a group of 25 at his manager Shawn Teller's bachelor party Friday at N9ne steakhouse (Palms). In separate parties there: Pete Rose, New York Giants linebacker Chris Claiborne and Sacramento Kings forward Justin Williams. … MTV reality TV star Brody Jenner, Mrs. America winner Andrea Preuss, poker star David Williams and actor Dennis Haskins, partying Friday at Pure nightclub (Caesars Palace). … Early arrivals Friday for the bachelorette weekend for former "Grey's Anatomy" star Kate Walsh — soon to be star of the "Grey's Anatomy" spinoff, "Private Practice" — taking in "Love" (Mirage). Among them: former "Grey's" castmate Sara Ramirez. Walsh is marrying Alex Young, a production co-president at 20th Century Fox. … George Lopez, signing autographs for 2 1/2 hours Saturday at Nellis Air Force Base. Lopez, who performed at the Las Vegas Hilton over the weekend, had an important engagement in Monterey, Calif., last weekend. He was in the audience when his daughter, Mayan, showed her acting chops as Pepper, one of the orphans in "Annie," in the Musical Theatre Workshop production at the Santa Catalina School in Monterey.
THE PUNCH LINE
"It was so hot today, Michael Vick was organizing penguin fights." — David Letterman
Norm Clarke can be reached at 383-0244 or norm@reviewjournal.com. Find additional sightings and more online at www.normclarke.com.
NORM CLARKEMORE COLUMNS