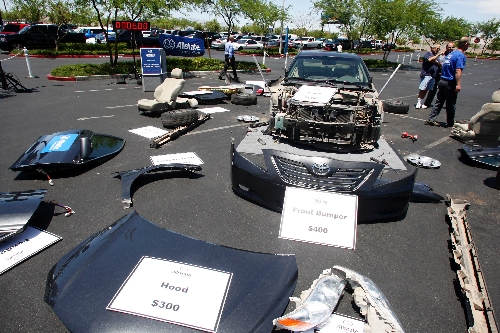 In Las Vegas, a lot of things can be stripped in seconds.
On Tuesday, a Toyota Camry happened to have heads turning and jaws dropping at the Town Square shopping center.
Three members of an Allstate Insurance demonstration team took hand-held tools to the vehicle to show spectators just how quickly a car can be completely dismantled by thieves.
Within a minute, the hood was gone. It can be sold to a chop shop for $300.
Ray Puhalski, who happened by the event, was in awe.
"Unbelievable," he said, shaking his head. "It takes me two hours to change a headlight.
At 1 minute, 25 seconds, the trunk had also been tossed aside; that's another $200.
Across the nation, a vehicle is stolen every 33 seconds. Although some are stolen for transportation to commit another crime and some by criminals looking for a joy ride, most thieves steal them to take the parts and sell them. Proceeds from the sale of parts often exceed the total value of the vehicle, according to Allstate.
One minute, 36 seconds pass and the front bumper is also off; that can net about $400 on the black market.
"Oh my God," a woman mutters as she watches the men methodically dissect the vehicle.
One minute, 49 seconds and there goes the head lamps; $150 apiece.
Scott Lightman, spokesman for Allstate, noted that most car thieves use power tools so the guys running around the blacktop at Town Square weren't going to break any car-dismantling records.
"Some people think we're teaching people how to steal cars," Lightman said. "The bad guys, they know how to do this already. They've been doing this for years."
Off go the front doors at 2 minutes, 16 seconds. Jackpot even by Vegas standards; these doors net about $800 each.
Las Vegas ranked No 1 in car thefts per capita in 2006. Through May of this year, 2,700 vehicles were reported stolen in the valley; about 500 per month. Those are seemingly staggering numbers, but the city has dropped to No. 9 on the nation's list of trouble spots.
At about 3 minutes, the side panels are removed from the Toyota, which along with Hondas are the most commonly stolen vehicles. About 55 seconds later, the passenger seat is out and a minute later the driver seat also is sitting next to the car. The seats sell for about $250 apiece on the black market.
Las Vegas police Sgt. Andrew Patzer can't pinpoint exactly why the car theft rates have dropped in Southern Nevada. It's partly because technology has improved, making vehicles more difficult to steal.
The Police Department has stepped up its enforcement, and repeat offenders are getting hammered with tougher sentences. Also, security at businesses has improved over the years.
All the seats are out at 4 minutes, 30 seconds, and a few seconds later the tail lamps are gone too.
Patzer said the Police Department has also implemented a "bait" program. It has a fleet of different types of vehicles that detectives park around town. Offenders are found using tracking devices placed in the cars. Patzer believes potential thieves might hesitate to steal a car once they hear of the program.
The tires are the last to go; they're easy to remove. And at 6 minutes, 8 seconds, the Toyota is nothing but a skeleton.
"It would take me days to do that because I don't know what screw or what nut to take off," Puhalski said. "I wasn't surprised they could do it that quickly though; I watch a lot of cop shows. This stuff intrigues me."
Lightman suggested to car owners that they etch their vehicle identification number into their windows; criminals don't like that and even shady auto body shops won't go near marked parts.
The point of the demonstration was to show that it takes no time at all for thieves to have their way with vehicles if the owner forgets to lock it, leaves a window cracked or leaves valuables within sight.
"It's effective anytime someone sees something as impressive as this," Patzer said. "It's amazing how quickly they will take apart your car."
That's one thing nobody would like to see stripped in Sin City.
Contact reporter Adrienne Packer at apacker@review journal.com or 702-387-2904.