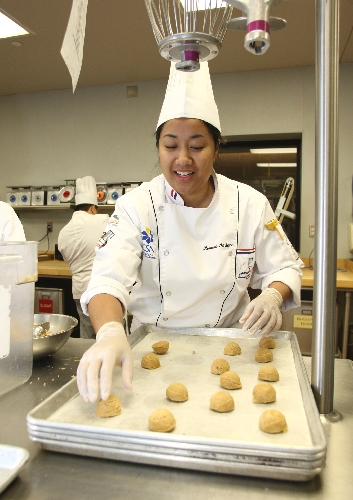 Many months ago, a College of Southern Nevada student pitched an idea to the school's culinary club: Let's bake a whole bunch of cookies and send them to the troops overseas.
The club, made up of culinary students at the community college, liked it. They often volunteer for community events, and sending a thank you gift to the soldiers and Marines in war zones seemed like a great idea.
How many cookies would it take? Numbers were thrown out. A thousand, someone said. Five thousand. Ten thousand.
What about 10,001? Why? Well, why not?
So that's what they set out to do. Operation 10,001 Cookies.
They had no idea how hard it would end up being.
Rowena Drinkwine, 32, the club's treasurer, helped put the whole thing together.
They chose the end of May because the semester would be over by then, but it would be before students who were planning vacations for the summer would be gone.
Calculations were made on how much material the group would need. About 650 pounds of food in all.
So Drinkwine sent out letters. Companies responded with promises of just about all the raw food they would need.
Volunteers said they would handwrite thank you letters to the men and women overseas. Others said they would help package the cookies.
Still others pledged to help pay the shipping costs.
And so a date was set: May 26.
A couple dozen students showed up at 7 a.m.
They had mixed the batter the day before, so they got to baking immediately. They had four types of cookies to bake: chocolate chip, oatmeal raisin, peanut butter and sugar.
"When you get down to the last minute, there's 30 seconds between failure and perfection," advised Steve Soltz, the chef instructor at the college.
So, care was taken in baking the cookies. Too hard, they'd crumble in the shipping boxes. Too soft, they'd get squished.
"This one's done."
"This one needs to go back in a little bit."
That sort of thing.
Rudi Eichler, the baking professor, stopped by for encourage­ment.
He said there really is no difference between baking 10 cookies or 10,000. It's just a matter of putting in the time.
"You guys should go into business," he told the students. "You'd make a lot of money. Mrs. Fields showed it to you. Making only cookies."
Students used ice cream scoops to form the dough into balls.
They flattened the balls into quarter-inch-thick circles. They put fork marks in the top of the peanut butter cookies.
"Wooh!" Drinkwine hollered, a little after 9 a.m. "One bin down, baby!"
Dozens more waited.
The day wore on.
Noon came and went. The cookies were stacking up. Nobody bothered to keep a running count as they were baking, so there were buckets upon buckets of freshly baked cookies to box up.
Students and volunteers, many from the Knights of Columbus Council 8282, loaded the cookies into Ziploc bags. They put the bags into postal shipping boxes.
Thank you letters wrapped in ribbon were placed atop the cookies.
They counted 3,100 cookies by 12:30 p.m.
By 1 p.m., the peanut butter cookies were all boxed up.
Drinkwine took a break.
Another count, 3,850 cookies.
"OK, all the cookies are bagged," Soltz said a little later.
The boxing efforts were redoubled.
When they hit 4,000, Jeni Ford walked in with two giant bags of pink Styrofoam popcorn for packing.
Ford and her husband, Duane, had pledged to cover the shipping costs, along with Duane's employer, Perini Building. That was almost $2,000.
She has long worked with volunteer groups that aim to support the troops overseas.
The college club connected with her through Nellis Air Force Base, where Drinkwine had gone for advice on how to get the cookies to the troops.
"I can handle that," Ford remembered telling Drinkwine.
And she did.
She said the cookies will go mostly to Afghanistan and Iraq, but also to other places where soldiers, sailors and Marines are deployed. They'll go to bases, hospitals, even ships, she said.
"If somebody's willing to do this, I can surely help in some way," Ford said.
The boxed cookie count reached 4,800. Soon, it hit 7,000. Then 7,300.
And then?
Nothing. They had run out of cookies.
Soltz did a quick calculation in his head, not thinking clearly.
He went to the kitchen to tell the students.
"We have to make 701 more cookies," he said.
Even though they all thought they would have finished by then, 1:30 p.m., 6½ hours after they started, nobody protested. They got to work.
They had enough butter. Flour. Salt. Cinnamon. Eggs. They would get it done.
Soltz started messing with the calculator on his cell phone. He punched in a few numbers.
Oops.
They weren't 701 cookies short. They were 2,701 cookies short.
He conferred with Drinkwine and got everyone's attention.
"We're not 700 short," he said, his voice booming through the silent kitchen. "We're 3,000 short."
Several students gasped.
"What?" someone said.
"Yes. Somehow, we had only 7,300."
No one moved for a moment.
Then, someone started cracking open the eggs.
Someone else chopped the butter into squares.
Calculations were made. It was figured that the ice cream scoops they had used to ball up the dough were a tiny bit larger than they should have been, which explained why the material they had wasn't enough for all of the cookies.
"OK," announced Drinkwine. "What do we need?"
A supermarket run was made. A few more eggs. A little more milk.
They were there until 6:30 that night.
They ended up with 10,261 cookies.
They shipped them off Thursday.
Contact reporter Richard Lake at rlake@reviewjournal.com or 702-383-0307.
Video: Students baking for troops