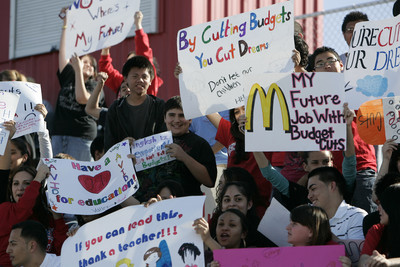 About 500 students entered the fray of the state budget battle Monday by rallying in the Valley High School football stands to defend education and their favorite clubs.
Funding for academic programs and extracurricular activities such as theater and band is threatened because Clark County School District officials are anticipating budget cuts of $150 million for next year.
Almost a dozen students speaking from a stage on the football field explained what their activities mean to them as the crowd booed references to proposed budget cuts and chanted "Si se puede," "Yes we can" in Spanish.
Ronni Shy, 15, a drama club member, said not every student can be a star athlete or a valedictorian.
"When we walk into theater for rehearsal, we feel we have found our place," said Shy, a sophomore at Valley, 2839 Burnham Ave., near Eastern Avenue.
Hector Lopez, 17, a junior, said he was lost as a student until he joined Future Business Leaders of America.
"When I was a freshman, I didn't care about school," Lopez said. "I thought it was meant to be miserable."
Zhan Okuda-Lim, 15, said the rally was planned to take place before a legislative hearing today on the state's education budget to send a message to state lawmakers.
Eric Lystrup, 18, who is the president of the Valley Student Council, said the high school's administration initially suggested the rally but the students quickly took up the cause.
"We wanted to do this," he said.
Also attending the rally were Superintendent Walt Rulffes, School Board member Carolyn Edwards and members of Nevadans for Quality Education and the teachers' union, the Clark County Education Association, but the teens did all the public speaking.
Valerie McNay, a speech language pathologist who works in elementary schools, said she was both heartened and saddened.
"It's really great to hear the voice of the kids," she said before adding, "They shouldn't have to fight for this."
Contact reporter James Haug at jhaug@reviewjournal.com or 702-374-7917.