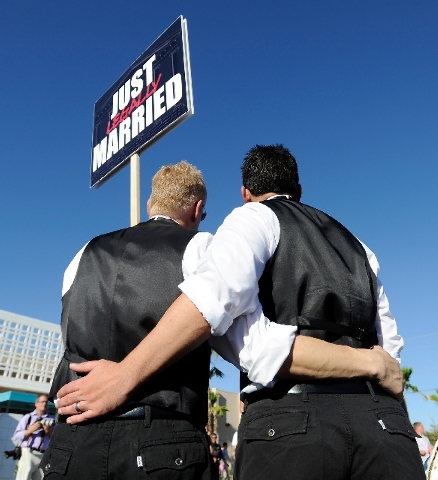 PHOENIX — Gay marriage proponents marked another victory Thursday after the U.S. Supreme Court rejected appeals from Nevada and Arizona involving the rights of same-sex couples.
The justices decided to let the 9th U.S. Circuit Court of Appeals hear the Nevada case that challenged the state's ban on same-sex marriage.
And they let stand an appeals court ruling striking down an Arizona law that made state employees in same-sex relationships ineligible for domestic partner benefits.
The court's actions came amid a landmark week for gay rights. The Supreme Court issued rulings Wednesday that struck down a provision of a federal law that denies federal benefits to married gay couples and cleared the way for state laws that recognize marriage equality.
NEVADA CASE
The Nevada case, originally filed on behalf of eight same-sex couples, argued that a 2002 state constitutional amendment prohibiting same-sex marriage violated the Equal Protection Clause of the U.S. Constitution by denying same-sex couples in Nevada the same rights that other married couples enjoy.
A federal judge in Reno ruled last year that the amendment was not a constitutional violation, and it was upheld. The plaintiffs then appealed that decision to the 9th Circuit while the anti-gay marriage group requested the Supreme Court hear the appeal instead of the San Francisco court.
The decision by the Supreme Court means that the case must proceed through the 9th Circuit.
Tara Borelli, an attorney with Lambda Legal that specializes in civil rights, said in Los Angeles that Nevada law is questionable because the state grants domestic partners the same legal privileges afforded to married couples, while denying gays the right to marry.
She said the state must rationalize the exclusion.
The Nevada Legislature recently approved a measure that would legalize gay marriage, but changing the state constitution is a lengthy process. Lawmakers must pass the same resolution in 2015 before it goes to voters for final approval on the 2016 ballot. If it clears both hurdles, it would become law. If it fails at any stage, the five-year process must start over.
"We should just have a state law and be done with it," said Sen. Kelvin Atkinson, D-North Las Vegas. "In the constitution we shouldn't be defining marriage; that's not what the constitution is for."
Not legalizing same-sex marriage will have consequences for Nevada over time, said Atkinson, who made national headlines earlier this year when he publicly announced that he was gay during the state Senate's debate on marriage equality.
"We are a tourism state and we do rely on folks visiting our state, so some may decide they're not going to come here because they don't have the same rights here," Atkinson said.
ARIZONA CASE
In the Arizona case, Republican Gov. Jan Brewer denied Thursday that Arizona had targeted gay couples and slammed the court for not recognizing the state's need to balance its budget by limiting employee benefits.
"This case has never been about domestic partners, same-sex or otherwise," Brewer said in a statement. "It is always been about the authority of elected state officials to make decisions with which we have been entrusted by the voters."
Arizona's constitution bans gay marriage, and a 2009 law signed by Brewer repealed domestic partner benefits for state workers.
Brewer said the state was in a fiscal crisis and couldn't afford to extend health care benefits to employees' dependents if they weren't married. They said the policy was legal because it applied to all employees, regardless of sexual orientation.
Gay marriage proponents counter that the policy was discriminatory because heterosexual couples can marry to obtain benefits, while gay couples cannot under state law.
"The state is excluding only one group of employees from family coverage and that is lesbian and gay employees. It's not a neutral rule to say they can get the benefits if they marry because of course they cannot marry," Lambda Legal attorney Borelli said.
The conservative Center for Arizona Policy, which opposes gay marriage, had supported the state's position in court, and has vowed to fight any efforts to overturn the state's ban on gay marriage.
"The Legislature and the governor should have the authority to determine benefits for state employees," President Cathi Herrod said after the ruling.
The legal battle could be resolved by voters. Gay marriage proponents began gathering signatures Thursday to change Arizona's constitution and legalize gay marriage.
The Equal Marriage Arizona campaign hopes to collect roughly 400,000 signatures to get its constitutional amendment on the ballot in 2014.
Las Vegas Review-Journal Capital Bureau reporter Sean Whaley contributed to this report.