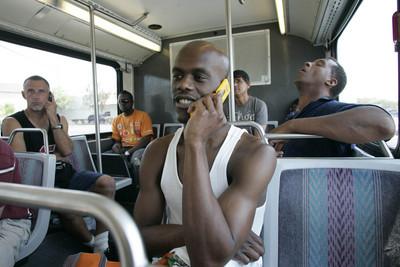 This stunt began, as all ridiculous adventures do, with a simple question: What's it like to ride the bus?
Would a guy who has never ridden the bus be able to make it from his house to Various Important Places and back home again for the cost of a Big Mac without:
1. Keeling over from the heat (or, possibly, getting mowed down by a car while waiting at the bus stop)?
2. Getting hopelessly lost?
3. Fending off an attack, Keanu Reeves-style, by crazy bus-riding zombies?
4. Asking his wife for a ride home?
Ridership on the local bus system is way up this year. The experts say gasoline prices are driving that trend here and elsewhere.
So, let's go for a ride and see what happens.
PLANNING THE RIDE
I checked out the Regional Transportation Commission's Web site. I figured Joe College Student might need a ride to the College of Southern Nevada, then to University Medical Center for a doctor's appointment, then to the Meadows Mall for work.
So, bus route 206 would take me from my house near Charleston Boulevard and Hualapai Way to CSN.
From there, I'd head to UMC, then switch to bus 207 to the Meadows Mall, then home on buses 103 and, again, 206.
I drove this route. It is 19.9 miles, which means I used less than a gallon of gasoline in my Mazda, about $3 worth at current prices. It took me 44 minutes.
My online planning told me I could get a day bus pass for $2.50. If I wanted, I could get a 30-day pass for $40. That's a whole lot less than the $300 I'm spending on gasoline each month.
But the bus would take several hours. The express routes announced last week won't run until next year. Besides, they wouldn't have worked for where I wanted to go.
ON THE MOVE
The nearest bus stop to my house is almost a mile away, which meant walking. Ugh.
I set out at 7:38 a.m. Thursday. Sixteen minutes later, almost to the bus stop, I encountered my first dilemma: Buy something to drink at the quickie mart and risk a no-restrooms-on-the-bus incident, or forgo the drink and risk heat stroke?
I chose possible heat stroke.
My bus showed up at 8:05 a.m. carrying six people.
I bought two passes for $5, one for me and one for Review-Journal photographer Craig L. Moran. The driver helped me figure out how. It wasn't much different than buying a Diet Coke from the machine at work.
A few more people got on at various stops, so we totaled a dozen after a couple of miles.
One woman did her makeup, one guy read a magazine, two had earphones on, the homeless guy fell asleep, and the rest wore blank gazes as we bumped down the road.
Andrea Poti got on clutching a liter of cold water. She swigged from it. Sweat pooled on her face. She must have been hot in her Muslim garb, a headscarf and long smock.
A few blocks down the road, CSN came into view. And then it left our view.
"Oh, I missed it, I missed it," Poti said to no one in particular.
I said the same thing, to myself, only it involved words inappropriate for print. I'd already screwed this up.
Poti, a bus veteran, reached behind her and pulled the cord that signals the driver to stop at the next, um, stop. Thank goodness. I'd have kept on going if not for her.
"I don't have a car," she explained outside. "I wish I did."
She was heading to the library, next door to the college. She said she'd been riding the bus for about a year, and hadn't had much trouble.
"Just crazy people," she said. "I don't mind riding the bus, but it's hot."
Yeah, hot. Though the high this day never reached the 110-degree plateau that tells you you're crazy for living here, it was already over 90 degrees. And kind of humid.
As Poti headed for the library, Craig and I walked back toward CSN and waited for the next bus. I contemplated how many drunks would be on the road at 8:31 a.m. I remained standing at the bus stop, just in case. After all, the police arrested a man just last week on a vehicular homicide charge after, they say, he was driving under the influence and careened into a bus stop, killing Patricia Hoff.
Anyway, no drunks on this day. Our bus came 10 minutes later.
I got off just across Rancho Drive, even though I knew there was a stop closer to UMC. I didn't want to miss my stop again. The pull-cord thingies intimidate me still.
At 9:02 a.m., we exited across the street from Jimmy John's sub shop. To get the bus that goes to the mall, we'd have to walk over to Shadow Lane, near the Southern Nevada Health District's offices. Probably another three-quarters of a mile.
CHANGING ROUTES
We got to our stop at 9:25 a.m. and met Jena Whitcher, who was sitting in the sun by herself. I asked about riding the bus.
She said it gets so hot people sometimes pass out from the heat and other things.
"People shoot up heroin and stuff and they OD," she said. "I actually saved somebody's life. It's crazy."
Because I had not yet been attacked by bus-zombies, I suspected she was exaggerating. Whitcher said she was not. It's especially bad on the downtown route, she swore.
Whitcher, 34, has a tattoo of a tribal dagger on her neck. A large one of a female vampire with snakes or dragons or something in the vampiress' hair takes up most of her left forearm.
Whitcher lives on H Street, which she said is a terrible place to live. She was hoping to see her kids this week. They stay with her mom.
She isn't working right now, is "on a break" from school, and had to see the doctor this day to check for hepatitis C because of that saving-the-drug-user's-life episode.
She abruptly stopped talking.
"What is that smell? It smells like the sewer overflowed."
I didn't smell anything. I wondered if it was me. My pits were soaked, my hair was dripping, captured sweat was overflowing from my eyebrows into my eyes. Ouch! Salty. It was 95 degrees.
We got on the next bus at 9:38 a.m. and headed up Alta Drive. According to my planning, we would get off on Valley View Boulevard, across from the mall. I worried about the pull-cord.
I mumbled about it.
"It'll take you right to the mall," the guy behind me said.
He was a rough-looking guy — buzz-cut hair, big muscles, white wife-beater T-shirt and a bunch of tattoos, including a teardrop under his eye.
But the bus dropped us off at Sears at 9:49 a.m., just like he said. It was cold enough in there to chill a 12-pack before the game.
Craig and I headed up to the food court. I could taste the cold Diet Coke already.
I saw the tatted-up guy in the wife-beater. He had a buddy with him now. I asked about riding the bus.
"We both just got out of prison," said Dave Bockman, 45, Mr. Teardrop Tattoo.
He'd served four years for grand larceny, he said. His buddy, Joshua Parkhurst, 24, also got four years, he said for battery with a deadly weapon.
It seemed inappropriate, right then, to ask for details. I did a little checking later, and it turned out that Bockman was telling the truth. He has a whole bunch of priors, too, just like he said.
Parkhurst … well, let's just say he seemed like a nice guy and leave it at that.
These two guys said they met on the bus. Neither has a car or a job, what with the prison past.
"It takes a while to get all your stuff together," Bockman said.
They recognized one another as ex-cons through their tattoos.
"Prison tattoos, like in the movies?" I asked.
"Let's just say tattoos," Bockman said.
OK, then.
They said the bus isn't bad, that it'll get you where you want to go pretty reliably, that it's nice and cool if you have the time.
They took off, so we headed outside. I suspected we could have caught a bus at the mall, probably at Sears, but I didn't want to risk it. We walked over to Meadows Lane, where the Web site said to go.
It was 10:50 a.m., 99 degrees.
We got on bus 103 at 11:08 a.m.
LET'S GO HOME
"Heading north?" the driver asked.
"Charleston," I said.
"Wait for the south bus."
Thirteen more minutes. It seemed like an hour we were so hot.
We got off at Charleston at 11:34 a.m. and waited for bus 206.
My wife called then, offering a ride home. Tempting, but I declined.
Who wants to read a story about a guy who gets driven around by his wife?
We got on the bus at 11:56 a.m. We counted 47 riders.
We chat up a guy who said his name is Mike Robinson, 28. He said he's never had a driver's license.
"To me, I feel I don't need it," he said.
He said he's a cook at the Grand Cafe in Red Rock Resort. He was heading to work this day, even though it was his day off, for the overtime. He was supposed to be there at noon.
"I already told 'em, whenever I get there, I get there," he said. Seemed reasonable from a bus rider.
His phone rang, at 12:25 p.m., as I prepared to get off the bus for the last time, at Hualapai and Charleston, where I started.
Robinson answered.
"No, I'm still on the bus, babe," he said. "Still on the bus."
I got home at 12:48 p.m., more than five hours after I left. It was 104 degrees outside. I collapsed in the recliner, asleep before dinner, and my dreams were zombie-free.
Contact reporter Richard Lake at rlake @reviewjournal.com or 702-383-0307.
ON THE WEB:
Online slide show