Tanker owner didn't call 911
August 31, 2007 - 9:00 pm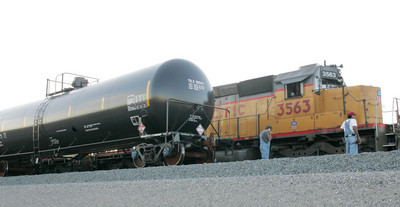 A railway tanker containing toxic chlorine gas rolled unchecked out of the Arden train yard on Wednesday, and apparently no one there noticed.
Or if they did, they failed to notify police that a tanker with the potential to set off Nevada's worst-case disaster scenario was on a fast-moving and uncontrolled northbound tear through Clark County's urban center.
"Our first notification came from a utility company survey crew," Metropolitan Police Department spokesman Bill Cassell said Thursday.
That call to 911 was made at 8:49 a.m. Wednesday. Cassell said police then contacted Union Pacific officials on the railroad company's emergency line, which is answered in Nebraska.
"On our first call, they told us it wasn't their train," Cassell said.
Four minutes later, Cassell said, Union Pacific officials called back to say it was indeed their tanker that was on the loose. By then, Cassell said, police had already responded to the 911 call from the survey crew and dispatched units to train crossings.
It wasn't until eight minutes after the initial call that police were informed the runaway car was loaded with a lethal substance that could pose a community-wide hazard should the tanker spew its contents during a crash or derailment.
A 2006 study by the University of Nevada, Las Vegas, Institute for Security Studies identified a chlorine gas accident as the deadliest potential disaster foreseeable in Nevada.
"We were doing what we could," Cassell said. "But at one point, the train was running at 50 miles per hour. There wasn't a whole lot of time to put together a plan and implement it."
Cassell said the Police Department's emergency management staff was in the process of calling other emergency responders, ranging from local fire departments to the Clark County Health District, when Union Pacific officials informed them that the tanker had come to rest on the opposite end of the valley, 20 miles from its point of origin just south of state Route 160.
According to the police timeline, everything was over by 9:11 a.m.
Local government officials Thursday were outraged, demanding explanations for what went wrong at the train yard and why Union Pacific was not on point in informing local entities about the potential threat of the runaway chlorine gas tanker.
Union Pacific spokesman Mark Davis said workers at the Arden yard did send out a priority radio signal to alert Union Pacific dispatchers in Omaha, Neb.
A dispatcher then contacted Union Pacific railroad police, also in Nebraska.
However, Davis's recounting of events differs with that of police on a key point: Davis said Union Pacific did notify local authorities, including the police, of the runaway car.
"This all happened literally within seconds," said Davis, who was in Las Vegas on Wednesday and back in Nebraska on Thursday.
Clark County Manager Virginia Valentine acknowledged that a Union Pacific official notified her of the runaway tanker on Wednesday.
Valentine said she got the call mid-afternoon, hours after the incident took place.
"It was completely unacceptable," Valentine said Thursday. "You can't respond to an emergency you don't know about."
Valentine said Clark County Commissioner Rory Reid has asked her to write a demand letter to Union Pacific requesting a full investigation and its results, an explanation for how the incident occurred and a plan for preventing it from ever happening again.
"Chlorine gas is an extremely toxic substance," Valentine said of the substance used in waste water treatment and disinfection. "Our emphasis has to be on prevention."
An investigation into the runaway tanker is already under way. Investigators from the Federal Railroad Administration are conducting it, with support from the Public Utilities Commission Of Nevada.
A final report will not be available for at least 30 days.
During a Thursday news conference, Las Vegas Mayor Oscar Goodman went so far as to suggest that a city ordinance banning the transport of high-level radioactive waste through the city be expanded to include other hazardous materials, such as chlorine gas.
"I've been very critical of the government for not advising us when the shipments are taking place," Goodman said. "Without notifying the authorities. .. I don't think they should be allowed to come through."
Goodman's assertion touches on the growing national debate on rerouting trains carrying hazardous materials around urban centers instead of allowing them to pass through.
Larry Mann, an attorney who helped draft the Federal Railroad Safety Act of 1970 and is a national consultant on railroad issues, said the current Congress has authorized the U.S. Department of Transportation to conduct a study on the routing of hazardous materials.
One of the things that will be examined is whether it's reasonable to reroute trains around metropolitan areas.
Mann also said railways are urging Congress to either relieve them of the responsibility of transporting hazardous materials, which is their onus as a designated "common carrier," or free them of liability when accidents occur.
Rep. Jon Porter, R-Nev, plans to bring the discussion on railway transport of hazardous materials to Las Vegas in the next few weeks. Porter wants to hold a public hearing that includes officials from the Department of Transportation and the Transportation Security Administration. Both federal agencies are working on new regulations for transporting chemicals on railways and trucks.
"We need to look at the whole supply chain," Porter said. "How are these chemicals transported and routed? How are they handled? We want to make sure that first responders have proper training."
Sen. Harry Reid, D-Nev., seized on the runaway tanker incident to highlight the danger of shipping nuclear waste to be stored at a government facility at Yucca Mountain.
The Department of Energy has not made decisions about routes to carry nuclear waste to Yucca Mountain but has not ruled out the possibility that some radioactive spent fuel encased in steel canisters might travel through Las Vegas.
"Railways go directly through the heart of Las Vegas and many other cities and towns across America," Reid said in a statement. "Fortunately, (Wednesday's) rail car was stopped without incident and without the release of the dangerous chemicals it was carrying."
Federal and state investigators were unable to provide any additional information on Thursday about how the chlorine tanker escaped the Arden yard in the first place.
Mann said railways have significantly reduced their workforces in the last decade and that he wouldn't be surprised to learn that lean staffing was a contributing factor.
"What has happened is that employees are pushed harder and harder to perform the work with fewer and fewer people," Mann said.
"You're very lucky you didn't have a derailment," Mann said from California. "Chlorine gas moves rapidly, and anyone who has prolonged contact with it is likely to die."
Mann was an expert witness for residents of Graniteville, S.C., who took legal action after being exposed to a toxic release of chlorine gas in 2005, when two freight trains collided.
Review-Journal writers Beth Walton and Alan Choate and Stephens Washington Bureau Chief Steve Tetreault contributed to this report.