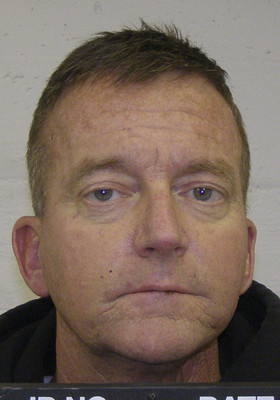 Dozens of young boys might have fallen victim to a longtime Boulder City teacher and soccer coach who has been charged with 72 child pornography-related counts, Boulder City Police Chief Thomas Finn said Friday.
As detectives from the Boulder City and Henderson police departments comb through computers and videotapes seized from the home of 46-year-old Charles Richard "Rick" Rogers, Finn said the case is one of the largest in scope that he has ever dealt with.
"Certainly it's a huge case for Boulder City, and even in my experience as an officer in New Jersey for 25 years," he said.
He said he "conservatively" estimates that dozens of victims might be involved, although as of late Friday afternoon detectives had not positively identified any victims. He wouldn't say whether the boys are or were students of Rogers.
Rogers has spent more than 20 years as a youth soccer coach in the town and most recently taught science at Garrett Middle School. He was a foster parent for two children since 1996.
There are at least three victims, and as many as five, in a videotape that police took from Rogers' Boulder City home, according to Rogers' arrest report. After a video of a youth soccer game, the tape cuts to several segments of child pornography.
The first two segments show Rogers performing fellatio on a boy 6 to 8 years old and a boy 7 to 10 years old, respectively, the arrest report states.
The second video, time stamped from 2006, shows three nude boys no older than 12 years old in Rogers' living room playing with condoms and masturbating, it states. Rogers, wearing a shirt with the word "soccer" on it, mimics having anal sex with one of them.
Rogers' face, and the furniture in his home, is visible in segments of the tape, according to the arrest report.
The Clark County School District has placed him on paid leave, and he is being held at the Clark County Detention Center on $144,000 bail.
Rogers first was licensed as a Clark County foster parent in 1994, according to Christine Skorupski, spokeswoman for the Department of Family Services.
He fostered one child in 1996 and another in 2004 and 2008, she said. She wouldn't identify the gender of the children.
Skorupski said the department is working with Boulder City police and the Clark County district attorney's office. Rogers underwent extensive background checks through the FBI and local law enforcement, she said.
Nothing of concern surfaced during the checks, Skorupski said.
"Were there any red flags? No," she said. "I don't think we could have done anything differently to prevent this."
The case has the potential to become one of the worst of its kind in the history of the school district. Terri Miller, president of the Las Vegas-based advocacy group Stop Educator Sexual Abuse, Misconduct and Exploitation, said it's "right up there at the top with the worst."
She also criticized the district for failing to catch on to Rogers.
"The best advice I can tell parents at this point is, 'Don't be afraid of the truth, because the truth will stop him,' " she said. "Don't be afraid to ask your kids what's happened."
Police are trying to identify the boys. They are asking parents of boys who have been left alone with Rogers to contact the department and e-mail a detective a photo of their child at the age he would have been alone with him.
"That's our primary focus right now, keeping him in jail and identifying these kids that are so often ashamed and embarrassed to come forward," Finn said.
Rogers has worked for the school district since 1992 and has coached soccer teams with the Boulder City Parks and Recreation Department and spent more than two decades coaching the BC United club team before retiring last year.
Henderson police learned of the case after they received an anonymous envelope with three electronic storage devices and a note saying they came from Rogers' home, according to his arrest report.
On one flash drive, investigators found several photos and 10 pornographic videos, which included scenes of men with boys about 7 to 10 years old, the report said. The same drive contained lesson plans and other school materials with Rogers' name on them and some family snapshots including Rogers.
Police searched Rogers' home and found a photo album with more than 50 pictures of child pornography in a drawer under his bed. Rogers admitted to having the photos at his house, the report said.
More victims could surface on the electronic materials after detectives see what's on them, Finn said.
Rogers is being charged with 64 counts of possession of child pornography, three counts of use of a minor in production of pornography, three counts of lewdness with a child under 14 years and two counts of sexual assault of a minor under 14 years.
Police want parents to contact Detective Michelle Isham at 702-293-9376 if they believe their son has ever been left alone with Rogers.
Review-Journal writer Lynnette Curtis contributed to this report. Contact reporter Lawrence Mower at lmower@reviewjournal.com or 702-383-0440.