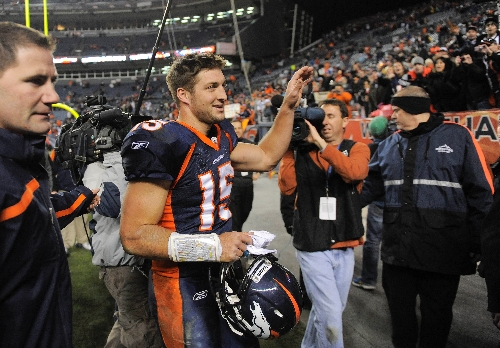 Even the local sports book computers were balking at this bet.
Back in February, Nike brought four NFL players to town for a photo shoot.
The guys got together for a game of pickup basketball at the Hardwood Suites in the Palms Fantasy Tower.
There was Adrian Peterson of the Minnesota Vikings, All-Pro cornerback Darrelle Revis of the New York Jets and Ndamukong Suh, the Detroit Lions ' sensational defensive lineman, and Tim Tebow of the Denver Broncos.
In terms of potential NFL MVP candidates, you had three NFL All-Pros and a laughable dark horse.
I called Jay Kornegay, sports book director at the Las Vegas Hilton (soon to be known as LVH-Las Vegas Hotel) , to attach some odds to Tebow's chances.
"The longest odds we can put in our computer is 9,999-to-1 . If we would have listed him, he would have been just that," he said.
Put another way, Kornegay said the Broncos were 100-to-1 underdogs to win the Super Bowl when the season began. "When they got off to a 1-4 start, before Tebow got the job, they were 2,000-to-1. Last week they were 30-1. Now they are 20-1.
"Quite a swing, huh?"
Quite a story.
Since Tebow took over, the Broncos are 7-1, in first place in the AFC West at 8-5, winners of six in a row, the last four via fourth-quarter comebacks.
"This just doesn't happen," Kornegay said.
THE SCENE AND HEARD
Confirmed: Kim Kardashian will attend the launch of Kardashian Khaos at The Mirage on Thursday. Her camp is calling it her first public appearance since her return from an early November trip to Australia days after her marriage to NBA player Kris Humphries fell apart. She was in Haiti last week to help empower women. The "Keeping Up With the Kardashian" clan will attend the store opening, which is set for 6 p.m. …
Rick Harrison of "Pawn Stars" got a second chance and grabbed it on Tuesday. During filming at the pawnshop last summer, a Las Vegas resident came in with what he said was a hat given to him by Lynyrd Skynyrd founder Ronnie Van Zant after a concert at the Las Vegas Convention Center Rotunda in 1977. Two months later, Van Zant was among six killed when the band's plane crashed. The local wanted $25,000, then $20,000. Harrison went from $5,000 to $10,000, but they couldn't agree. The man returned Tuesday and settled for $12,000.
Britney Spears, who just wrapped up her 79-date "Femme Fatale" world tour, will be in town this weekend for a celebration. …
Name of the Week: Travis Elway Timm, a 19-year-old hotel administration student at UNLV. His dad gave him the middle name during the Elway era. I met him Sunday at The Cosmopolitan of Las Vegas. Told him he has got to continue the family naming tradition so there will be a Travis Tebow Timm.
SIGHTINGS
Barry Manilow and his band, attending a champagne-and-cake reception at the Tempo Lounge at the Las Vegas Hilton on Friday after his show at Paris Las Vegas. After his final show at Paris on Sunday, he made a point of including Ken Ciancimino, executive vice president of administration at the Hilton, among the key execs whom he brought on stage as a gesture of appreciation. Manilow spent five years at the Hilton before spending the last two at Paris. "He was such a big part of our history, we had to have him come over and celebrate it," Ciancimino said. Manilow underwent hip repair surgery on Monday.
THE PUNCH LINE
"It was so cold in Texas that death row inmates are cutting in line just to get the electric chair." — Jay Leno
Norm Clarke can be reached at 702-383-0244 or norm@reviewjournal.com. Find additional sightings and more online at www.normclarke.com. Follow Norm on Twitter @Norm_Clarke.