November 16, 2007 - 10:00 pm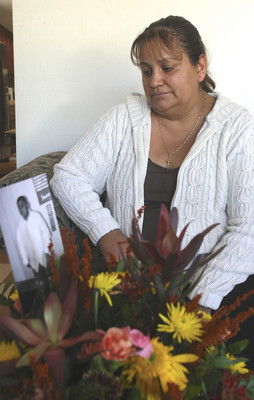 It had been five days since Irma Delgadillo's 17-year-old son died in a tragic accident, and she still couldn't bear to wash the clothes he wore the last time he left home.
"They smell like him," she said pointing to the black denim shorts, white T-shirt, boxers, socks and shoes inside a clear plastic bag given to her by staff at the hospital where her son, Giovanni Saavedra, died Sunday.
Saavedra fell from the covered bed of a moving pickup in an activity youths call "car-surfing."
"They also gave me his cell phone and house key," she said.
Saavedra left his family's home for the last time on the night of Nov. 8.
Before going to work, Delgadillo had bought her son Taco Bell for dinner and rented him movies. "He promised me he wouldn't go out. 'No, mom,' he said, 'I'm gonna stay in.' "
But just before 10 p.m., Saavedra couldn't resist the horn blast from his friend's black pickup beckoning him to come out and play. He left his home in the 1800 block of Yale Street and clambered onto the covered bed of his neighbor's truck, Delgadillo said.
"I have no idea what made him do that," she said staring at photos of her son bandaged and connected to a breathing tube in a hospital bed.
Saavedra's 11-year-old sister, Ataly, was outside and heard her brother telling his friend not to take off. But the 19-year-old driver accelerated anyway.
People who live nearby, at Tonopah Avenue and Princeton Street, told Saavedra's parents that the driver of the truck "started doing doughnuts," said Saavedra's stepfather, Jaime Fonseca.
"They said they heard Giovanni screaming that he wanted to get off," she said.
It looked like the driver was stopping to let Saavedra off the truck, she said. He stood up and was preparing to jump off when suddenly the driver "took off again" causing him to fall backward off the truck, Delgadillo said.
"He cracked his skull in three places. The neighbors ran out and saw that he had blood coming out of his mouth and was twitching," Delgadillo said.
On Sunday, after doctors had done everything they could and a final CAT scan found no brain activity, Delgadillo and her family decided to have Saavedra removed from life support and he died.
"Some of his friends and kids from the neighborhood had come to the hospital. When they heard that Giovanni had died, they turned pale, and their faces went blank," Delgadillo said.
The driver of the truck, a close friend of Saavedra's, came to the hospital with his family and apologized several times, Delgadillo said.
Delgadillo let the teens into the hospital room so they could see the potentially grave consequences of horseplay. She and her husband hope that the story of Saavedra's death will serve as a cautionary tale to make others think twice before acting recklessly.
"They think that these are games to see who is chicken," Fonseca said.
"It's like the stuff they see on 'Jackass' and shows like that," Delgadillo added.
While deaths and critical injuries from horseplay are rare, Mark Hoyt, spokesman for North Las Vegas police, said violent video games and reality stunt shows don't help. "Kids like those shows, I don't know why. And then they try to be like them and get hurt."
Emulating their favorite stars, Hoyt said teens also take part in backyard wrestling, jumping from roofs onto tables or onto another teen.
Hoyt responded to two serious car-surfing accidents two years ago but hadn't heard of any recent injuries until now.
"It's out there, unfortunately. A lot do it as horseplay at slow speeds and get away with it," said Sgt. Tracy McDonald, head of Las Vegas police's fatal traffic unit.
McDonald said in the past 31/2 years he has seen three car-surfing accidents that have resulted in serious injuries or death.
It is illegal to car-surf, McDonald said. It can lead to charges of unlawful riding in an area not designated for passengers and felony reckless driving, among others, he said.
The North Las Vegas Police Department hasn't decided whether to press charges against the driver of the vehicle, Hoyt said.
The driver did not return phone calls and no one answered the door at the residence on Thursday.
Meanwhile, Saavedra's parents are trying to adjust to the fact that their youngest son is gone.
They miss the phone calls that woke the sleeping household every day at 6 a.m., when his friends would call before picking him up for school; they miss hearing him in the shower early every morning; and they miss seeing him when he came home for lunch.
The family's grief is assuaged a little by Saavedra's choice to donate his organs.
Saavedra's heart was placed with a patient in California, where his liver also will be transplanted into a patient. His kidneys have gone to someone in Nevada and his lungs went to Arizona, Delgadillo said.
"My dream, my hope, is that someday these people will want to come meet us so we can tell them about Giovanni," Delgadillo said.
Services for Saavedra are set for 5 p.m. on Nov. 27 at St. Anne Catholic Church, 1901 Maryland Parkway at East St. Louis Avenue.
Assistant City Editor Patrick McDonnell contributed to this report. Contact reporter Beth Walton at bwalton@reviewjournal. com or (702) 383-0279.