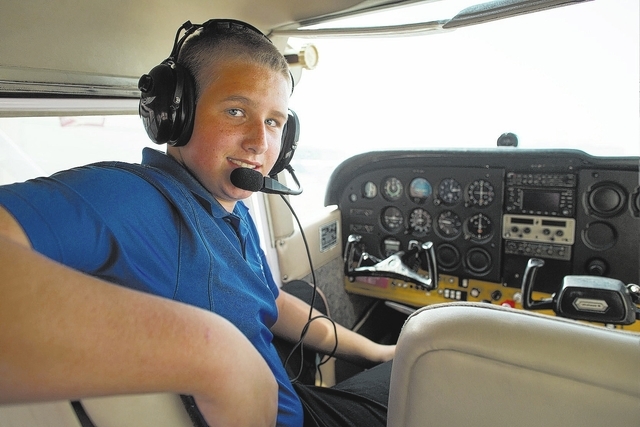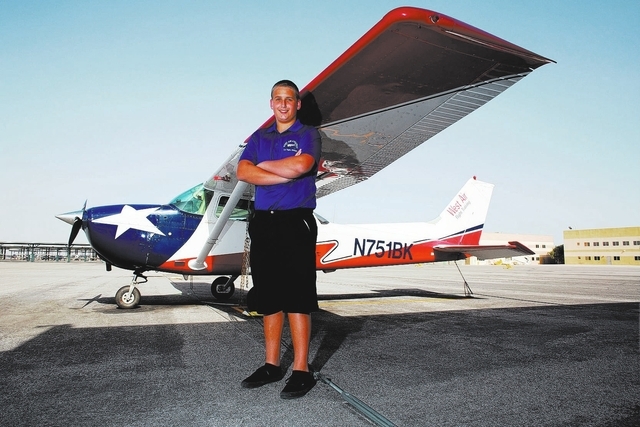 Editor's note: This story has been changed to reflect the correct hours to get a pilot's license.
Andrew Aldrich, 16, learned to pilot an airplane before he could legally steer a car.
To him, that seems perfectly normal. The stepson of a Southwest Airlines pilot and a former American Airlines flight attendant, Aldrich has wanted to fly since almost before he could walk.
If anything, he feels it took him too long to get off the ground.
"I've never had problems with takeoff. The hardest part for me was the crosswinds," Aldrich said of his first solo flight in a 1,900-pound Cessna last month, which he landed, smoothly, a day before passing his driver's license test. "It feels like weightlessness. My instructor wasn't in the airplane, so that didn't help. In a Cessna, you can feel that loss of 250 pounds.
"I wasn't scared. The landing went fine. I didn't bounce or anything."
Aldrich took his first flying lesson in December and picked up single-engine flight credentials less than nine months later.
He has flown through smoke from Mount Charleston's Carpenter 1 Fire, practiced correcting his course after a midflight stall and gone through nearly every adverse scenario amateur pilots train for before moving past single-engine planes, according to North Las Vegas-based West Air flight instructor Jim Bonelli.
"He's rare. Not that many kids really try and get their license by their 16th birthday," Bonelli said. "He's aviation-oriented. He spends a lot of time in the simulator. … People with his talent and skill don't have to look hard for a job."
Aldrich plans to continue training every two weeks until he builds up the experience needed to get his pilot's license by this time next year.
From there, the Centennial High School junior plans to follow his stepdad Steven Fouch into commercial piloting.
There's little to stop him. Fouch said that with good vision, near perfect grades and an already sizable in-air resume, Andrew would already feel at home even in a Nellis Air Force Base hangar.
"He has almost half the amount of time in a single-engine aircraft that I do," Fouch added. "You have to have the book knowledge and strong situational awareness and solid decision making (to be a pilot).
"I try to avoid partiality, but he definitely has what it takes."
Aldrich is well on his way to finishing the 250 hours of in-flight training required for a commercial pilot's license but has a long way to go before picking up the 1,500 hours needed for air transport pilot's credentials.
Plenty of 16-year-olds might find themselves tempted to take the traditional military route to the cockpit, one that would see the Air Force pick up an estimated $150,000 flight school tab.
Aldrich isn't one of them. He plans to put himself through commercial flight school while logging hours as an instructor at Bonelli's West Air training school.
Mom Shellee Aldrich-Fouch, who bought her son's first flying lessons as a Christmas present, supports the idea.
She remembers Andrew picking up his first toy planes as a 5-year-old. From that day on, she said, his head stayed in the clouds: Toy cars, boats and guns were all left by the wayside.
"He always just loved (planes)," she said. "He has a model airport at home, with terminals and everything. He taught himself how to fly model airplanes.
"I guess in some ways it's in his blood, but I know we couldn't be more proud of him."
Contact Centennial and North Las Vegas View reporter James DeHaven at 702-477-3839 or jdehaven@viewnews.com.