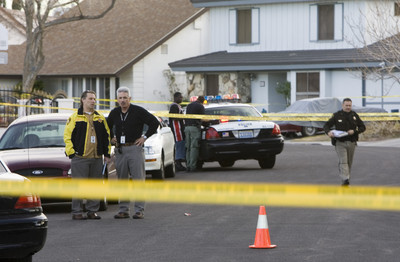 As he waited for his friend to get out of surgery at University Medical Center on Monday night, 15-year-old Hector Gonzalez tried to describe the shooting, the third outside a Clark County school in 11 days, that had sent his friend to the hospital.
"It was just a fight, except somebody had a gun," Gonzalez said.
Police spent the evening looking for the triggerman who shot a 16-year-old Western High School student only a few blocks from Gibson Middle School.
Gonzalez, a sophomore at Western, identified the victim as Victor Bravo, a fellow sophomore. Bravo's younger brother, Eduardo, 15, also was waiting outside the hospital for word on how the teen was doing.
Eduardo, who attends nearby Gibson Middle School, said at UMC that his brother was wounded in the arm and lower back. Bravo was listed in serious condition Monday night.
Las Vegas police said the shooting occurred only 11 minutes after classes at Gibson let out for the day. Witnesses at the scene said there were about 30 to 40 students walking near the intersection of Washington Avenue and Chabot Drive, a middle-class neighborhood dominated by ranch-style homes, when the shooting occurred.
Shortly before 7 p.m., Deputy Chief Gary Schofield said police had not made an arrest in the shooting and didn't have any suspects. Schofield said police were getting various descriptions of a suspect by witnesses. Schofield added he did not know whether the shooting was gang related.
Gonzalez said he was walking with Bravo and a third boy near Washington and Chabot when a group of teenagers who he believed were also students at Western jumped out of a car.
A "huge fight" ensued, Gonzalez said.
"People were coming out of nowhere. It was a jumble of people."
Gonzalez said he was running away when he heard "about five shots."
"Then I heard Victor say, 'I've been shot,' so I went back."
Another witness gave a similar account.
"I saw about 10 to 15 children whooping one boy's ass," said a man who gave his name as J. Hue, who was driving by the scene of the shooting. "I thought about getting out, but then I heard the gunshots. Three to five shots."
Hue, who is black, said the group of kids beating up the victim were black. He added that he heard the gunshots come from a vehicle with two people in it. He said the vehicle was a pickup.
Gonzalez said he believed the shooting was sparked by another fight "a couple of days ago" at a Chuck E. Cheese restaurant. Monday's fight and shooting probably were in retaliation for the earlier incident, he said.
However, Gonzalez said he and Victor Bravo had not been involved in the earlier fight. He also said the incident wasn't gang-related, and that he and Bravo aren't members of any gang. Eduardo Bravo also said his brother was not in a gang.
The incident that took place near Gibson is the third time in 11 days that the area around a public school has been used as a shooting gallery.
On Feb. 15, Palo Verde High School student Christopher Privett was gunned down in a drive-by while walking home from campus. Palo Verde student Gerald Q. Davison, 16, and Ezekiel Williams, 18, now face murder charges in the case.
That was followed by a shooting Thursday just half a block from Bonanza High School. The incident sent a crowd of students on their way home from school running for cover. A man age 19 or 20 was wounded after an altercation between him and his assailant escalated, police said.
The victim has not yet been identified, and the assailant has not been caught.
None of the incidents is related, but the increasing frequency of the shootings around schools has mobilized the leadership of area law enforcement and the Clark County School District. Shortly after the shooting near Gibson, Superintendent Walt Rulffes was on his way to an emergency meeting called by Las Vegas police. Police officials from North Las Vegas and Henderson also were present.
"I think it's a terribly sad comment on our society that we have young people trying to resolve their differences with weapons," Rulffes said.
But because that seems to be happening, law enforcement and the district will work together to combat that trend. Rulffes said police have pledged to increase their patrols around schools. School police also will be sharing information with other law enforcement agencies regarding campus violence that could mushroom into something worse.
Joyce Haldeman, Associate Superintendent of Community and Government Relations, said those at the meeting also agreed parent outreach efforts are needed. Parents need to start a conversation with their children about guns, about violence and about how to deal with confrontations nonviolently. It's a project Haldeman said the district is more than willing to pursue with the police.
"We're all working together on this because these are all our kids," Haldeman said.
School Board Member Carolyn Edwards said it's important for everyone to realize what's going on is a community-wide problem. Kids have access to guns: That needs to be stopped, Edwards said. Confrontations between students have become lethal: They need to be taught a better way resolve their differences.
"The bigger question is why is this going on at all," Edwards said. "Why is it that children feel it's necessary to go to this level to settle a difference or make a point?"
Schofield said the area Monday's shooting sees heavy foot traffic from students in the afternoon as schools let out.
"If you go to Western High School or Gibson over here, there's a lot of children moving through, and there's also an elementary school around the corner. So on any given day … there's hundreds of kids moving around, and the fight did occur within the midst of all those children moving."
One parent standing near the school was nervously waiting for her daughter to be released by police as a witness.
Esperanza Serrano, who has a 13-year-old daughter who attends Gibson, said in Spanish that violence near schools is getting overwhelming. Her daughter, Maria Garcia, is picked up for a ride every day except for Mondays.
Serrano said that will change.
"She only walks home one day a week, and look what happens."
Review-Journal writer Scott Spjut contributed to this report. Contact reporter Antonio Planas at aplanas@reviewjournal.com or (702) 383-4638.