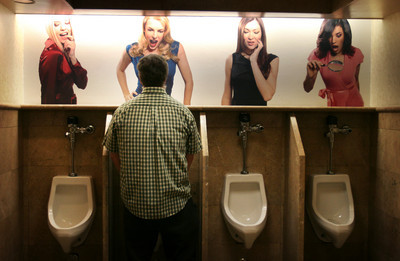 Vegas knows weird. Maybe it's something in the water or that so many of us prefer to drink something other than water (this means you, Mr. Mayor). When bizarre stuff happens, it usually happens here.
But this year was different. On the crazy-crap-o-meter, 2008 buried the needle.
By the time December rolled around, about the only strange thing left for Las Vegas to experience was a blinding snowstorm strong enough to shut down the airport.
As if that could ever happen.
What follows is an unofficial and unscientific list of the year's 10 most unusual stories, as compiled by Week in Review staff members:
10) As gasoline prices pushed well past $4 a gallon over the summer, one struggling Nevada brothel dangled a unique promotion in front of its customers. Starting July 1, the Shady Lady Ranch handed out gasoline gift cards to paying customers, a $50 card for at least $300 in brothel services, a $100 card for anything $500 and up.
Owner Bobbi Davis called it her plan to "stimulate the economy," but considering the 300-mile round trip to the brothel from Las Vegas, about the best a customer could expect to get was a single fill-up.
9) When millionaire adventurer Steve Fossett disappeared in September 2007, the Nevada National Guard spent $685,998 looking for him.
With a massive budget deficit looming, Gov. Jim Gibbons decided to send Fossett's widow a bill.
In May, Gibbons' administration announced plans to seek voluntary reimbursement from Fossett's estate.
In June, Peggy Fossett refused to pay, though not for the most obvious reason: They searched the wrong place and never found a thing.
8) Shortly after voting to convict Ricky Vazquez of second-degree murder, juror Marnie Ramirez had a change of heart. Or maybe it was some other part of her anatomy.
Immediately after the verdict in October, the 21-year-old began sending flirtatious letters to Vazquez in jail describing her desire to touch him "and see where it all leads to."
Ramirez, who is married, later insisted she did nothing wrong, and a judge backed her up, clearing her of juror misconduct.
7) Then-Assemblywoman Francis Allen was thrown in jail in May after her husband, Paul Maineri, told police she stabbed him with a steak knife during an argument. The 30-year-old politician was charged with felony domestic violence, but the case was later dropped when Maineri reversed his story and testified in court that he had stabbed himself.
Despite her husband's favorable testimony, Allen filed for divorce two weeks later. But it wasn't enough to save her political career, as the two-term lawmaker lost in the August primary.
The divorce case is pending, so no word yet on who's getting the steak knives.
6) Robert Blakely spent a grand total of 80 bucks at a gas station in his bid to unseat university system regent Bret Whipple, a connected incumbent with a couple thousand dollars in his coffers. Blakely, a part-time limousine driver who had filed for the office on a whim, whipped Whipple by 7 percentage points in the election anyway. When confronted with this reality, Whipple briefly convinced himself it was all a nightmare.
5) If you want to expose lax security at an elementary school, kidnapping a first-grader is probably not the best way to go. Just ask Laurinda Drake and Elaine Clermont.
Police said Drake plucked the 6-year-old off the street outside Mackey Elementary School in September and took him to the home she shared with Clermont. They held him for more than two hours and in the meantime called media outlets to arrange a news conference. They never held the news conference, but they did make the evening news: their mug shots flashed on the screen as anchors read about their arrests on first-degree kidnapping charges.
4) A rodeo embrace with a former Playboy model. A public fight with the missus over who gets to live at the mansion. A six-week, 860-message texting marathon with another man's wife. Boy, being governor of Nevada sure is tough!
3) The already bizarre saga of District Judge Elizabeth Halverson took a strange and tragic turn in early September, when her husband savagely beat her with a frying pan.
Edward Halverson struck his wife of 10 years so hard that she needed more than 100 staples to close the deep wounds in her head. He later pleaded guilty to the crime.
In grand jury testimony from the case, the disgraced — and now former — judge described her reaction to seeing her husband wielding the pan: "And then I thought, 'Oh, I guess we're not cooking anything.'"
2) Summer lovin' happened so fast. In August, Member Greg Nance disrupted a weekend meeting of the Nevada State Board of Education because he just couldn't stop giggling and playing kissy-face with his new bride, a 20-something woman with cerebral palsy and a $2 million trust fund.
Nance resigned from the board a few days after the scene. Then he tried to rescind his resignation, without success.
1) Snow. Inches and inches of it. Enough to bury Henderson, maroon commuters, close McCarran and build a snowgirl on the Strip.
Week In ReviewMore Information
MISS SOMETHING? Did we leave out something that moved your crazy-crap-o-meter? Add your suggestions for weirdest stories in the comments section here BY THE NUMBERS 479 — Number of times this year, as of Friday, the words "foreclose," "foreclosed" or "foreclosure" appeared in Review-Journal reports. $66,000 — Decline in the median value of resale homesin Las Vegas from January through November. $2.53 — The difference between the highest average price for regular unleaded in Las Vegas this year ($4.27, June 21) and the average price on Friday ($1.74). 0 — Number of local Hummer dealerships after Towbin Hummer closed in September, then reopened as a lot specializing in near-pocket-sized Smart cars. 799 — The number of times the word "crisis" appeared in Review-Journal reports so far in 2008. Make that an even 800. QUOTES "I don't want to be a lonely governor." Gov. Jim Gibbons opening up about his divorce and his plans to start dating in an interview with A Reno television station. "Lust is the real villain here." Cal Dunlap attorney for first lady Dawn Gibbons, in a motion to unseal the Gibbonses' divorce case. Dunlap accused The Governor of being involved with another woman. "Money, money, money. It was the most important thing to him." Kanti Patel retired engineer, On Dr. Dipak Desai, owner of the las vegas medical practice at the center of a hepatitis C outbreak. Patel has known Desai for 28 years. "Never (before) in my 30 years have I seen declines in everything." LynnE KNACK State Department of taxation official talking about bleak tax revenue projections for Nevada. "The good news is beer is cheaper than gas. So drink, don't drive." Larry Murphy Housing analyst, pinpointing one bright spot in the economy during a meeting of local real estate professionals. "We basically had the starting lineup for the Dallas Cowboys. Tony Romo is not registered to vote in Nevada." Ross Miller Secretary of State, on some of the fraudulent registration cards that triggered a pre-election raid on An organization that signs up low-income people to vote. "I'm surprised you haven't seen my head spin around and fire come out of my mouth at this point." Jackie Glass District Judge in the O.J. Simpson trial, expressing her frustration at fighting among lawyers from both sides just before the proceedings were about to end. "Having been through (a divorce), you know the second one's got to be better than the first one, and the third one's got to be better than the second one." Don Logan Las Vegas 51s president, joking about his Minor League team's recent "divorce" from the Los Angeles DODGERS and subsequent "Marriage" to the Toronto Blue Jays. "Therefore, bite me." Greg Nance Nevada Board of Education member, reacting to Demands that he stop interrupting a recent meeting by goofing around with his giggling newlywed wife. Nance Later resigned from the board.