THEY SURVIVED, AND SO CAN YOU
October 29, 2008 - 9:00 pm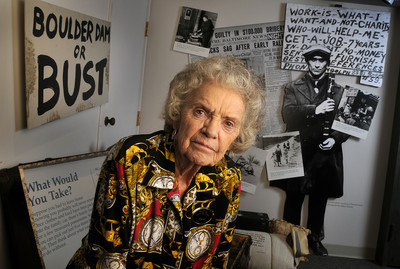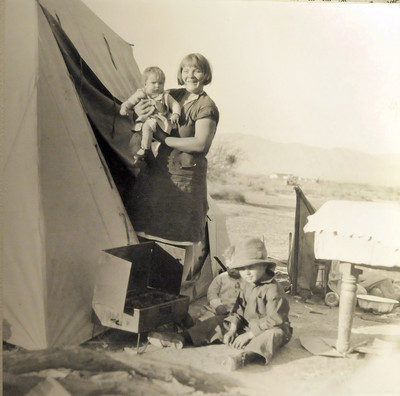 As a child of the Great Depression, 84-year-old Marie Sullivan remembers what a delight it was when her mother brought home "store-bought" bread. It cost 10 cents.
Today, homemade bread is a delight.
That's how times have changed since Black Monday and Tuesday, Oct. 28-29, 1929, which are widely considered to be the days the stock market crashed and sank America into economic peril that lasted until World War II.
Sullivan, who volunteers at the Boulder City Hoover Dam Museum, said her father worked at a garage in Tulsa, Okla., for 50 cents a day.
"He got a job as a school bus driver for $40 a month, and we thought we'd died and gone to heaven," said Sullivan, who moved to Boulder City in 1989 to be closer to family.
"I just didn't know we were poor because everybody was just like us. I'm sure my mom and dad realized what was happening, but at 4 or 5 years old, you know, you just looked at your neighbors and played with your neighbors and they're in the same condition you are, so you don't realize that things are rough at that age."
The current crisis on Wall Street, rising unemployment and the collapse of U.S. financial institutions have shattered Americans' confidence in the economy and drawn comparisons to the Great Depression. People are losing their homes, their jobs, their life savings.
"The difference was back then, it was more panic in the streets. They had lines up and down the streets of people trying to get in the banks," said Richard MacDonald, 87, developer of MacDonald Ranch in Henderson. "I think this time it's taught people a lesson. Always have control of your finances and have discipline."
Mark Ashcraft, chairman of the psychology department at University of Nevada, Las Vegas, said research shows that people generally feel better if they have some control over their money, even if they lose it.
"The sense today is nobody feels they can exert any control over anything that's happening, including people on Wall Street, for Pete's sake," Ashcraft said. "Nobody knows where to turn for good information. Do I sit tight on my investment or move it around? Do I put my investment under my mattress?"
Economists and financial analysts have said that the current battering of the economy, from the subprime mortgage meltdown to the tumbling of global financial markets, is unprecedented for most Americans.
It's bigger than the savings and loans crisis of the 1980s, Las Vegas economist John Restrepo said. The cost of the S&L bailout was $519billion, according to Federal Deposit Insurance Corp.'s Banking Review, compared with today's rescue package of $700 billion, which could grow larger. Also, there are material differences in the types of assets at the core of both events.
"I wish I could say that it's largely hyperbole," Restrepo said. "However, I'm afraid to say that what we're seeing today is not a mere bump in the road for the Southern Nevada economy."
People need to live within their means and learn to save a penny if they want to make it through these lean economic times, said MacDonald's wife, Frances. She grew up in Philadelphia during the Depression.
"I'd go into a dress shop and my mother would say, 'Do you know how hard your father worked for that dress?' These kids today expect everything," she said. "A couple gets married these days, they want the best designer furniture, new carpets. They want what we worked 20 years for."
A high-rise luxury condo resident at Turnberry Place, Frances MacDonald doesn't need to scrimp these days, yet she uses coupons and shops at 99-cent stores.
Thriftiness sticks with Americans who didn't have two nickels to rub together in the 1930s.
"My mom and dad were thrifty," Sullivan said. "They made do with what they had. My mom always had a garden and a little Jersey cow and some chickens. I remember she only went to the store to get staples like flour and sugar and coffee and what they called lard back then. She made her own butter and bread."
Gene Segerblom, 90, said she's had a wonderful life and has never felt sorry for herself. Her mother wouldn't allow it. Even today, people should count their blessings, she said.
"You're very lucky to be alive during this period," the former state assemblywoman said. "If you don't get the job you want, take a small salary and you'll meet somebody who'll put you ahead. If you pout and don't do your best, you won't get anywhere."
Segerblom was born in Ruby Valley and went to Boulder City to teach school in 1940. She made $1,600 a year and stayed with her sister. Her husband-to-be got a job as a photographer at Hoover Dam, but they had to wait to get married because it would have nullified her teaching contract.
"I think kids get so much more from their parents than we did," she said. "When we worked, well, we helped buy groceries. Everybody did if they worked."
Gasoline prices dropped from about 20 cents to 17 cents a gallon during the Depression, but that was of little concern to people then, Segerblom said.
"When I was at the university (of Nevada), no one had a car. There were two cars owned by Las Vegas boys whose fathers we figured maybe owned a gambling joint," she said. "So we tried to get dates with guys with cars."
Richard MacDonald's father was laid off from his job as an accountant for Pennsylvania Railroad when the Depression hit.
"I had to work cutting lawns for 25 cents," he said. "I was about 7 years old, and I gave the money to my parents. I used to go downtown and see people selling apples. We used to see a lot of beggars in the streets."
He learned early in life that things can always be worse.
"Thank God you're living in the United States because if you were ever overseas, you'd realize what I'm saying," MacDonald said. "Always look on the bright side, and if you can't find a job you're looking for, go into sales because there's always jobs available working on straight commission. It'll give you an education on how to deal with people."
Today's troubles pale in comparison to the Great Depression, economist Tom Climo of Climo Consulting said. Gross national product spiraled downward to an almost unlivable bottom, and unemployment reached 25 percent in the 1930s. For the first time in history, companies earned negative rates of return in manufacturing and service sectors, he said.
This meant that owners of those companies would rather hold cash than turn on machines or put employees back to work.
Nowhere was this poor productivity more evident than in the Yorkshire coal fields of northeastern England, where historian and author George Orwell watched a family of four gather coal from a yard to heat their home while heavy equipment that could collect enough coal in 10 minutes to heat the entire town was lying idle.
"Do we have such perilous events in operation in today's so-called crisis? The answer is 'no,'" Climo said. "Today, unlike then, it is less a matter of holding cash in lieu of negative rates of return. It is more of where can I put my cash so that it makes money, the money is disbursable at the time of my choosing, and there are no institutional glitches interfering with me and my money."
Robert Maltbie, managing director of Singular Research, criticized the repeal of the Glass Steagall Act of 1933 as contributing to the subprime mortgage financial crisis that arose last year.
Glass-Steagall established the Federal Deposit Insurance Corp. and included banking reforms intended to control speculation. It was repealed by President Clinton with the signing of the Gramm-Leach-Bliley Act in 1999.
The repeal enabled commercial lenders to underwrite and trade mortgage-backed securities and collateralized debt obligations, as well as establish so-called structured investment vehicles, or SIVs, that bought into those securities, Maltbie said.
"Huge conflicts of interest are coming home to roost in big tax increases for people to pay for breaking Glass," he said.
Staying the course while others are "bailing out" of financial markets will require patience and courage, said financial adviser John Wellington of Edward Jones investment firm.
"Close your ears but open your eyes," Wellington said. "These days, you may hear some so-called experts talking about end-of-capitalism scenarios. Try not to listen to these doomsdayers. We still have the most powerful economy in the history of the world, and we will recover from these setbacks."
Contact reporter Hubble Smith at hsmith@reviewjournal.com or 702-383-0491.
Slideshow