Throngs mourn 'Buffalo Jim'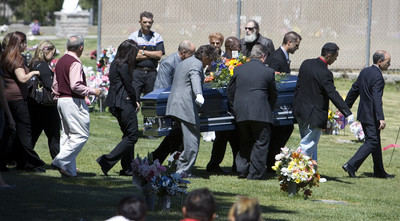 Throngs of mourners from a cross-section of James "Buffalo Jim" Barrier's life paid respect to the colorful, bushy-bearded auto mechanic Saturday, sharing stories and vowing to solve the mystery surrounding his death a week ago.
The 55-year-old Barrier's four daughters and ex-wife sobbed as professional wrestlers, auto mechanics and customers paid tribute to Barrier, who was found dead April 6 at a Motel 6 on Boulder Highway. Even attorneys who represented Barrier spoke. He had a reputation for piling up traffic citations and gained notoriety for his legal battles with Rick Rizzolo, his landlord and the former owner of the Crazy Horse Too Gentlemen's Club.
"His civil disputes were good for my legal business," attorney Robert Lueck joked. "I used to tell him if it wasn't for me we would call him Jailhouse Jim.
"He died suddenly, unexpectedly and under mysterious circumstances. There will be a big hole in my heart for the rest of my life," Lueck said.
Saturday's celebration of Barrier's life was as colorful as the personality who befriended Las Vegas celebrities and professional athletes after he relocated from Cleveland in 1971. He was pictured with the likes of Muhammad Ali during a slide show.
Many of those who packed the Palm Mortuary chapel believed Barrier was murdered. One woman who looked over photos of Barrier at the chapel entrance barked at her friend, "We are going to find out who did this to him."
Barrier received death threats and warnings during the weeks leading up to his death. Preliminary reports from the Clark County coroner's office showed that Barrier did not have a heart attack or a brain aneurism. Although Barrier was found with a bottle of prescribed Valium, the drug was not found in his stomach. No marks were seen on his body, which was found on a neatly made bed.
An independent autopsy was performed Thursday by a private pathologist hired by the family. The results of that examination have yet to be returned.
The Metropolitan Police Department, which responded to a call from a motel maid on April 6, said Barrier died of natural causes.
Peter "Chris" Christoff, a community activist who often took on the Las Vegas City Council alongside Barrier, told mourners that no one knows how Barrier died.
"In time we will," he vowed.
"We are all in this together," said Steve Miller, a Barrier pal and former Las Vegas councilman.
Barrier's daughters, who range in age from 16 to 26, collapsed in a heap next to his open casket, screaming, "We love you, Daddy," and "They killed him."
Jessica Barrier promised to make her son aware that his grandfather was a boisterous personality inside an intimidating frame.
"My father was my hero," Jessica, 26, said. "All he wanted to do is help people."
Barrier's youngest daughter, Jerica, who turns 16 today, was known as "Little Buff" and appeared on his local cable wrestling show. "He was my best friend," she said, desperately trying to compose herself. "I miss him so much. I will always be his little buffalo."
Barrier was described as a gentle giant who was quick to forgive. Rick Dahl, Barrier's auto shop partner 35 years ago, said the two parted ways after Barrier refused to cut his long black hair. They eventually opened up competing auto repair businesses, but reconciled their relationship and spoke weekly.
Steve Sanson told mourners that he met Buffalo Jim in court in a dispute over money. On the day of the hearing, Barrier approached him and acknowledged he owed him the money. They had been close friends ever since.
Sanson said he returned from a business trip on Tuesday night and picked up the newspaper. Barrier's photo was on the front page.
"The first thing that came to my mind was, 'What did Buffalo do now?'" Sanson said. He was stunned to learn of his death.
"He was a great man; he loved life," said Las Vegas singer James "Jimmy Z" Zito. "This was a total shock."
Family and friends said Barrier would not have committed suicide. He was in negotiations to star in a reality TV series, his Industrial Road business was thriving and he was purchasing land to get away from his long-standing feud with Crazy Horse Too owners.
Lueck recited a poem, saying Buffalo Jim is roaming the vast pastures of heaven, ending it with "the Rizzolos, the nasty, nasty Rizzolos are far, far away." Cheers erupted from the guests.
Barrier assisted the federal government in its investigation into tax evasion at Crazy Horse Too. Rizzolo pleaded guilty to tax evasion charges and spent one year and one day in custody. He was formally released April 4, two days before Barrier was found dead. Rizzolo's attorney, Tony Sgro, did not return several messages left at his office last week.
Las Vegas police are investigating the case per the family's request. The Barriers said the FBI is also looking closely at Buffalo Jim's death.
Gus Flangas, another Barrier attorney, said his friend was passionate about his beliefs. He was most bothered by immoral individuals and corruption.
"He hated corruption and he was passionate about it," Flangas said. "He not only hated corruption, he fought it."
Contact reporter Adrienne Packer at apacker@reviewjournal.com or 702-384-8710.
View slide show of the memorial service