Thunderstorms rattle valley
August 28, 2007 - 9:00 pm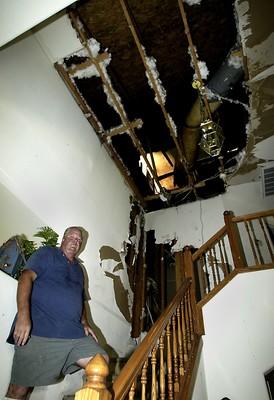 A series of fierce thunderstorms lashed the Las Vegas Valley early Monday with heavy rain and lightning strikes that sent firefighters responding to about two dozen swift water rescues and as many fires.
Amazingly, no one was seriously injured though several motorists narrowly escaped their vehicles and were rescued by firefighters, city and Clark County fire officials said.
Clark County Fire Department spokesman Scott Allison said a wrought iron fence prevented a car with a woman inside from being swept away at the flooded intersection of Koval Lane and Winnick Avenue.
"We had four vehicles stalled out with water up to the windows," he said.
The drivers and passengers "were sitting on top of their vehicles when crews arrived," Allison said. "A ladder truck and heavy rescue unit responded, so we got in there and took care of those people."
A house near Sahara Avenue and Hualapai Way sustained at least $50,000 in damage after a lightning bolt burned a gaping hole in the roof about 5 a.m.
"It was tremendous," home-owner Lynn Keating, who already was awake from the thunderstorm, said of the jolt. "Everything outside turned to this bluish white. There was this big light. There was nothing but that."
The attic was engulfed by flames, she said, but she and her husband got out safely.
Not far away in The Lakes, a flash flood knocked down a 15-yard stretch of a stucco wall at an apartment complex and inundated garages with 2 feet of rainwater.
Robert Brant, who lives at Vintage at The Lakes apartments, 8321 W. Sahara Ave., said he was knee-deep in water at 3:30 a.m. trying to unclog a drainage grate.
"It was coming through here like a river, and none of the drains were working," he said.
Gary Crooks, another Vintage at The Lakes resident, said lightning struck about the same time the stucco wall gave way from the force of rushing water that pushed concrete blocks and debris into a side street.
"It sounded like a rocket," Crooks said. "I grew up in Kansas, so I know."
His neighbor Mia Horgan said she opened her door and saw golf-ball-size hail stones splashing into "a river" that rolled along the stucco wall.
Another resident of the apartments, Danny Frederiksen, said sentimental items he had stored in boxes such as his children's school awards and his all-American track plaque from Central Oregon Community College were soaked. "I guess I'll pack things a little higher next time," he said.
Las Vegas Fire and Rescue spokesman Tim Szymanski said the thunderstorms, which began about 2 a.m. and lasted until 5:40 a.m., spurred the most intense series of calls for help from storm events since the 100-year flood of 1999.
On July 8, 1999, up to 3 inches of rain fell in 90 minutes in some parts of the valley. The flood killed two people and damaged hundreds of homes and businesses. Damage in what was declared a federal disaster areas was $1.5 million for local residences. Another $20 million was needed to repair damage to roads and other public property.
Las Vegas also experienced significant flooding on Aug. 19, 2003, when a storm overwhelmed a detention basin near Gowan Road.
As the rains came Monday, more than 20 trees were ignited by lightning strikes around the valley.
Lightning also struck transformers and wires, causing a power outage on the east side of the valley.
Firefighters responded to at least 10 calls of buildings catching fire from lighting striking them or air conditioners.
National Weather Service meteorologist Jerome Jacques said the heaviest rainfall was reported on the southwest and west sides of the valley.
"This one dropped a lot of rain real fast," he said.
The National Weather Service issued five flash flood warnings for Clark County spanning a period from 3:15 a.m. until 10:45 a.m.
Between 5 a.m. Sunday and 11 a.m. Monday, the official monitoring station at McCarran International Airport recorded .58 inches of rain, bringing this year's total to 1.35 inches. That is still well below normal through Aug. 26. Las Vegas normally receives 4.49 inches of precipitation in a year at the McCarran station.
Regional Flood Control District officials said all detention basins worked though some endured the highest water levels since they were built.
The Lakes Detention Basin at Desert Breeze Park collected more than 13 feet of water, and the Desert Inn Detention Basin at Rainbow Boulevard and Desert Inn Road held back 8 feet of water.
Another 12 feet of runoff flowed into the Oakey Detention Basin off Oakey Boulevard between Rainbow and Jones boulevards.
"We had a couple that came within 7 to 10 feet of the top, but none spilled over," said KerriAnne Mukhopadhyay, a flood district spokeswoman.
At the University of Nevada, Las Vegas, spokesman Tony Allen said minor flooding occurred at the Flora Dungan Humanities building. Water was about 2 inches deep, covering floors of offices, hallways and the television studio in the building's lower level.
"It's not too bad. We'll have classes" today, he said.
Today's forecast calls for mostly sunny skies and high temperatures reaching 102 with a 10 percent chance of rain in the valley and 20 percent chance in the Spring Mountains and the Sheep range.
Review-Journal writer Beth Walton contributed to this report.