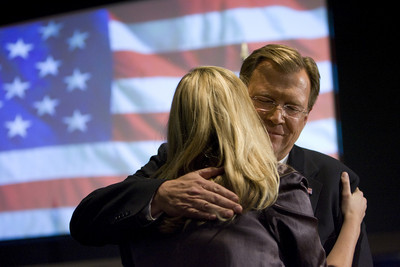 Two years after losing a bid for governor to Jim Gibbons, state Sen. Dina Titus defeated U.S. Congressman Jon Porter, the only representative the 3rd district has ever known.
With nearly all of the votes counted, Titus led Porter 47 percent to 42 percent.
Titus, the longtime leader of the state's Democratic minority, followed the strategy used by President-elect Barack Obama in his winning campaign against John McCain, repeatedly painting her opponent largely as a clone of President Bush.
"I am so excited to be part of history in the making, to be part of the change that is sweeping the country," Titus, 58, told supporters at the Rio, where Democrats were celebrating big wins locally and nationally.
She credited her win partly to Obama's field operation, which she called the best she'd seen in 20 years of politics.
Shortly after 11:30 p.m. Porter, 53, was gracious in conceding defeat.
"I wish Dina the absolute best and offer my assistance in the transition," Porter said. "I'm truly humbled to have served for so many years and look forward to the future."
The campaign strategy used by Obama and Titus didn't appear to be working for 68-year-old Democrat Jill Derby, who was losing her rematch with freshman Republican congressman and former secretary of state Dean Heller for the 2nd Congressional District. Heller held a 51 percent to 42 percent lead over Derby.
"Right now, as far as we're concerned, it's too close to call," said Kristen Cullen, Derby's communication director.
The 2nd District, which includes all of Northern Nevada and rural Nevada and a slice of Clark County, saw Democrats register 17,000 new voters, but they were still outnumbered by Republicans by 22,000 voters.
In 2006, Heller, 48, won with 50 percent of the vote to Derby's 45 percent.
In the 1st Congressional District, where active registered Democrats outnumber Republicans by a nearly two to one margin, Rep. Shelley Berkley, D-Nev., took 68 percent of the vote to easily turn back underfunded Republican challenger Ken Wegner, 52, on her way to a sixth term.
Berkley, 57, couldn't have been happier.
"It's been a very inspiring and history-making election," she said. "To be a small part of it is very significant to me."
As she talked with civic groups and went door to door, Titus told potential voters that the lack of regulation favored by Bush and supported by Porter has led to the nation's financial meltdown, including the foreclosures that have hit Las Vegas hard.
The differences on issues between Porter and Titus was stark.
Titus wants tax breaks taken away from big oil companies and given to renewable energy development instead.
Titus favors timetables to bring troops home from Iraq, while Porter opposes timelines for the unpopular war.
In Congress, Titus said she plans to emphasize policies on renewable energy and education, and she aims to pursue committee positions in those arenas.
She also would like to help develop a national portfolio standard for renewable energy, and she also wants to revise the No Child Left Behind Act.
Shortly before 9 a.m. Tuesday, Porter said he still believed he had a chance to remain in office, arriving at his campaign office in Henderson to start making phone calls to undecided voters.
"When you understand that this district went from dead even in registration to 40,000 more registered Democrats voters this time, you know I'm the underdog," he said. "But I'm running like I've always run, like I'm 10 points behind."
Titus called many of the TV ads Porter used blatantly false, but Porter said all he wanted to do "was show people what my challenger was really like."
Titus called the ads "nothing but lies, but when you're in public life you don't have real access to the libel and slander protection. The only way we're going to get over this negative campaigning is to defeat him."
Heller's fiscal conservatism appeared to resonate with voters in his district.
He has explained he voted against a $700 billion bank bailout bill last month because the massive government intervention neither helped individual constituents nor changed the banking regulations that caused the problem and could lead to a repeat performance.
Heller, whose campaign could not be reached for comment Tuesday night, was able to weather a long laundry list of attacks by Derby, who repeatedly charged that he failed to look out for Nevadans.
Those charges — that Heller voted against expanding health care for children and was against allowing Medicare to negotiate for prescription drugs for seniors and pay equity for women — apparently didn't stick.
Heller repeatedly accused Derby of supporting higher taxes, "socialized medicine" and increased government regulations.
Review-Journal reporters Jennifer Robison and Alan Maimon contributed to this report. Contact reporter Paul Harasim at pharasim@reviewjournal.com or 702-387-2908.
ON THE WEB Las Vegas Democrats Celebrate Las Vegas GOP Election Night Las Vegas Democrats Celebrate at the Rio Nevada GOP election night party