Troubled Las Vegas nightclubs denied licenses
October 2, 2013 - 5:00 pm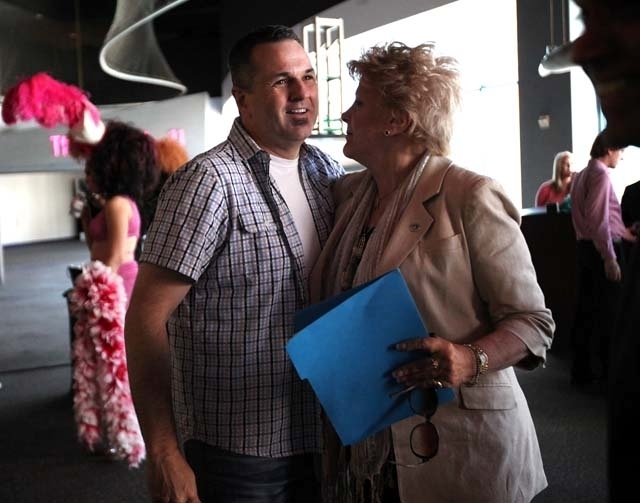 A club operator who breezed into Las Vegas with great fanfare saw his alcohol license applications denied with nary a whimper on Wednesday after months of turmoil at his downtown businesses.
The city council voted 6-0 to deny tavern license applications by club owner Kelly Murphy for the Krave Massive and Drink and Drag nightclubs in the Neonopolis mall on Fremont Street.
"I want nothing to do with anything Mr. Murphy has his hands attached to," said Councilman Ricki Barlow, whose ward includes the clubs.
The votes mean Murphy can no longer sell booze from the clubs, though it means little for Krave Massive, which was once billed as world's largest gay nightclub but has been closed for several weeks due to a tax dispute with the state.
Drink and Drag, which an employee said has about 50 workers, will receive orders to cease and desist booze sales within 24 hours, said city business licensing manager Karen Duddlesten.
Murphy, who last year opened the businesses with glitzy parties and high-profile support from Mayor Carolyn Goodman, didn't show up for the council meeting where he was scheduled to appear for suitability reviews for the tavern licenses.
Duddlesten said Murphy denied he was still an owner but there wasn't adequate documentation to verify who does own the businesses.
In addition to promoting the club in public, Goodman urged city staff to help Murphy apply for a $50,000 city grant to help offset renovation costs. The council unanimously approved the grant in January without asking any questions despite a blank spot on the application where the applicant was asked to certify the project was free of liens and current on federal, state and local taxes.
In a written statement after the meeting Goodman responded to a question about whether or not she regretted promoting the club.
"I am a big supporter of downtown and anyone who wants to invest in this area," the statement read. "Unfortunately, there have been some licensing issues with Krave Massive. I fully support the concept behind Krave Massive and the desire to bring something new and exciting to diversify our city, and I hope that a new ownership group is able to fulfill the promise of this great idea."
In her report to the council Wednesday Duddlesten recommended denial of the tavern applications based on criteria in city code that includes an application with incomplete, false, misleading or fraudulent statements.
Council members and city officials said during discussion of the items that Murphy and his businesses racked up nearly $730,000 in unpaid bills, including about $700,000 in state taxes plus $29,000 in city sewer and liquor fees.
Council members also recently received a letter from a former manager for Murphy who told of bounced payroll checks, returned checks from vendors and liquor law violations.
"The owner, his assistant, general manager or accounting supervisor at this time, should not be able to hold a liquor license in the City of Las Vegas due to the way they have handled the temporary license that has been issued and renewed over the last 18 months," former Krave executive Eric Peterson wrote to council members and city officials. "They are not 'above the law,' yet seem to think that they can do as they please and the City Council will do as they ask."
Before the vote one of Murphy's former business partners and a manager at Drink and Drag asked the council to grant the licenses despite the problems.
Sia Amiri, Murphy's partner in the former Krave nightclub on the Strip, said Murphy had signed the Krave Massive license over to him. He said Murphy owes him $850,000, and asked the council to allow the license to remain valid so he could sell the club to recover some of the money he is owed.
"This is just one way of recouping some of my losses," Amiri said.
"We all have to stand in line to figure out how we are going to get our money," Barlow said.
Matthew Greppin, who identified himself as a Drink and Drag manager, said he had an agreement to acquire the club from Murphy and operate it himself.
"I've seen the numbers. I know the amount of money it can make," Greppin said. "I know I can keep it going as a legitimate business."
Greppin said the agreement with Murphy included $600,000 in liabilities and a $500,000 promissory note.
"His debts might be rather large because he has a tendency not to pay things," Councilman Bob Coffin told Greppin. "I frankly wouldn't have assumed dime one of his obligations."
Although the downtown clubs had been the subject of complaints by employees and vendors who cited bounced checks and improper bookkeeping, Murphy kept looking for investors to keep the operations afloat.
In March Murphy hyped the June 15 opening of Krave Massive and announced a partnership with the Downtown Project, a $350 million urban renewal program funded largely by the personal wealth of Zappos CEO Tony Hsieh.
In August ,when the state closed Krave Massive, the Downtown Project said it was negotiating to acquire the entire business.
But no one from the Downtown Project spoke during the licensing review Wednesday and it wasn't mentioned as a potential buyer during the discussion.
Todd Kessler, an attorney for RGG, a real estate partner with the Downtown Project, was at the meeting to testify on another Downtown Project license application but declined comment on the status of Murphy's clubs.
Other Downtown Project leaders did not respond to requests for comment.
As for the money owed to the city, spokeswoman Diana Paul said the property owner, FAEC Holdings Wirrulla LLC, is ultimately responsible for the sewer bills. If the account isn't brought current a penalty will be added to the bill Oct. 20. If it isn't paid by Nov. 25 the city will attach a lien to the parcel, Paul said.
Contact reporter Benjamin Spillman at bspillman@reviewjournal.com or 702-383-0285. Follow him on Twitter @BenSpillman702.
This is a breaking news story. Please check back for updates.