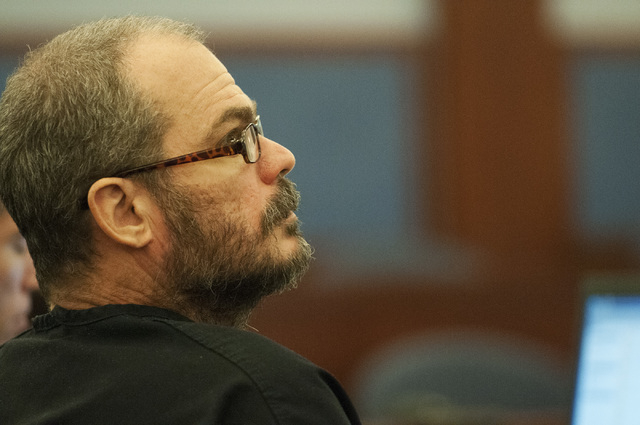 A man and a woman charged with conspiring to kidnap, convict and execute a random police officer in their own court of law as part of a domestic terrorist movement pleaded not guilty Tuesday.
David Allen Brutsche, 42, and Devon Campbell Newman, 67, face one count of conspiracy to commit kidnapping.
Brutsche, who has continuously denied the authority of the courts, refused to enter a plea or respond to questions asked by judicial hearing master Melisa De La Garza. The hearing master then entered a not guilty plea for Brutsche and set a trial date for Dec. 9.
Newman's lawyer, Carl Arnold, said afterward he's considering filing a motion to sever the two defendants.
Arnold has said his client remained a part of the group out of fear because Brutsche had threatened to kill her after the two had an argument. Arnold also said police entrapment could be used in her defense, because police money and resources were used to further the conspiracy.
Brutsche is contesting a lower court judge's decision to have the public defender's office represent him — he has said he wants no representation. A hearing on that issue is set for Thursday.
During a preliminary hearing last month, detective Scott Majewski testified that Brutsche and Newman trained with firearms, acted out kidnapping scenarios, constructed an apparatus to hold a kidnapped officer and produced videos explaining their actions.
The detective said the two defendants believed police officers had betrayed their oath to the U.S. Constitution and were guilty of treason.
Authorities have said both Brutsche and Newman are part of the sovereign citizen movement — a loosely formed group of people about 100,000 strong. The group doesn't believe in U.S. laws or paying taxes, but mostly the members hate police, factors that make them a viable terrorist threat in the eyes of the FBI.
Brutsche, who lived in Las Vegas for about nine months at the time of his arrest, has denied an affiliation with the group, but espouses some of their principles after being harassed by police while selling water on the Strip.
Brutsche and Newman were arrested at a warehouse on Valley View Drive last month, following a five-month investigation by police.
A police report said the pair "expressed a deep hatred" for police and targeted officers for "perceived violations of Constitutional Civil Rights" during traffic stops.
But Newman, a mother and paralegal who moved to Las Vegas from Los Angeles, said undercover officers were the ones who called a meeting in the warehouse where they were arrested. Everyone was supposed to gather and talk about the "persecution" of Brutsche while selling water on Las Vegas Boulevard, Newman told the Review-Journal in a jailhouse interview.
Brutsche, in a separate jailhouse interview with the Review-Journal, said the time has come for police in the United States to be held accountable for trampling on individual freedoms protected by the U.S. Constitution.
"They put the terror in people's hearts every day," said Brutsche, a six-time felon. "They harass people for no reason … even though their job is to apprehend those who are causing injury to somebody else."
The defendants remain jailed at the Clark County Detention Center, where Brutsche is being held on $600,000 bail and Newman is being held on $200,000 bail, according to jail records.
Brutsche also faces felony charges for not registering as a sex offender in a separate case.
Contact reporter Francis McCabe at fmccabe@review journal.com or 702-380-1039.