Unions clash over proposed city hall
February 18, 2009 - 12:51 pm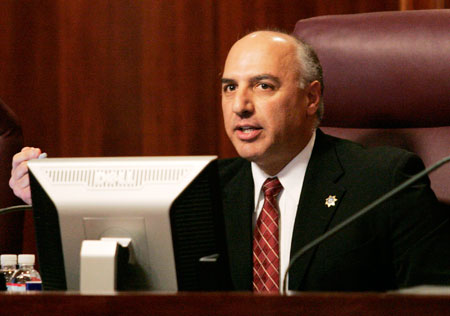 Union construction workers more than 300 strong turned out Wednesday to cheer on the Las Vegas City Council as it took another step toward building a new city hall.
In doing so, the construction workers took on the casino workers, whose Culinary union has been the most outspoken critic of the project.
"We're here to promote prosperity, jobs and growth in the community," said Keith O'Connell, a member of Laborers Local 872. "Everybody in this room is out of work right now. Their lives are being decimated every day."
To raucus cheers, the council unanimously voted to move forward with the project, part of an ambitious and complicated plan to spur development on 45 acres spread across downtown. The proposed city hall, with an estimated cost of $150 million, would go up on a block bounded by Main Street, First Street and Lewis and Clark avenues.
Yet one tax authority wondered whether — given the state of the economy — financing is going to be available at all, no matter how good the city's project may be.
Carole Vilardo, president of the Nevada Taxpayers Association, said there are practical reasons the city can cite in support of a new city hall, such as need and the recent, sharp dip in construction costs. But building now could be "problematic."
"Obviously, the city does not have the cash," Vilardo said. "They're going to have to go out with some kind of financing mechanism. Whether you can even get it at this point is an unknown quantity."
The city hall project is seen as a catalyst for other redevelopment, including office and retail space next to the new city hall, a new hotel-casino in Union Park, redevelopment of the current transit terminal next to the Lady Luck casino, and the implosion of the existing city hall to add to the available land along Stewart Avenue and fronting Las Vegas Boulevard.
If those things happen, there would be enough new revenue to pay for the city hall's price tag, according to city estimates. Opposition to the plan, spearheaded by Culinary Local 226, holds that it's a risky proposition that could blow up the city's finances.
The Culinary union also thinks there should be a public vote on the project. Richard McCracken, the union's attorney, said the only reason the city's considering what's known as a "lease-purchase" means of financing is to avoid using bonds that would need voter approval.
"This way … avoids having to have a vote," he said. "That's the only reason given."
Mayor Pro Tem Gary Reese, though, said that it's enough that the council was elected to conduct the people's business.
"I look out there today and I see people who voted for me," Reese said. "I really feel that the people of Las Vegas are voting on this project."
The proposal has driven a wedge between local labor interests.
Laborers union member Louis DeSalvio, along with others, accused the Culinary union of trying to strong-arm its way into labor contracts with the Lady Luck, which is set to be renovated, and the new Union Park casino — and hurting everyone.
"We have Culinary up protesting work that we build in order for them to go to work," DeSalvio said. "Do not tie our hands. We are supposed to stand as one."
The proposal now heads to the state Department of Taxation for further review.
Although the city pegs the construction cost at $150 million, they're seeking permission to finance up to $267 million. Investors would buy "certificates of participation" to pay for construction and would be paid back via annual lease payments from the city. The city would also have the option to buy the building outright.
The lease financing is considered a little more risky than a conventional bond, said Guy Hobbs, a financial consultant and former Clark County finance director. And while the economy is turbulent, "I don't think I'd make a blanket statement that they couldn't be sold."
It all depends on the investment rating the project receives, and city officials will know that before they try to sell the certificates, which is expected to happen in April or May.
"If it's not a well-put together financial structure, it's not going to receive a good rating," Hobbs said. "If it doesn't receive a good rating — these days, it would be unsalable.
"My guess is it would be an investment-grade rating. Consequently, there would be a market for it."
The sooner Las Vegas officials can get the offering out there, the better chance it has, he added.
"We understand the market conditions today. We don't understand them come June," said Hobbs.
"The further out you get, the more market risk comes into it."
Contact reporter Alan Choate at achoate@reviewjournal.com or 702-229-6435.