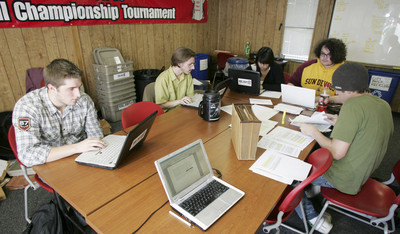 Last year, a rookie UNLV debate team got beaten in the qualifying round of the district tournament, which meant no trip to the national championships.
The truth is, every UNLV debate team was a rookie team last year. It was the program's first year.
So it was no disappointment, really, that the university didn't have a team in the national championship. That would be unheard of for a program in its first year.
But this year? Well, that's a different story.
For the first time since the old debate program disbanded a decade ago, UNLV is sending a team to the National Debate Tournament, the most prestigious college tournament in the nation.
"It's like, imagine you're at a school that starts a basketball program," said the debate coach, Jake Thompson. "And in the second year of existence, you qualify for the NCAA basketball tournament. It's a huge deal.
"For us, the goal for the last two years was to qualify for this tournament," said Thompson, who came to UNLV because he wanted the chance to start a program from scratch.
Only 72 teams qualified nationwide, he said.
Team president Michael Eisenstadt and team member Travis Cochran will represent the University of Nevada, Las Vegas at the March 26-29 tournament at the University of Texas-Austin.
They almost didn't make it.
The two-member team had to finish fourth or better in the district tournament to make it. They began the tournament ranked sixth.
Eisenstadt, 19, a sophomore, said they came up against the same team that knocked them out of the tournament last year. If they had lost again, they would have been out again.
But they won, he said, by using the other team's argument against them.
It was a complicated philosophical argument involving Friedrich Neitzsche, the 19th century German philosopher, and biofuel subsidies.
Anyway, they won by a 2-1 judges' decision.
"It just felt like all of these things we've been working really, really hard on the last two years are starting to show," Eisenstadt said. "It's not so much the fact that we are winning. It's the fact that people are recognizing it that makes me feel good."
Eisenstadt said he's not satisfied with making the tournament.
He wants to do well, too.
Thompson has instilled that philosophy in every team member.
"We aren't going to be like, 'Hey. We qualified. Let's take a nap,'" he said. "These kids are going to work harder than they ever have before."
And that includes some who didn't make the tournament. Like Cory Anderlohr.
He'll be acting as the team's water boy, for lack of a better term. He'll be there to help out with the small stuff, just so he can learn about the process.
"You've got to realize, it's not always about you," said Anderlohr, 19. "It's about your team."
The more team members you talk to, the more you'll hear that sentiment.
Austin Mueller, 19, a freshman, said the same thing. He and teammate Stefan Meneses will be competing in another national tournament, not as prestigious as the National Debate Tournament.
Meneses, 19, a sophomore, is from Las Vegas. He was attending the University of Idaho, but transferred to UNLV this year to be near his mother, who is ill.
He said being on the debate team, despite all the hard work and the time it takes, helps him do better in school.
"It's one of the things that makes me look forward to going to school," he said.
Meneses said he'll use what he has learned this year to be a better debater next year.
Which is the whole point, according to their coach.
Thompson said the overall goal has been to get the team ranked in the nation's top 10 consistently. Doing well in the tournament would be a great step.
The next step? Making the team even stronger.
Team members recently received a pledge from benefactor Sanford I. Berman, who contributed money to start the program to begin with, for $1 million to fund a scholarship program.
Thompson said that means he'll be able to recruit more than just talented local high schoolers.
The scholarships should entice some students from California and beyond to attend UNLV.
"It will allow us to recruit some of the top high school debaters in America," he said.
Which means he sees the team getting even better than it is now.
Contact reporter Richard Lake at rlake @reviewjournal.com or 702-383-0307.