UNLV student's light question endures
November 17, 2007 - 10:00 pm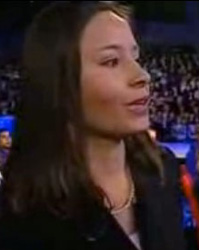 A UNLV student's question about jewelry preferences stirred more controversy a day later than health care, Iran or any of the other issues raised during Thursday's Democratic presidential debate.
When University of Nevada, Las Vegas student Maria Luisa Parra-Sandoval asked New York Sen. Hillary Clinton whether she preferred diamonds or pearls, the crowd erupted with laughter.
But some 24 hours later, Parra-Sandoval said she was upset she had to ask the question. Parra-Sandoval couldn't elaborate because she was on her way to work.
According to The New York Times, Parra-Sandoval, a political science student, was contacted by CNN through a professor to submit a question for the debate. She wrote two questions, about heath care and the Iraq war, but both were rejected by the network because similar questions were already slated to be asked, the newspaper reported.
On Wednesday, a CNN producer asked Parra-Sandoval for two more questions, one on a serious topic and a lighter question, The New York Times reported.
She responded with a question about the safety of the planned Yucca Mountain nuclear waste repository, and "with the deadline approaching … noticing the pearl-pattern background on her MySpace page" she posed the question about jewelry, the newspaper reported.
CNN told Parra-Sandoval to memorize both questions.
Since Yucca Mountain already had been discussed, "with less than two minutes left in the debate, CNN asked the student if she'd like to ask her 'diamonds or pearls' question," a CNN spokeswoman said.
Parra-Sandoval agreed to ask the question, the spokeswoman said.
"Because I was on national TV, I felt hesitant, but then I felt like, 'Oh my God, I'm on national TV, I'll just ask it,' " Parra-Sandoval told The New York Times.
According to the paper, Parra-Sandoval is now being accused "by everyone from bloggers to fellow students, of asking an airheaded, sexist question."
On her MySpace page Parra-Sandoval vented her frustration, saying CNN wanted her to use the less thoughtful question.
She wrote: "That's what the media does. See, the media chose what they wanted, not what the people or audience really wanted. That's politics; that's reality. … But do not judge me or my integrity based on that question."
David Damore, a UNLV political science professor who teaches Parra-Sandoval's public opinion class, was surprised to hear her serve up such a softball.
"I was a little disappointed right after I heard it," he said.
"She's a very, very bright girl, and she's done a lot of research" on the issues, Damore said. "She's probably one of the top students in our program."
Parra-Sandoval is a member of the Honors College at UNLV. She was selected to attend the prestigious Public Policy and Leadership Conference at the John F. Kennedy School of Government at Harvard University and to serve as a political communications intern for Sen. Harry Reid in Washington, D.C., according to a press release the school issued about two years ago.
On Friday morning, Damore said he and other faculty members received an e-mail from Parra-Sandoval explaining why she asked the question.
Unfortunately for her, the question seems destined to become the one enduring moment from the debate, Damore said.
"She was very excited about going to the debate and getting to ask a question. Now it's kind of turned into a nightmare for her," Damore said. "She'll always be known as the girl who asked the dumb question."
Contact reporter Henry Brean at hbrean@reviewjournal.com or (702) 383-0350.
2008 ELECTIONSGet more news, voter information
THE EXCHANGE MARIA PARRA-SANDOVAL: I'm a UNLV student, and my question is for Senator Clinton. This is a fun question for you. Do you prefer diamonds or pearls? HILLARY CLINTON: Now, I know I'm sometimes accused of not being able to make a choice. I want both. CNN'S SUZANNE MALVEAUX: Do we get to ask any of the other candidates or I suppose just Senator Clinton? JOE BIDEN: I'm for diamonds. Diamonds. PARRA-SANDOVAL: It's the only thing shining up there. MALVEAUX: OK. Thank you so much. CNN'S WOLF BLITZER: All right. So on that note, diamonds and pearls, I want to thank all of the Democratic presidential candidates for joining us here this evening. Let's give them a big round of applause.