Vandals deface Seven Magic Mountains art project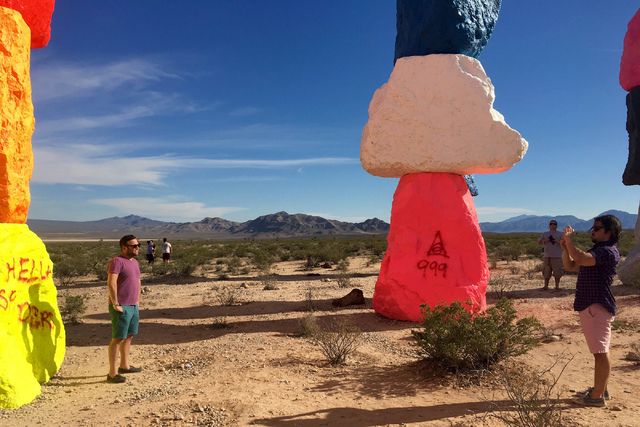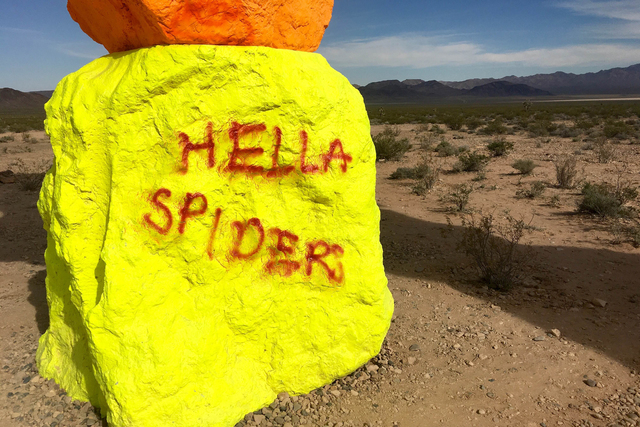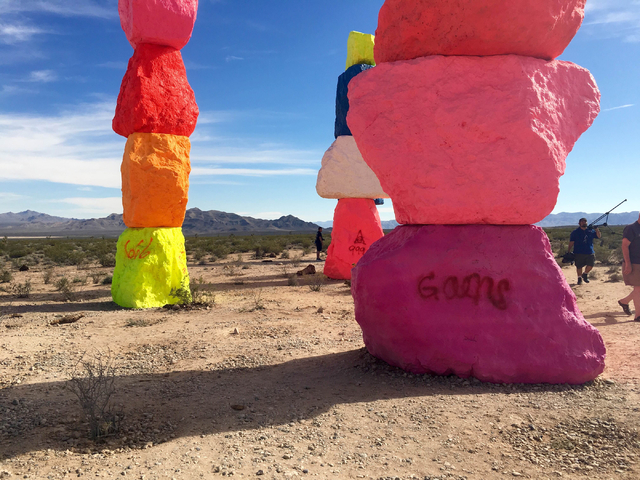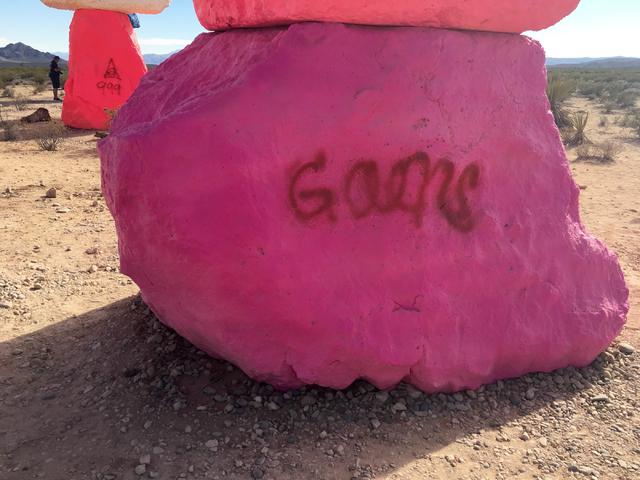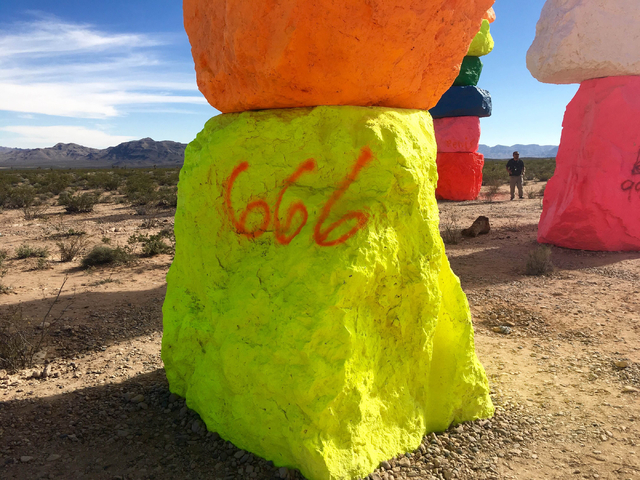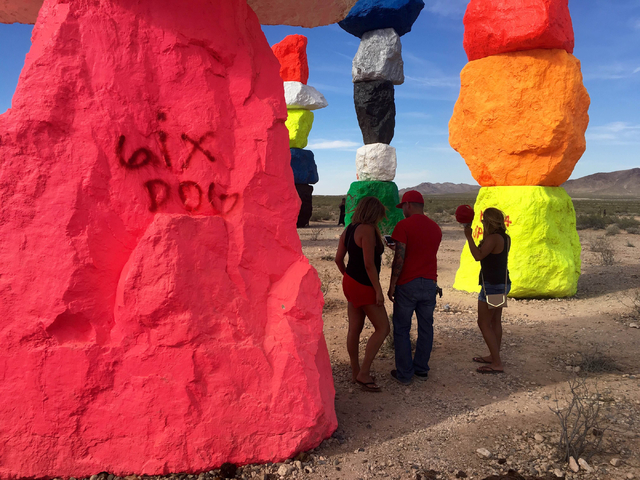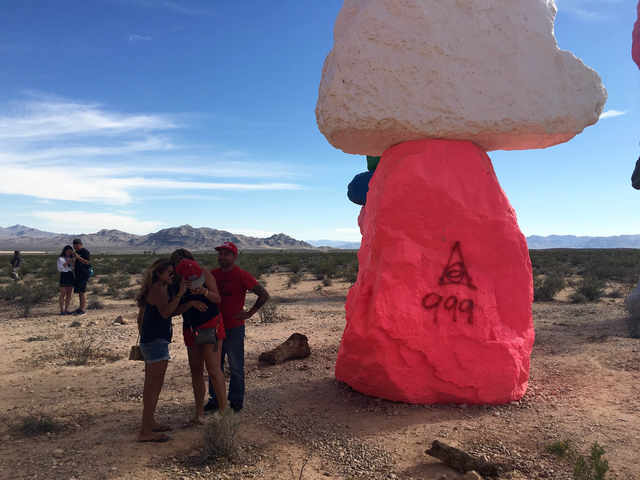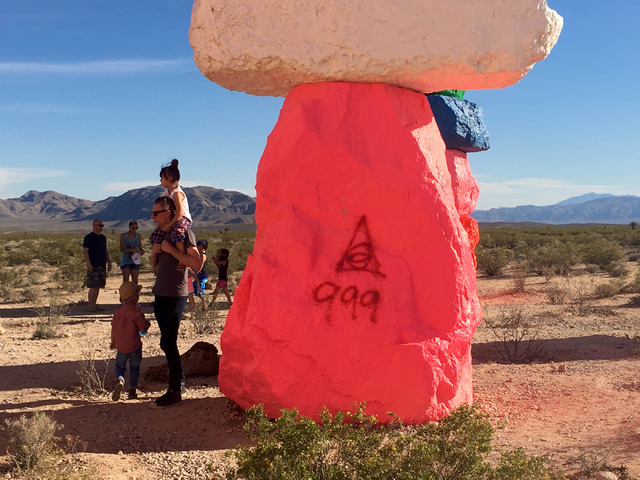 Jennifer Taylor was excited to spend quality time with her children Sunday afternoon admiring Seven Magic Mountains, Ugo Rondinone's latest land art project.
But their experience was disheartening, as the artwork — which officially opened to the public less than a month ago — was vandalized.
"It's unfortunate, it really is," Taylor, 35, of Las Vegas said. "Because we were excited to come, and it makes you step back a bit."
Graffiti depicting swear words, "666," genitalia, and other similar phrases and symbols, is now scrawled across several of the limestone boulders.
"You don't want your kids to see that," Taylor said. "We're just trying to ignore it and have a good time anyway."
Jordan Forman, 30, of Los Angeles, stopped with friends to see the artwork — seven stacks of Nevada limestone boulders adorned with fluorescent hues — on their drive home to California.
"It's shocking, disgusting," he said. "It's all over the place."
If not for the graffiti, Forman described the artwork as "gorgeous" and "captivating."
Brian Lucey, 55, of Las Vegas, shared similar views.
"This is beautiful, and it's so interesting to see it from a distance," Lucey said.
The artwork, located 10 miles south of the Las Vegas Boulevard-St. Rose Parkway intersection, took five years and more than $3 million to produce.
"I would be mad if someone defaced my art," said Ron Pickthorn, 65, of Las Vegas, for whom painting is a hobby.
It's unclear when the vandalism took place, but the Metropolitan Police Department has been notified, according to the Nevada Museum of Art, which issued a statement on the vandalism.
In the statement, Seven Magic Mountains' producers Nevada Museum of Art and Art Production Fund said they were grateful to the Las Vegas community for its enthusiasm for the public artwork.
"The positive reception the piece has received has far surpassed our expectations. Most people have shown the utmost respect and appreciation for Ugo Rondinone's work," the statement said. "Of course, there are always people who behave poorly. We are very disappointed to learn of the recent vandalism to the artwork."
The damage will be repaired immediately, the art project producers said. "The producers feel upset for the visitors who had to see this vile graffiti, and hope that such has not discouraged them for appreciating the beauty of the piece and the majesty of the desert. We hope they visit again."
The statement asks people who see suspicious behavior or damage to contact the project immediately by email at info@sevenmagicmountains.com or by phone at 775-398-7228.
Contact Natalie Bruzda at nbruzda@reviewjournal.com or 702-477-3897. Find @NatalieBruzda on Twitter.