Virginia City and its silver and gold deposits helped put Nevada on map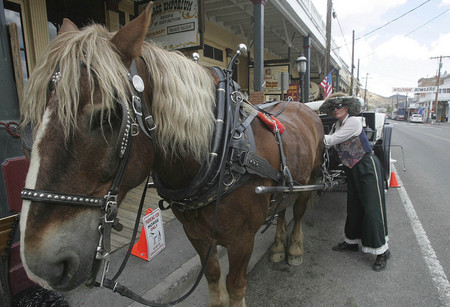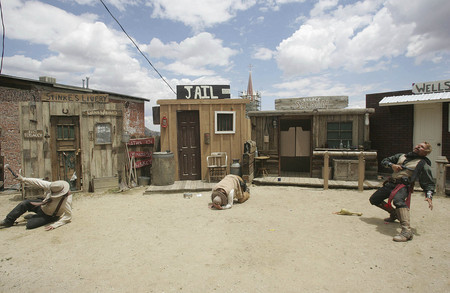 VIRGINIA CITY — Two Irish pick-and-shovel prospectors named Peter O'Riley and Patrick McLaughlin were digging into a water seep in a canyon near Virginia City on a sunny day in June 1859 when they happened upon shiny flakes of gold.
Trouble was, the gold was surrounded by "blue stuff" that clogged up their rockers, primitive devices miners filled with water and gravel and swayed back and forth to sift for gold.
But someone sent a sample to an assay office. Three weeks later, the report came back.
The "blue stuff" was silver, valued at nearly $4,000 a ton.
Soon the rush was on to Ophir, as the tent and shack community of prospectors quickly became known.
Their strike was the beginning of the Comstock Lode, one of the richest gold and silver discoveries in American history.
Before the lode began playing out in the 1880s, gold and silver worth $18 billion at today's prices had been removed.
By November, Ophir became Virginia City, and, within a few years, 30,000 people were living there.
Virginia City would have 100 saloons, five newspapers, six churches, a large red-light district and even an opera house.
Five years after O'Riley and McLaughlin's discovery, Nevada would become a state.
But busts are inevitable in the mining business. Now, on the 150th year of its founding, about 1,000 people live in Virginia City, the county seat of Storey County.
TOURIST TOWN
On a cool late spring day, a few hundred people walked slowly over the wooden sidewalks along Virginia City's "C" Street.
They aren't looking for gold or silver, but for food and bargains in the 90 shops in the old brick buildings along the street.
Almost everyone has a camera.
"I like the fudge," 4-year-old Amy Purdy of Reno said as she sat on a bench with her family.
"There is so much you can buy here," added her 15-year-old sister, Sarah. "It is fun.
You can buy candy by the barrel and cowboy attire at far lower prices than at the local mall.
There are tours of old mines, the Fourth Ward School, Piper's Opera House, historical museums and even mansions where multimillionaire mine titans once lived.
For $10, you can take a ride on a Virginia & Truckee train a couple of miles down the canyon into the town of Gold Hill.
There is the Mark Twain Casino, Mark Twain Antiques, the Mark Twain Museum and Mark Twain Books.
Twain is the pen name for Samuel Clemens, who worked on the Territorial Enterprise between 1862 and 1864. He wrote that when he arrived in Virginia City it looked "somewhat like a singed cat."
That description remains appropriate. Scars of old mines are visible on the surrounding mountains. There also are huge holes from mining excavations and piles of tailings along the road up from Carson City.
Until the state began sealing up abandoned mines 20 years ago, it was dangerous even to walk through the hills around Virginia City. One could fall down a hidden mine shaft.
Virginia City resembles the set of an old Western movie. Faux gunfighters mingle with the crowd, hoping to induce them to attend their $5 show.
Purists will argue that Virginia City never was a Wild West town, but the visitors love it anyway.
"I grew up in Nevada and came here with my parents when I was a kid," said Darrell Moody of Fernley. "I love the old West, the history of the place. We come here at least once a year."
So far, the recession has not kept tourists from coming during the city's sesquicentennial, according to Susan Sutton, executive director of the Virginia City Convention and Tourism Authority.
"I was in Deadwood two weeks ago and it was dead," Sutton said. "We are doing fine in the middle of a horrible economy. People are coming, although they aren't spending as much."
Henry Rogers, owner of the Western Historic Radio Museum, said tourism is up slightly from last year.
But people who visit his museum, the only one of its kind in Nevada, aren't buying high-priced old radios, instead settling for cheaper models.
"We aren't getting as many worldwide visitors, people from Germany and Switzerland," Rogers said. "We get repeat visitors, people who first came here when they were kids."
Joe Curtis, owner of Mark Twain Books, said Virginia City became the tourist attraction it is today starting in 1959, the year the "Bonanza" show was first broadcast on television.
"Bonanza" depicted the fictional Cartwright ranch near Lake Tahoe, and Virginia City was the town where "Pa" and his three sons frequently visited.
Sutton said she is continually asked by visitors where they might find the Bonanza ranch.
During the 1950s, Virginia City had about 500 people, no mining and really needed a new industry.
"This had been an industrial town, but people wanted to see a Western cowboy town," Curtis said.
Though it's sort of a make-believe town, the true story of Virginia City also is available.
THE REAL STORY
Through Curtis' efforts, a docent program has been established. The docents know the real history of Virginia City and explain it to interested visitors.
Within a year of the Comstock Lode discovery, the era of pick-and-shovel prospectors had ended.
State Historical Preservation Officer Ron James said it became clear to early miners that the veins of silver and gold went far underground. Underground mining required capital and technology, something prospectors did not have.
"The Comstock had the most sophisticated mining in the world," James said.
Workers earned $4 a day at a time when wages for digging canals in the East were 75 cents a day, he added.
In the introduction to "Roar and the Silence," a book about the Comstock, James described what it sounded like during the heyday in the 1860s and 1870s.
"At its height, the Comstock startled visitors with the noise of its machines, the clanking metal of its stamp mills, the shrill whistles, and the constant rhythm of its engines. The cacophony of this industrial colossus echoed in the hills day and night. The entire world eventually heard the roar of the Comstock."
Mining isn't entirely gone. The Plum Mining Co. has done extensive exploration downhill from Virginia City
They estimate there's reserves of a half million ounces of gold and 5 million ounces of silver.
"It's not huge by historic Comstock standards," said Doug Driesner, a state Division of Minerals official. "But it is a good medium-sized mine. They are aiming for production late this year or in 2010."
Gold sells for $935 an ounce today, compared with $16 during the Comstock days.
James and other historians agree that without Virginia City, there might never have been a Nevada, and surely not one that became a state in 1864.
James said Nevada would not have had a large enough population to achieve statehood until the 1930s, long after New Mexico and Arizona became states.
Curtis speculates that without the mining, what is Nevada today would have been divvied up between Utah, Arizona and California.
Guy Rocha, the former state archivist, shares Curtis' view.
"Nevada might not have come into being," he said. "What's clear to me is that Las Vegas, which was part of Arizona Territory, would have stayed in Arizona."
Contact reporter Ed Vogel at evogel @reviewjournal.com or 775-687-3901.
Slide show
VIRGINIA CITY AT A GLANCE
Population
1,027 people.
Elevation
6,200 feet.
How to get there
Twenty-five miles southeast of Reno via Nevada Highway 341 (Geiger Grade), or 15 miles northeast of Carson City via U.S. Highway 50 east and Highway 341 north.
Sesquicentennial events
• July 11: Virginia & Truckee Railroad celebration.
• Aug. 15: Comstock Firemen's muster.
• Sept. 5-7: Civil War camp, parade and re-enactment.
• Sept. 11-13: Camel race.
• Oct. 3: Outhouse races.
Tourist information
Call 775-847-4386 or go to virginiacity-nv.org.