Volunteers erase tire tracks from Death Valley's Racetrack Playa
Updated March 16, 2018 - 4:15 pm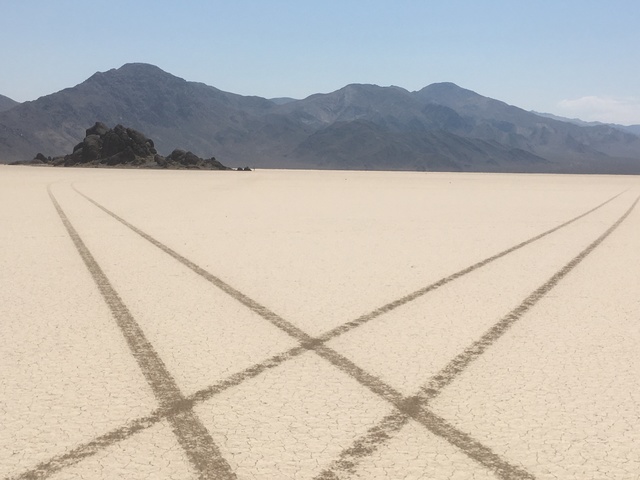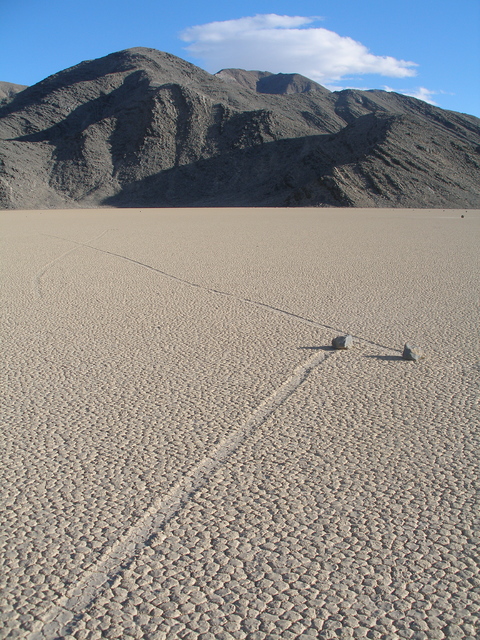 A team of volunteers used garden tools and water to erase some of the tire tracks that have scarred Racetrack Playa in Death Valley National Park since someone illegally drove across the dry lake in 2016.
The crew of 19 from the National Park Service and the conservation advocacy group Friends of the Inyo spent weekend in February repairing more than 500 feet of the unsightly tracks.
Roughly 750 gallons of water was used in the effort, which succeeded in restoring the familiar geometric shapes to the dry, cracked surface of the playa.
"We are extremely grateful for the volunteers who took on this remote, complicated job," Death Valley Superintendent Mike Reynolds said in a written statement.
Racetrack Playa is famous for its so-called "sailing stones," hundreds of rocks weighing as much as 700 pounds that have roamed across the surface of the dry lake bed, leaving meandering tracks hundreds of yards long.
How the rocks moved was a mystery until late 2013, when researchers from the Scripps Institution of Oceanography in San Diego observed them being pushed slowly across the flooded lake bed by sheets of wind-blown ice.
Despite its name, the Racetrack about 200 miles northwest of Las Vegas is protected as wilderness and closed to vehicles, but park rangers still find tire tracks there now and then.
The 2016 incident was one of the worst incidents of vandalism. A visitor or visitors who have not yet been identified took an illegal joyride across the lake bed, leaving behind about 10 miles of looping tracks that park officials said at the time could scar the landscape for years.
Getting to Racetrack Playa requires a 27-mile drive on a rocky, rutted dirt road best suited for high-clearance, four-wheel-drive vehicles. Its remote location likely shields it from more frequent vandalism but also makes it hard for rangers to keep an eye on in a park that covers about 3.4 million acres, an area nearly the size of Connecticut.
Contact Henry Brean at hbrean @reviewjournal.com or 702-383-0350. Follow @RefriedBrean on Twitter.