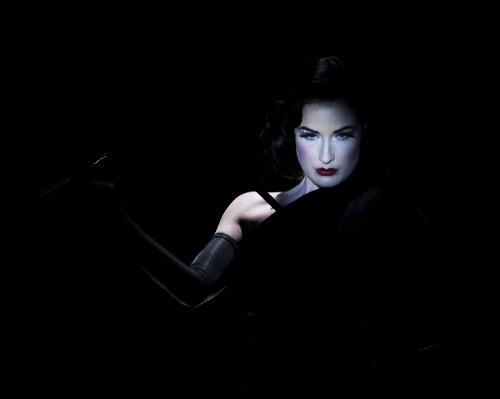 Imagine my surprise. I watched Dita Von Teese take her clothes off Wednesday night, and me likee.
I mean, I expected Von Teese to be really good while she guest-dances through Wednesday at MGM's "Crazy Horse Paris," the "art of the nude" revue ($75). But wow. She's incredible.
I realize why Marilyn Manson was so taken with her a few years ago.
Much more than that, her three burlesque routines (the first two especially) reminded me of watching a riveting, naughty foreign movie — fitting right in with "Crazy Horse," the lovely, arty Eurotrip on the Strip.
Von Teese told me she used to get teased for dressing in retro-fetish fashion.
"I got called Uma Thurman a lot when 'Pulp Fiction' was out, just because I had black hair. And I got called Cleopatra before that. And then Betty Page. And then Dracula!"
She says when people tease her, it means she's doing something interesting, indicating to mainstreamers, "I do not want to be part of your pack."
That's what Lady Gagme says too, but Lady Gagme is a fat fail .
Check out beautiful photos of Von Teese's performance on my VegasLand blog.
By the way, if you're into retro fetish, this is your moment: The Orleans is hosting Viva Las Vegas Rockabilly Weekend.
Hopkins has fight, dad duties
Bernard Hopkins is the favorite going into Saturday's fight with Roy Jones Jr. at Mandalay Bay Events Center ($100-$750).
Hopkins, 45, tells me he's then taking his daughter, 10, to "Lion King" on Monday night.
"Right after the fight, I'll be sitting in the damn audience looking at the 'Lion King,'" he says.
That's a big step. He says he's "good at anything else as a dad," but he's working on being a better daddy-and-movie guy.
"I'm not proud to say it, but I'm kind of a deadbeat when it comes to watching kid movies. And I know it ain't for me, it's for them. But that's something I haven't adjusted to.
"My wife is good at it. She'll watch three movies with my daughter. They don't even invite me because they say I'll fall asleep."
Check out my interview with Hopkins in today's Neon section, where I nominate him to be Barack Obama's chairman of the President's Council on Physical Fitness.
CLUBS
Leona Lewis performs Saturday at Caesars club Pure … Bijou Phillips does Pure tonight .
Doug Elfman's column appears Sundays, Mondays, Tuesdays and Fridays. E-mail him at delfman@reviewjournal.com. He blogs at reviewjournal.com/elfman.