Voter turnout light on first day of early voting in Clark County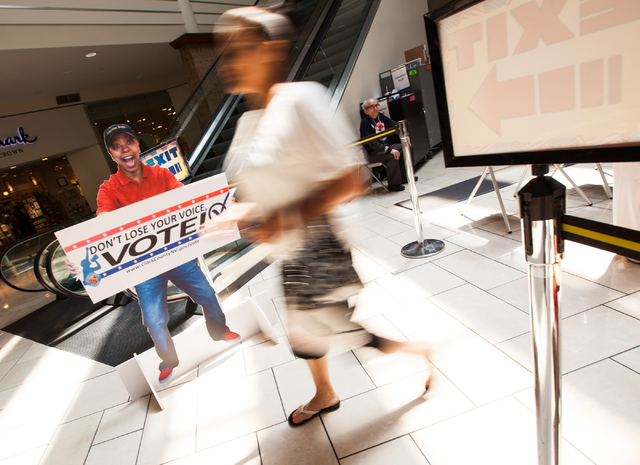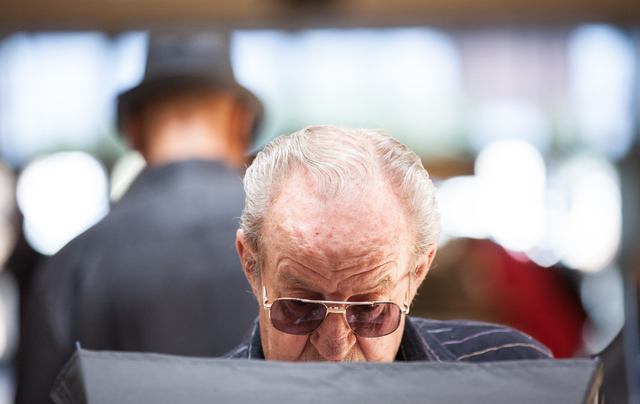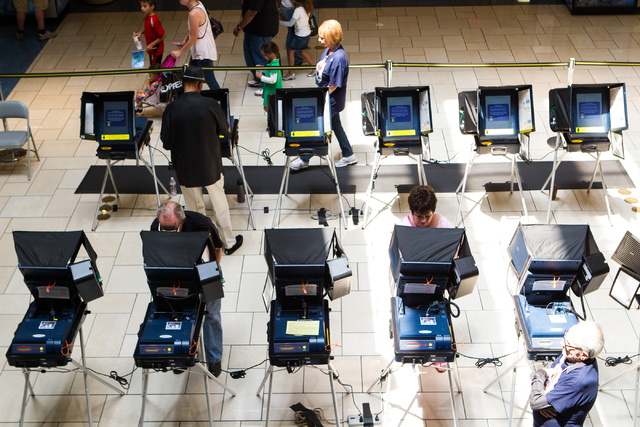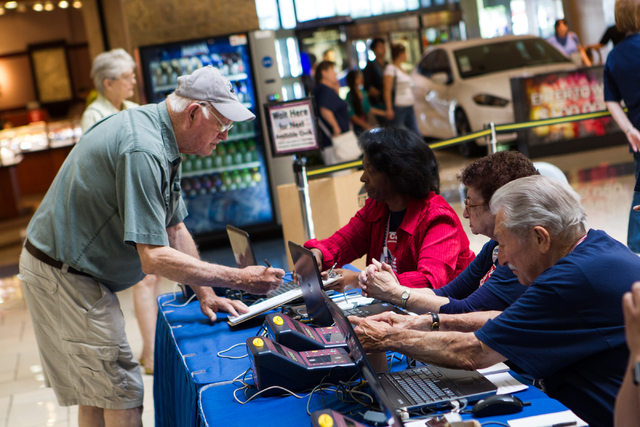 The early bird gets the election out of the way.
Polling stations at Meadows Mall saw a light but constant flow of voters Saturday, the first day of early voting that will continue through June 6. The primary election is June 10.
Meadows, Galleria and Boulevard malls were among the most popular early voting sites in Clark County, said Marta Guariglia, team leader at Meadows Mall.
"It's been continual," said assistant team leader Debra Lewis of turnout of five or so people voting at any given time. "There have not been any lulls."
Election officials said 4,004 voted in the county Saturday, compared with 4,360 on the first day of early voting during the 2012 primary, which was a presidential and U.S. Senate election year. Also, 5,569 county residents voted early in 2010.
More than 1.1 million Nevadans are registered to vote in the primary, though only one-fifth are expected to turn out.
James Green was among a handful of voters hunched over polling machines early in the after­noon.
"I've never missed a vote," said Green, who said he votes Republican 90 percent of the time.
Green, who splits his time between Las Vegas and Sweden, said he was a fan of Gov. Brian Sandoval and lieutenant governor hopeful Mark Hutchison.
Many poll workers took the opportunity to vote early, but Micki Abrams, a Las Vegas resident of 18 years and elections volunteer of 16 years, said she was waiting.
"I have my sample ballot filled out, but I want to make sure I've made the right choices," she said.
Abrams said the light turnout was not unusual for midterm elections, which aren't as popular as presidential elections. The last two days of early voting for presidential elections usually draw long lines of people to the polls, she said.
Anders Denson, a retired Environmental Protection Agency acquisition manager, said he came to Meadows Mall because it was convenient.
"I just want to get it behind me and know that it's done," said Denson, a 40-year resident of Las Vegas.
Shopper Deshonda Whiteside wasn't planning on voting when she brought her daughter to the mall but decided to cast a ballot because there were no lines.
"It was spur of the moment," she said. "Why not get it over with?"
Seafood City on Maryland Parkway near Flamingo Road didn't see as much action.
Voting staff attributed it to a Philippines consulate outreach program taking place down the street at Boulevard Mall.
"This is abnormal," said Tagalog translator Maria Locsin. 'That's why there's no one here now."
Locsin spent her day luring shoppers from cash registers to polling booths. She noted that American voting is different from the way it is in the Philippines and could be intimidating for first-time voters.
"They don't think the election is important," Locsin said. "But when you educate them, they want to vote."
In the Philippines, she said, election day is more of an occasion.
"Election day there is a holiday," she said. "No one works because they want to vote. Here it's taken lightly."
Spanish-speaking married couple John and Diane Morales were among Seafood City's poll workers.
The two have been working elections since 1999 and make about $8.29 per hour. Diane Morales said she works elections because she's interested in politics, and the money helps.
Jim Lea, a retired contractor and elections team leader, called Clark County's early voting system exemplary.
"We could not physically process everyone if they waited until election day," Lea said.
Contact Kristy Totten at ktotten @reviewjournal.com or 702-477-3809. Find her on Twitter: @kristy_tea.