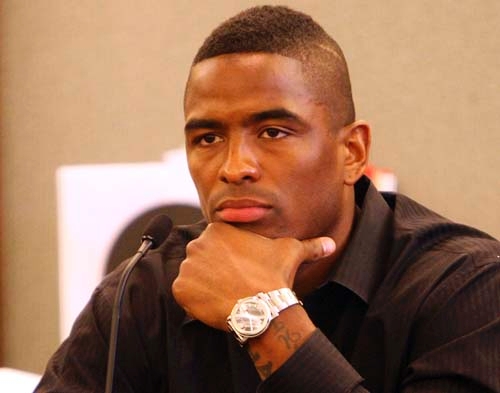 Javon Walker believed he was going to be killed if he didn't cooperate with two men robbing him of more than $100,000 in jewelry and cash, he testified Wednesday.
"Here I'm in Vegas. I've got a lot of money on me. I figure if I don't cooperate, you know, I'm gonna die," the professional football player, a former Oakland Raider, told a District Court jury.
Walker testified at the trial of one of the men accused of kidnapping, robbing and beating him a block away from the Strip the morning of June 16, 2008.
Walker was found unconscious with facial injuries and a concussion in a vacant lot at Koval Lane and Winnick Avenue. He was robbed of at least $3,000 in cash, $4,000 in casino chips and $100,000 in jewelry, including a diamond-studded chain and watch and two 2-carat diamond earrings, according to court records and testimony.
Authorities say Deshawn Thomas, 42, masterminded the robbery after spotting a drunk Walker at the Hard Rock Hotel and following him to the Bellagio, before robbing him. Thomas is facing six felony counts, including first-degree kidnapping, robbery, and battery with substantial bodily harm. If convicted, he could be sentenced to life in prison.
His co-defendant, Arfat Fadel, 32, last week pleaded guilty to robbery, second-degree kidnapping and conspiracy to commit robbery, and he will testify against Thomas during the trial.
Walker described a night of excess and partying on June 15, 2008. He was drunk on Grey Goose vodka and moving from nightclub to nightclub, casino to casino, while betting thousands on blackjack hands in between.
Walker said he was at the Bellagio in the wee hours when two men in a dark sport-utility vehicle called his name. Befitting his self-described personality as an outgoing, gregarious man, Walker went to speak with the two.
Walker said he got into the SUV with them because he believed they were going to take him to meet up with his friends at a nightclub across the street from the Bellagio.
But the trip took much longer, and Walker began suspecting he was in danger.
"Something was going to happen. I didn't know what," Walker said.
Walker at one point asked the driver of the SUV to just drop him off.
"That's when things kinda started getting heated," Walker said.
Walker described how a man sitting behind him in the SUV tried to use his arm to wrap it around the football player's neck and pulled on his ear, in which he sported a diamond earring.
Walker testified he told the men he would give them everything.
"I just didn't want my ear to get ripped apart," he said.
Walker said the last thing he remembered, before waking up at a local hospital, was getting out of the SUV.
Walker identified Fadel as the SUV's driver. He could not identify the man sitting behind him in the SUV.
Authorities say it was Thomas.
Walker said that he had to have surgery on his upper jaw after the assault and robbery and that his recovery took more than two months.
During cross examination, defense attorney Betsy Allen suggested that Walker was severely injured during his night of partying and intoxication as he continuously fell to the ground on his face.
Walker responded that if he had suffered a severe enough injury while he was partying, he would have ended up in the hospital before the robbery.
"I get hit in the face for a living," Walker said, explaining it would take more than a fall for him to have suffered the injuries he did.
Allen then sarcastically questioned whether NFL players still wear helmets during games.
During opening arguments, Allen's co-counsel Richard Ramos suggested to jurors the key witness in the prosecution's case will lie to them. Fadel placed the blame on Thomas to get a "sweetheart" deal from prosecutors, Ramos said.
He said Thomas could not have attacked Walker because, 10 minutes after the robbery, he was at a Timbers bar 20 miles away.
Prosecutor Joshua Tomsheck described during his opening statement how Thomas and Fadel "followed, stalked and preyed upon," the intoxicated Walker.
Tomsheck said cell phone records placing Thomas at the Hard Rock, while Walker was there, will be presented as evidence.
The robbery occurred while Walker was visiting Las Vegas after signing a six-year, $55 million contract with the Raiders.
Walker was released by the Raiders last month after two fruitless seasons with the team.
According to statements made in court, Walker will testify again today, though he had scheduled tryouts with at least one NFL team, the Jacksonville Jaguars.
District Judge Doug Smith was going to make accommodations for Walker to come back later in the trial, but Walker said he could finish his testimony today.
Walker afterward told the Review-Journal he would reschedule the tryouts.
The trial is expected to last more than a week.
Contact reporter Francis McCabe at fmccabe@reviewjournal.com or 702-380-1039.