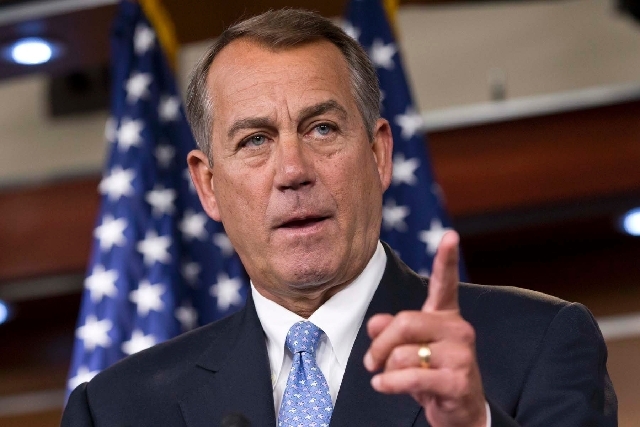 WASHINGTON — The House voted last week to delay key segments of the new health care law that require individuals to carry insurance and for most companies to provide health coverage to their workers.
Lawmakers voted 251-174 for a Republican-written bill to push back by a year the requirement by the Affordable Care Act that individuals must have insurance next year or pay a fine.
It came alongside a 264-161 vote to delay for a year, until 2015, the mandate that companies with 50 or more employees provide health coverage for their workers.
The votes were the latest effort by critics to kill or water down the so-called "Obamacare" law. Democratic Senate leaders have signaled those bills are dead on arrival, and President Barack Obama has said they would be vetoed if they got to the White House.
But Republicans seized on the Obama administration announcement this month to delay the employer mandate by a year. White House officials said they were responding to concerns from businesses that the record-keeping and paperwork rules associated with the new rules were complex.
"The temporary relief from the business mandate was welcome news, but it didn't solve the problems our local businesses are struggling with under Obama­care," said Rep. Kevin Brady, R-Texas. "The president's health care law is causing more confusion and more uncertainty."
GOP lawmakers further argued that families should be afforded the same ability to hold off on the requirement to buy insurance if they are not already covered.
"If businesses are being given relief, shouldn't the same relief be given to the American people?" said Rep. Tim Walberg, R-Mich.
Democrats said the bills were just another excuse for Republicans to beat up on Obama.
"Another repeal vote, another political sideshow," said Rep. Sander Levin, D-Mich. "Republican hypocrisy is reaching new heights."
"I am convinced that if the president actually walked on water, the first thing the Republicans would say is that President Obama can't swim," added Rep. Charles Rangel, D-N.Y.
Twenty-two Democrats, including some from politically vulnerable districts, joined all but one Republican to pass the one-year delay in the individual mandate.
Reps. Joe Heck and Mark Amodei, both R-Nev., voted for the one-year delay in the individual mandate. Rep. Dina Titus, D-Nev., voted against the delay. Rep. Steven Horsford, D-Nev., was home recovering from heart surgery and did not vote.
Thirty-five Democrats joined all but one Republican in passing the delay in the business mandate. Heck and Amodei voted for the delay. Titus voted against it. Horsford did not vote.
EDUCATION BILL PASSED
The Republican-controlled House passed a bill to reduce the government role in public education, a departure from the "No Child Left Behind" law that set goals and penalties tied to student achievement or lack of it.
No Democrat voted for the legislation that was approved, 221-207. Heck and Amodei voted for the bill. Titus voted against it. Horsford did not vote.
The bill passes back to states decisions on school performance and how to spend federal grant money to serve special needs students and children from low-income families.
Republicans said the approach would liberate school districts. It "will reduce the federal footprint in our classrooms," said Rep. John Kline, R-Minn. "For too long, federal overreach has tied the hands of American educators."
Democrats said schools would regress without government oversight, especially when it comes to the disabled and disadvantaged. They said the bill froze spending in a way that would mean $1 billion less for schools next year.
The bill "abdicates the federal government's responsibility to ensure that every child has the right to an equal opportunity and a quality education," said Rep. George Miller, D-Calif., who called the federal role fundamentally one of ensuring civil rights.
"And it walks away from our duty to hold school systems accountable to students, parents and taxpayers."
OBAMA NOMINEES CONFIRMED
Senate Democratic leaders went to the brink of forcing a change in filibuster rules before reaching an agreement with Republicans that allowed for the confirmation of a group of President Barack Obama's appointees to top jobs.
Democrats frustrated with Republican-forced delays in confirming the president's choices were poised to do away with the filibuster on executive branch nominations. A filibuster requires 60 votes to overcome, a difficult task in a Senate riven by partisanship and at times harsh feelings.
Republicans argued their actions were justified by problems they saw with individual nominees, including what a court ruled was the president's unconstitutional appointment of three members to the National Labor Relations Board.
The 11th-hour compromise led to the agreement to confirm five Obama appointees in short order. Further, the president agreed to replace two controversial NLRB appointees with new nominees.
Among those confirmed was Labor Secretary Thomas Perez, 54-46. Democrats said he was eminently qualified but Republicans charged he was not forthright in his previous job as head of the Justice Department's civil rights division.
Sen. Harry Reid, D-Nev., voted for Perez. Sen. Dean Heller, R-Nev., voted against him.
Also confirmed was Gina McCarthy to head the Environmental Protection Agency, 59-40. Formerly head of the EPA's air and radiation office, she had been held up in a dispute over the Obama administration's global warming policies.
Reid voted for McCarthy. Heller voted against her.
Contact Stephens Washington Bureau Chief Steve Tetreault at stetreault@stephensmedia.com or 202-783-1760. Follow him on Twitter @STetreaultDC.