Water park lifeguards no longer certified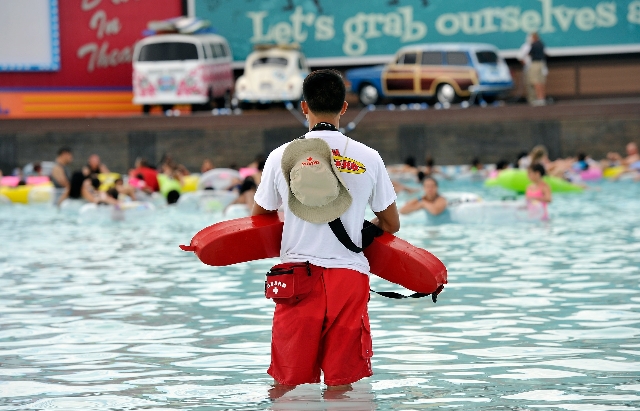 If you were planning a trip to Cowabunga Bay on Tuesday, you may want to call ahead.
Many of the Henderson water park's lifeguards are no longer certified to work there, according to officials with the Nevada Health and Human Services Department and the Southern Nevada Health District.
It was unclear late Monday whether there would be enough lifeguards available for the park to open for business.
"We are doing everything we can to quickly rectify the situation," Jennifer Bradley, a spokeswoman for Cowabunga Bay, said Monday night.
Public records obtained by the Las Vegas Review-Journal show the Health and Human Services' Public and Behavioral Health Division has withdrawn recognition of the lifeguard certification courses taught by Houston-based National Aquatic Safety Co., or NASCO.
That's the company that trains Cowabunga Bay's aquatic safety staff.
In a letter dated July 16 and addressed to NASCO President John Hunsucker, Nevada's chief medical officer, Dr. Tracey Green, said the state will no longer recognize a section of the company's textbook that teaches the in-water-intervention protocol, known as the Heimlich maneuver, as a way to prevent drowning. It's not based on "relevant scientific literature," Green said.
After the state put NASCO on notice, the health district notified Cowabunga Bay that it would no longer accept lifeguard certifications from the Texas company, according to Dr. Joseph Iser, head of the health district.
"Accordingly, the health district will not accept NASCO's lifeguard certification until such time as their lifeguard certification is once again recognized by the Nevada Department of Health and Human Services," Iser said in an email.
NASCO can regain recognition if it removes the Heimlich maneuver from its manual, Green said in the letter.
Iser said the health district and Cowabunga Bay management will meet this morning to talk about whether visitors will be allowed to enter.
"They'll have to retrain lifeguards with NASCO training if that's all they have," Iser said.
Hunsucker and NASCO did not respond to requests for comment.
On the company's website, a letter says NASCO has "been attacked by others whose technology and protocols lag significantly behind ours and by some of the press whose desire is to create controversy."
Neither the health district nor Cowabunga Bay were aware of the state's letter to NASCO until a reporter brought it to their attention.
The water park "was not notified of this letter because it has nothing to do with park," a statement from Cowabunga Bay General Manager Shane Huish said.
Abdominal thrusts, also referred to as the Heimlich maneuver, often are used to dislodge objects — not water — from air passageways.
And Nevada is not the first state to withdraw NASCO's recognition for use of the controversial technique.
In a letter to the aquatic safety company that was nearly identical to correspondence from Nevada, the New Jersey health department withdrew recognition of NASCO's lifeguard training course in April. But New Jersey reinstated recognition in May after the company removed the in-water-intervention protocol from its manual.
Nevada law requires satisfactory completion of "a Red Cross Advanced Lifesaving Course or the equivalent." The American Red Cross teaches the use of chest compressions and rescue breaths, also known as cardiopulmonary resuscitation or CPR, to save someone from drowning.
Las Vegas and Clark County public pools are staffed by Red Cross-trained lifeguards. The Las Vegas Valley's other water park, Wet 'n' Wild, uses Jeff Ellis & Associates for lifeguard training.
In 2010, the American Heart Association updated its guidelines for CPR and emergency cardiovascular care to say that using abdominal thrusts to remove water from breathing passages is "unnecessary and potentially dangerous."
Cowabunga Bay lifeguards don't use the Heimlich maneuver, Huish said Monday in the statement.
But a lifeguard supervisor at Cowabunga Bay told the Review-Journal in June that her training included learning how to use abdominal thrusts in drowning cases. The employee did not want to be named publicly.
A Henderson police report when a 5-year-old boy nearly drowned May 27 is unclear on how the child was saved. The report says a lifeguard "administered chest thrusts" while moving the child toward the exit ladder.
Cowabunga Bay was met with other regulatory troubles on June 9, when the health district conducted its annual inspection and found the water park had only eight of the required 17 lifeguards at its wave pool. The health district slapped the park with a $118 fine.
Contact Michelle Iracheta at miracheta@reviewjournal.com or 702-387-5205. Find her on Twitter: @cephira.