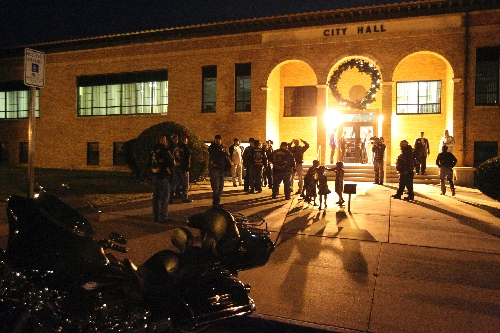 The controversial developer behind plans to build a major sports arena in Henderson is now saying the city-backed project "is not viable," but he apparently still plans to develop the land.
That has Henderson officials accusing Chris Milam of fraud and asking the Bureau of Land Management to stop the transfer of 480 acres near the M Resort to him.
City Manager Jacob Snow said he was notified Wednesday in a letter from Milam that the Las Vegas National Sports Center LLC was terminating the project agreement but remained "fully committed to achieving development of the arena complex and accompanying development."
City Attorney Josh Reid responded with his own letter to the BLM accusing Milam of "seeking to change the rules" and offer the land to others for "residential purposes," rather than for an arena.
The proposal, first floated in 2011, called for a 17,500-seat arena and was embraced by Henderson officials who lobbied the BLM for the land deal.
Monday
Hit man faces death
Xiao Ye Bai, 25, could face the death penalty for stabbing Wen Jun "James" Li 32 times in a crowded karaoke bar early on a summer morning three years ago.
The same jury that convicted Bai of first-degree murder and other felonies will resume deliberations this week to decide whether he should be put to death .
Prosecutors said Bai was collecting a gambling debt for an Asian gang when he stabbed Li at the bar on Jones Boulevard near Spring Mountain Road on July 6, 2009.
Tuesday
Picture-perfect voting
Secretary of State Ross Miller said he will sponsor a bill at the 2013 Legislature to require photo IDs for voters.
Under his proposal, driver's license photos would be linked electronically with voter registration records and poll books at election locations.
People without ID, but who are registered, would be required to have their pictures taken by poll workers the first time they vote.
Wednesday
Stem-cell scheme
A federal jury convicted a prominent valley pediatrician and a longtime medical researcher of defrauding chronically ill patients through an experimental stem-cell implant procedure.
Dr. Ralph Conti, 51, and Alfred Sapse, 86, a Romanian-educated physician not licensed in the United States, face up to 20 years in prison and maximum fines of $250,000 on each fraud count.
Prosecutors called the defendants' claims about their stem-cell treatment a ruse that took money from ailing patients and dashed their dreams of a better life.
Thursday
Judge suspended
The Nevada Commission on Judicial Discipline suspended Family Court Judge Steven Jones in the wake of his federal indictment alleging a $3 million investment fraud scheme.
Jones, 54, first elected to Family Court in 1992, took a leave of absence after his federal indictment last month.
The commission was obligated by law to suspend Jones with pay until his criminal case is resolved.
Friday
One-punch death
A Clark County jury found a 39-year-old high school teacher and football coach from Florida guilty of involuntary manslaughter in the death of a man he punched last year at a Strip casino.
Benjamin Hawkins, who is black, was arrested after the death of John Massie, a 46-year-old white man from Utah. Hawkins said he was defending himself when he struck Massie at O'Shea's casino July 6, 2011, after Massie made race-based comments.
Both were here on vacation.
NUMBERS
23
The number of days between Assemblywoman April Mastroluca's election to a third term and her abrupt resignation for "personal family reasons."
6
The minimum number of wins UNLV football coach Bobby Hauck said he expects next season. The Rebels have won a total of six games in three seasons under Hauck.
75
The number of endangered Devil's Hole pupfish left on Earth. The fish, only found in one pool in Nye County, has been under federal protection for 45 years.
120 feet
The height of a new zipline attraction slated to open in June on Fremont Street. It will replace the zipline ride that has operated there for two years.
QUOTES
"I saw him on fire. His TV was on. He wasn't yelling. He wasn't doing nothing. He was rocking a little bit in his chair, holding a cigarette."
Bernard Drake, whose friend and neighbor, Eric Olsen, 55, was killed in a Nov. 24 fire at a valley apartment complex.
"You have to ask the tough questions. 'Have you ever thought of killing yourself?' You might upset them a little, but I'd rather have my child upset at me, and alive. Alive and mad at you is a lot better than not there."
Steve Johnson, whose 18-year-old son, Levi, killed himself in 2003.
"Too thin to plow, too thick to drink – that's what the old Mormon settlers said about it."
John Swett, biologist and program manager for the U.S. Bureau of Reclamation, talking about the once-wild Colorado River, which carried huge amounts of silt before it was dammed.
MULTIMEDIA
lvrj.com/multimedia
VIDEO: Shania Twain talks to the media the day before her Las Vegas shows opens
VIDEO: People travel to Rosie's Den to play Powerball
SLIDE SHOW: UNLV hosts UC Irvine at the Thomas & Mack
VIDEO: Man sues Las Vegas police over altercation at jail
SLIDE SHOW: Falun Dafa embrace peace and good health in Las Vegas