Weight-loss surgery changes lives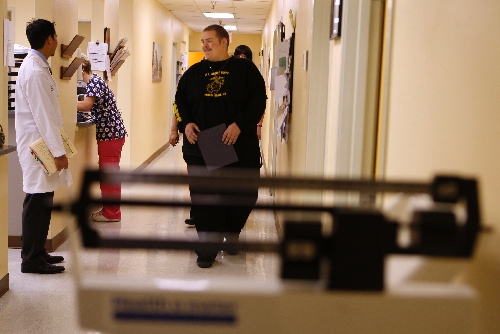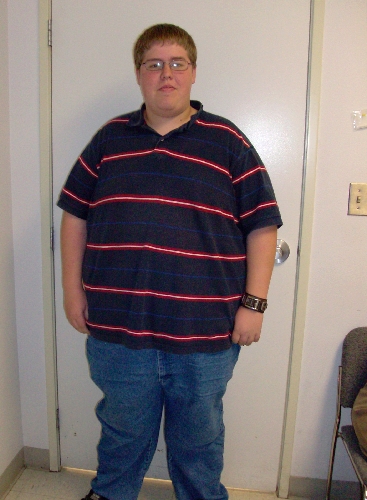 No one looking at Kyle Weiss right now would think he stands a chance of becoming a U.S. Marine.
Less than 6 feet tall, he weighs 400 pounds.
"But when they see a 'before' picture of his brother Cody, chances are people won't think it's so impossible," said Robin Morello, the nurse coordinator at the Weight Loss Surgery Center at the University of Nevada School of Medicine in Las Vegas.
Kyle Weiss will go under the knife Monday at University Medical Center to have the same gastric bypass surgery his brother had two years ago.
On Friday morning, Morello calmed Kyle's fear of the procedure, which carries significant risks, by focusing on the future.
"You'll be a new man before long," she said to the 18-year-old wearing a Marine Corps T-shirt.
What Kyle and Cody Weiss say has made a critical difference in their lives is the caring professionalism of Morello.
"You can call or text her any time of the day or night, even on weekends, and she's there for you," Kyle Weiss said.
"It makes such a big difference when somebody really cares," said Cody Weiss, who shed 160 pounds and a number of medical problems since his surgery. "She's been a lifeline for me."
Doting relative, demanding drill sergeant, energetic cheerleader, compassionate nurse — that's how Morello comes across to the Weiss boys and their mother.
"I've never seen anybody spend more time on the job than her," said LeAnn Weiss, mother of Kyle and Cody. "It almost seems like a 24-7 thing with her."
Both Kyle and Cody have long dreamed of following in the footsteps of their grandfather, a Marine veteran who fought during the Vietnam War.
Recently, Kyle, who works as a baggage handler at McCarran Airport, where his father also is employed, has exercised with Marine recruiter Staff Sgt. Byron Morris in Henderson.
"He's doing his best to keep up with the young men in the delayed entry program," Morris said. "It makes you feel good to see someone try so hard."
Morello said she gets "goose bumps" when she see how lives can be transformed through weight loss.
"You don't know how good it makes me feel to help these boys make their dreams come true," Morello said.
Hartwell Ku, who also went through weight-loss surgery, believes Morello's own battle with weight has made a difference in how she treats patients.
"She was speaking from experience, not from what was told to her," said Ku, a technician with the Las Vegas Valley Water District who has dropped more than 100 pounds after Lap-Band surgery. "That's probably one of the greatest things about her. You know she's been there, done that."
Watch the smiling, svelte Morello hustle around the West Charleston Avenue medical offices that house the weight-loss center that is a partnership between the state's medical school and UMC and it's hard to imagine that not long ago she described herself as a large, nonenergetic woman for whom depression was a constant companion.
When the 5 foot 4 inch, 125 pound registered nurse holds up a pair of jeans that she could now wrap herself in twice, however, it's not quite so difficult to picture.
A Navy veteran who served stateside as an electrician, she said failed relationships, and raising two children alone while she worked and pursued a nursing degree, had much to do with gaining weight.
Like so many people, she said, she resorted to the quick fixes of fast or processed food to get through the day. The resulting weight gain, she said, made her the subject of taunts and teasing and her own self-loathing.
Before she had gastric bypass surgery five years ago, she had ballooned to 230 pounds.
"I had tried dieting, but nothing worked," she said.
While working with the Veterans Administration, she developed a professional relationship with Dr. James Lau, who was about to start a bariatric surgery program with the University of Nevada School of Medicine and UMC. Lau said her personal experience would make her the perfect coordinator for the program and drafted her for the position just over two years ago.
"It turned out to be the perfect position for me," said Morello, who has overseen around 150 weight-loss surgeries at the center. "People respond very well when they know I've gone through their problems."
And yet while she does all she can to help people who are morbidly obese gain a new lease on life through surgery — Dr. Shawn Tsuda now performs the procedures — Morello said she would like nothing more than to take her nursing expertise into another area of medicine.
"The country needs to deal with this obesity crisis in this country," she said. "People have to be taught what to eat and how to live. It doesn't have to get to the point of surgery. We have to get kids outside exercising, not playing video games. Unfortunately, I don't see the country getting over this crisis anytime soon."
The surgery can cost more than $40,000. It is generally covered by insurance when obesity is putting an individual's health at risk.
The Lap-Band procedure and gastric bypass are the two most commonly performed types of weight-loss surgery. The Lap-Band is less complicated than gastric bypass, is associated with fewer complications, and is reversible.
"The reason my boys have the gastric bypass is that you lose weight faster and they need to do that because of health problems," LeAnn Weiss said. "My son's liver was failing before the surgery and now it's fine."
At experienced bariatric surgery centers, the risk of death from gastric bypass is about 1 out of every 300 patients. Surgical causes of death often can be related to blood clots in the lungs or a gastrointestinal leak, which can cause a serious infection.
Other complications that can occur include gallstones, ulcers, bowel obstructions, and protein, vitamin and mineral deficiency.
"I got really sick with an infection during my first month after surgery," Cody Weiss said. "But it cleared up after I went back to the doctor."
Gastric bypass, the most common weight-loss surgery, uses staples to divide the stomach into two parts. It makes the stomach smaller and allows food to bypass part of the small intestine. An individual feels full more quickly than when the stomach was its original size, which reduces the amount of food eaten and the calories consumed.
Bypassing part of the intestine also results in fewer calories being absorbed, leading to weight loss.
Like the gastric bypass, the Lap-Band creates a small pouch at the top of the stomach but does so with the use of an adjustable band.
After this restrictive, reversible surgery, the stomach is roughly the size of a golf ball, and only able to hold an ounce of food. As a result, the appetite decreases, meaning a person eats less and feels full sooner, leading to gradual weight loss.
Tsuda said he presents the pros and cons of each surgery to patients and lets them make the decision.
"They both can lead to significant weight loss," said Tsuda, who has done hundreds of bariatric surgeries, many at Harvard Medical School.
As with all medical procedures, research shows that the more surgeries done by a practitioner, the better the outcomes.
Even though he is considered by other practitioners to be a leader in bariatric surgery, Tsuda said Morello's ability to connect with patients ensures that the best outcome is possible.
"She's able to get patients in the right frame of mind, to understand all that involved, how committed they must be," he said.
Ku, who visited Tsuda recently for a checkup, said he prefers the Lap-Band because it is reversible.
Ku noted that there have been challenges after the surgery.
"One time I had to call Robin on Super Bowl Sunday, and she and doctor both came in and did an adjustment on me," Ku said. "I just wasn't feeling right and they were able to correct it right away."
No matter what surgery is done for weight loss, Morello said it is critical that the patient get support.
"We do counseling for months before hand," she said. "And we have support groups for them afterward. We're talking about an entire lifestyle change. For many people, food gave them comfort. That's why I give them my cell number. So I can help them work through their challenges. It's not easy."
For Cody Weiss, the gastric bypass performed by Dr. James Lau has meant a whole new way of life.
At the time of his procedure, he was about 5 foot 4 inches tall and 330 pounds. In addition to his liver difficulties, he regularly had to be checked for heart problems and diabetes.
Now standing 5 foot 9 and 170 pounds, he feels better than he can ever remember.
"I date now and I'm no longer missing school," he said. "And I've got friends. It's like a whole new world. I don't want to be by myself any more."
LeAnn Weiss, whose husband has had Lap-Band surgery, wishes her family had not relied so much on fast and processed foods and worked more fruits and vegetables into meals.
"Too many Americans do what's easiest, and then you pay for it," she said. "One thing I can tell you, I wish I had never bought my kids video games. They have to get outside and run around."
Recognizing that she cannot do anything about the past, LeAnn Weiss looks to the future. At 5 feet 4 inches and more than 300 pounds, she says she probably should have weight-loss surgery before she succumbs to serious health problems.
The 17-year-old Cody, who had to have his surgery before Kyle because of his failing liver, graduates in a few weeks from Foothills High School.
"He should be able to go into the Marines this summer," LeAnn Weiss said. "And this was a kid who was always made fun of on the school bus. Once they wouldn't even let him sit down on the bus. He had to kneel down on the floor and then he fell when the bus stopped. Kids can be so mean."
Morello expects that Cody, who said he needs some "minor plastic surgery" to get rid of excess skin, will receive his full medical clearance in just a few weeks.
"We just had to show that his thyroid was working well without medication," she said.
Morello talked to Kyle, who graduated from high school last year, for more than 45 minutes Friday, answering questions that ranged from the length of the operation — about three hours — to how long he will be in the hospital — about three days.
Nervous about the operation but trying to focus on the future, he asked if his pre-diabetes and dangerous blood pressure would go away so he could get into the Marines..
"It should," Morello said.
Within two years, she said, he should see a dramatic weight loss similar to what Cody experienced, as long as he follows dietary restrictions and exercise recommendations.
Though she doesn't have to be at Kyle's operation Monday, Morello will be there.
"I feel like I'm part of their family," she said. "It's that way in this area of medicine. You get so close going through something like this."
Contact reporter Paul Harasim at
pharasim@reviewjournal.com or 702-387-2908.