Westleigh Historic District plan might be history
November 16, 2009 - 10:00 pm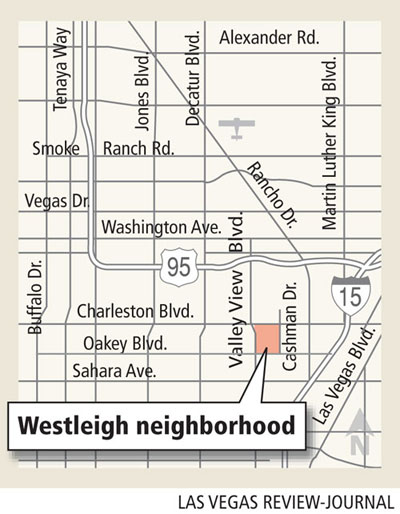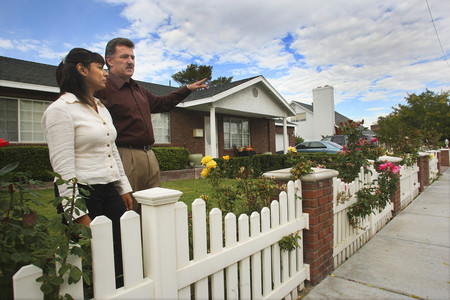 When a proposed Westleigh Historic District went before the Las Vegas Historic Preservation Commission earlier this year, it looked like a shoo-in — 46 property owners registered their support, almost three times as many as the 17 who objected, and not a single objection was voiced at the meeting.
By the time the proposal got to the city Planning Commission on Nov. 5, though, the tables had turned. Opponents greatly outnumbered supporters and slammed the idea so forcefully that planning commissioners voted 6-0 against forming the district.
"As a general rule, I like historic districts," commission member Keen Ellsworth said. "They do preserve history and culture.
"However, as I look at your development, I don't think this qualifies. I don't find this to be a community of exceptional importance. Plus, I see an overwhelming opposition."
The City Council is scheduled to have the final word on Dec. 2, although opponents are hoping the application is withdrawn.
"Hopefully, this is the end of it," said Shawn Spanier, one of the neighborhood residents who helped organize opposition to the district. "With such opposition, it just makes sense to withdraw the application so that we don't go out again."
Tiffany Hesser, a proponent who heads the Westleigh Neighborhood Association, said supporters are still discussing their next step.
Proponents have been trying to add Westleigh — a neighborhood bounded by Charleston Boulevard, Valley View Boulevard, Oakey Boulevard and Cashman Drive — to the Las Vegas Historic Property Register for years.
The neighborhood represents the population boom in Las Vegas in the 1950s as the city kept growing after World War II, according to a report prepared for the city. About half of the 288 properties included in the boundaries can be considered historically significant because of the house style and materials used, as well as the construction methods, the report states.
Since construction, though, too many houses have been altered to call the area historic, said Spanier, who has extensively remodeled his home on Cashman, including adding a brick facade, a porch and new windows that are a far cry from the ones originally installed in 1953.
"The neighborhood doesn't qualify," said Spanier, who owns three other houses in the neighborhood and is in the process of buying another one. "It was not going to hurt us, because our house is done. But I want my neighbors to be able to improve their homes."
Opponents also objected to what they saw as ambiguity in the district's proposed design guidelines as well as the fact that some remodeling or additions would be subject to additional review by the Historic Preservation Commission.
Harry Pappas, whose family famously fought a battle against eminent domain with the city of Las Vegas and won a $4.5 million settlement, worried that the guidelines contained too many phrases along the lines of "should be," "should not" and "it is desirable."
"These are a lot of open ends," said Pappas, whose late mother lived in the neighborhood and opposed the historic district. "They need to be defined prior to anybody voting this up or down."
He also wondered whether the supporters were trying to pull one over on people who haven't yet expanded or remodeled their homes.
"We upped our value. You won't be able to" is their attitude, he contended. "'We got ours. You can't get yours.'"
Other fears extended as far as property owners not being able to control the color of their house, their landscaping or their ability to make a house handicapped accessible.
"I don't really want to live like that," said resident John Davis. "Why should I have to come here and fight with a bunch of people about my house?
"I don't see how this would do any good except add another layer of government."
Those fears are unfounded, said Planning Commissioner Steve Evans. The historic designation means that work already requiring a city building permit would be looked at by "another set of eyes."
"I'm always a little bit amazed at the misinformation and the feeling that people's rights are being taken away," he said. "Of course you can put in a handicap ramp. You can paint your house any color.
"I'm very disappointed that those who began this process … lost their momentum."
Similar complaints were voiced during the debate over establishing the John S. Park Historic District, a group of 1930s to 1950s-era homes in a neighborhood bordered by Fifth Place, Park Paseo Drive, Ninth Street and Franklin Avenue near the intersection of Charleston Boulevard and Las Vegas Boulevard.
There have been six remodeling requests before the Historic Preservation Commission, all of which were approved, including two home expansions that added rooms or garages. For any work visible from the street, the property owner had to match the original design of the house as closely as possible.
The goal of a historic district is to preserve the character of the neighborhood. Proponents say the guidelines help maintain standards, which in turn promotes neighborhood unity and protects home values.
Westleigh residents, however, say they've done that without historic district status, in part because the neighborhood is well-defined and has many long-term residents. And real estate data suggest that Westleigh is reaping some of the benefits of a historic designation without a designation being in place.
Five homes have sold in the last year in both neighborhoods, according to information from the Multiple Listing Service, or MLS.
In Westleigh, the average sold house had 1,514 square feet and sold for $60 a square foot.
The average sale in John S. Park was larger — 1,621 square feet — but commanded an average price of $53 a square foot.
That's not a knock on historic districts, said "Downtown Steve" Franklin, a real estate agent who specializes in downtown Las Vegas. It's a recognition of each neighborhood's surroundings.
John S. Park borders sections of Las Vegas Boulevard and Charleston that are home to adult bookstores, a strip club, vacant storefronts and homeless traffic.
"You've got none of that in Westleigh," he said. In fact, its neighbors are large custom estate homes and low-density businesses.
"When you've got smaller houses really close to large estates, those estates really prop up the smaller houses," Franklin said.
"The biggest factor is that what's outside the neighborhood impacts the neighborhood. If all factors were the same for both areas, John S. Park probably would have performed better," Franklin added.
Contact reporter Alan Choate at achoate@reviewjournal.com or 702-229-6435.